"If you can't say anything nice about someone, sit right here by me."

— Alice Lee Roosevelt Longworth
1988-2013: The Barbwire's Silver Anniversary in the Silver State
—>Now we go for gold
Barbwire by Barbano moved to Nevada's Daily Sparks Tribune on Aug. 12, 1988, and has originated in them parts ever since.
Whom to blame: How a hall-of-famer's hunch birthed the Barbwire in August of 1987
Tempus fugit.
BARBWIRE SCORES SIXTH NEVADA PRESS ASSOCIATION AWARD
We Don't Need No Education: The Neverending Barbwire Series
Get ahead of corporate-influenced news—>Subscribe to Barbwire Confidential

Site Map
SITE NAVIGATION TIPS: When all else fails, read the instructions

Breaking Bad 4: Ira & his ammosexuals flip us the finger
Hansen places his puppets in top slots but still controls the lower house.
Barbwire by Barbano / Expanded from the 12-9-2014 Sparks Tribune

BREAKING BAD
Walter White and some other white guy

| | |
| --- | --- |
| Who's,,, | ...Who? |
| | |

Breaking Bad 3: Ira, the guv and the dragonslayers
Barbwire by Barbano / Expanded from the 12-2-2014 Sparks Tribune

Breaking Bad Part Deux: Ira blames the Tribune
Barbwire by Barbano / Submitted for publication 11-21-2014 / Expanded from the 11-25-2014 Daily Sparks Tribune
On 11-24-1874, barbed wire was patented.

BREAKING BAD 11-23-2014—>Hansen resigns as Nevada State Assembly Speaker

Outing new Nevada Assembly Speaker Ira Hansen

Voting, gloating, loathing and scapegoating
Barbwire by Barbano / Expanded from the 11-11-2014 Daily Sparks Tribune
Follytix '14: Year of the Topless Campaign
Barbwire by Barbano / Expanded from the 10-28-2014 Sparks Tribune
---
Barbwire: Nevada not really a state
No, we were not Battle Born in Kenya
Top 10 reasons Nevada lives in the 19th Century
Barbwire by Barbano / Expanded from the 10-17-2013 Sparks Tribune
---
Cheap thrills: Sex banned in Gomorrah South
Barbwire by Barbano / Expanded from the 10-14-2014 Sparks Tribune
Education Dysfunction Part L—>
True confessions from the back of the bus
Barbwire by Barbano / Expanded from the 10-7-2014 Sparks Tribune
Education Dysfunction Part XLIX—>
We don't need no education: Leaks R Us
Barbwire by Barbano / Expanded from the 9-30-2014 Sparks Tribune
Can megaresorts scam Tesla-style freebies?
EXTRA—>READ ALL ABOUT IT: Barbwire scoops Reno Gazette-Journal by 2 years on flammable NVEnergy fire meters
Barbwire by Barbano / Expanded from the 9-23-2014 Sparks Tribune
Education Dysfunction Part XLVIII—>
St. Elon, Lord Pedro and Gov. Veto El Obtúsè
Barbwire by Barbano / Expanded from the 9-16-2014 Sparks Tribune
9-23 CRYSTAL BALL UPDATE: The above column accurately predicted Supt. Martinez's departure one week in advance
Tinkle-down economics: testing Tesla's testes
Theft of Washoe Med/Renown provides cautionary tale
Barbwire by Barbano / Expanded from the 9-9-2014 Sparks Tribune

Education Dysfunction Part XLVII—>
Door-to-door salesmen and stoner stores
Barbwire by Barbano / Expanded from the Sparks Tribune / 9-4-2014

Labor Day 2014: Red, white and screwed
Barbwire by Barbano / Expanded from the Sparks Tribune / 8-28-2014

Sexy scandals, whitewashes & black towers
Media overlook federal sex/race/ethnicity investigation into Washoe County School District
Meanwhile, big money is spent strictly on abstinence
State panel to review militarization of police departments
In Nevada visit, new Veterans Administration boss proves all jobs require training
Barbwire by Barbano / Expanded from the Sparks Tribune / 8-21-2014
Education Dysfunction Part XLV—>
Bringing serious heat well into the night
Nevadans host moment of silence for Missouri police shooting victim Michael Brown
Barbwire by Barbano / Expanded from the Sparks Tribune / 8-14-2014
Education Dysfunction Part XLIV—>
Pots and Kettles: Can't we all get along?
BREAKING NEWS: WCSD Vice-President Dave Aiazzi has announced that he has been diagnosed with leukemia and will be resigning by the end of September.
Remember him with healing thoughts and prayers.
Barbwire by Barbano / Expanded from the Sparks Tribune / 8-7-2014
Education Dysfunction Part XLIII—>
Playing the race card for profit and peril
Barbwire by Barbano / Expanded from the Sparks Tribune / 7-31-2014
Education Dysfunction Part XLII—>
We don't need no education or Pedro, either
Reno-Sparks-Washoe school boss fired and unfired
Barbwire by Barbano / Expanded from the Sparks Tribune / 7-24-2014
How to assassinate Medicare and Medicaid
Health Savings Accounts: The insurance industry's Trojan Horse
Reno Gazette-Journal / 7-19-2014
Migrant laborers: Your folks and refugee kids
What do broke Baby Boomers and Central American refugee children have in common?
The future of the U.S. workforce.
Barbwire by Barbano / Expanded from the 7-17-2014 Sparks Tribune
A cold shower for the NY Times Tesla gusher
40 years in the wilderness: Study says Silver State on downhill slide since 1970
Barbwire by Barbano / Expanded from the 7-10-2014 Sparks Tribune
Ask Hobby Lobby to take in refugee kids
So five uptight old Catholic guys in grim reaper robes don't like contraception.
Wonder if they thought that way back in college?
Barbwire by Barbano / Expanded from the 7-3-2014 Sparks Tribune
Nevada follytix '14 still played under 1952 TV rules
Barbwire by Barbano / Expanded from the 6-12-2014 Sparks Tribune
Nevada's righteous ayatollahs arise once again
Barbwire by Barbano / Expanded from the 6-5-2014 Sparks Tribune
When your enemy is destroying himself, never interfere
Barbwire by Barbano / Expanded from the 5-29-2014 Sparks Tribune
Barbara Bennett, Erik Holland and Václav Havel
Barbwire by Barbano / Expanded from the 5-22-2014 Sparks Tribune
Stabbing rock-sucking kangaroos on the Ides of May
Reno Gazette-Journal blatantly manipulates mayoral contest
Barbwire by Barbano / Expanded from the 5-15-2014 Sparks Tribune
Negative Optimism:
Making the best of being worst
Barbwire by Barbano / Expanded from the 5-8-2014 Sparks Tribune
Mayday!
Taxes smolder while citizens do slow burn
May Day in Reno, D-Day for teachers' union tax petition
Barbwire by Barbano / Expanded from the 5-1-2014 Sparks Tribune
Revolution, evolution, devolution & truth dilution
Also: Labor leader Joe Assalone dies
Barbwire by Barbano / Expanded from the 4-24-2014 Sparks Tribune
Making the best of an inbred situation
Barbwire by Barbano / Expanded from the 4-17-2014 Sparks Tribune
The Obamacare Bitcoin online vote exchange
Barbwire by Barbano / Expanded from the 4-10-2014 Sparks Tribune
In search of the modern day Barbara Bennett
Barbwire by Barbano / Substantially expanded from the 4-3-2014 Sparks Tribune
Bob McGowan, Miss America and César Chávez
Barbwire by Barbano / Expanded from the 3-27-2014 Sparks Tribune
2014 Nevada Press Association Award Winner
We Don't Need No Education XXXVIII—>
The politics of media ga-ga boosterism
Barbwire by Barbano / Expanded from the 3-20-2014 Sparks Tribune
We Don't Need No Education XXXVII
Follytix '14: If you don't laugh, you'll cry
BREAKING NEWS: State illegally uses tax money vs. teacher tax vote
Barbwire by Barbano / Expanded from the 3-13-2014 Sparks Tribune
Campaign 2014: An expensive comedy act
Barbwire by Barbano / Expanded from the 3-6-2014 Sparks Tribune
Shirl Elliker: Nevada loses an honorable man
Barbwire by Barbano / Expanded from the 2-27-2014 Sparks Tribune
We Don't Need No Education XXXVI —>
Education: The cure spawns an even worse disease
Barbwire by Barbano / Expanded from the 2-20-2014 Sparks Tribune
Fold your favorite charity, then go thank yourself
Barbwire by Barbano / Expanded from the 2-13-2014 Sparks Tribune
Lying means never having to say you're sorry
Barbwire by Barbano / Expanded from the 2-6-2014 Sparks Tribune

We Don't Need No Education: Time to give up?
Barbwire by Barbano / Expanded from the 1-30-2014 Sparks Tribune
Justice: Just another word for nothing left to lose
Barbwire by Barbano / Expanded from the 1-23-2014 Sparks Tribune
All the news you wish you didn't need to know
Barbwire by Barbano / Expanded from the 1-16-2014 Sparks Tribune
Can Amazon drones deliver healthy cigarettes?
Lotsa laughs, César Chávez Celebration XII, Jello Biafra, 3 obits, the campaign to elect Don Dondero to the Nevada Press Assn. Hall of Fame + Barbwire.TV.
So what's not to like?
Barbwire by Barbano / Expanded from the 1-9-2014 Sparks Tribune
Solar-powered insurance drones from hell
Barbwire by Barbano / Expanded from the 1-2-2014 Sparks Tribune
—> Get ahead of corporate-influenced news—>Subscribe to Barbwire Confidential —>
Warring tribes battle the great black whale
Barbwire by Barbano / Expanded from the 12-26-2013 Sparks Tribune
2013: Unlucky number for an ugly year
Barbwire by Barbano / Expanded from the 12-19-2013 Sparks Tribune
They don't do anything until somebody dies
UNR and downtown Reno theater firetraps show how little was learned from the infamous Las Vegas Hilton and MGM disasters
Remembering Sen. Joe Neal's landmark high-rise fire sprinkler law
Barbwire by Barbano / Expanded from the 12-12-2013 Sparks Tribune
The bloody guns of October fire on November
Barbwire by Barbano / Expanded from the 11-7-2013 Sparks Tribune
Nevada Day Required Reading
The Lady in the Red Dress
The Barbwire's classic Nevada Day column written in 1983
The compleat history of the Silver State in 500 words
SO WHERE DO WE GO FROM HERE?
Sparks Tribune 10-31-2013 and previously
Let's persuade Apple to start making i-Guns here
Barbwire by Barbano / Expanded from the 10-24-2013 Sparks Tribune
Barbano on the Barbwire plots new TV season
Barbwire Special Web Edition / 10-21-2013
Barbwire: Nevada not really a state
No, we were not Battle Born in Kenya
Top 10 reasons Nevada lives in the 19th Century
Barbwire by Barbano / Expanded from the 10-17-2013 Sparks Tribune
USA at crossroads: New Deal or new Confederacy?
Barbwire by Barbano / Expanded from the 10-10-2013 Sparks Tribune
UPDATE—>Bill Moyers: Shutdown is simply secession by other means
Sex, sports and rock 'n' roll dept.
Moneyball: Invest in texting, tweeting & twerking
Barbwire by Barbano / Expanded from the 10-3-2013 Sparks Tribune
Just like old times: UN,R and Hot August Nights
Barbwire by Barbano / Expanded from the 9-26-2013 Sparks Tribune
How to play pro ball and be cruel to your school
Barbwire by Barbano / Expanded from the 9-19-2013 Sparks Tribune
For sale: The American way of life — and death
Barbwire by Barbano / Expanded from the 9-12-2013 Sparks Tribune
Barbwire more than a decade ahead of the curve—>
The campaign against forcibly paid obituaries
Muhammad Ali & Sir David Frost faced off here
Barbwire memories of two superstars
Barbwire by Barbano / Expanded from the 9-5-2013 Sparks Tribune
Reno City Council again rolls over for Waste Management
Workers, ratepayers, taxpayers & competitors all harmed, as usual
Barbano: Two monopolies for the price of one
By Dennis Myers / Reno News & Review / 9-5-2013


Lawnmower Man, bladerunners and smoke eaters
Demonstrators at Reno Federal Courthouse deserve combat pay
Barbwire by Barbano / Expanded from the 8-29-2013 Sparks Tribune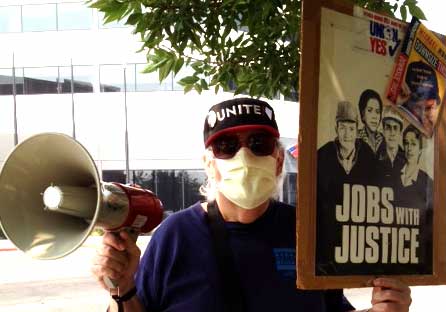 WHO WAS THAT MASKED MAN, TONTO? All participants in the demonstration were reminded that breathing is both voluntary and optional. There is no requirement forcing anyone to inhale Reno's foul forest-fired air. (Photo courtesy of L. Martina Young / APoeticBody.com)
Reno rally to mark the 50th anniversary of the fabled 1963 March for Jobs and Freedom
10 a.m.–12 noon Saturday, 24 August 2013, Bruce Thompson Federal Courthouse, S. Virginia & Liberty streets
Barbwire by Barbano / Expanded from the 8-22-2013 Sparks Tribune
We don't need no education, Part 24
Barbwire by Barbano / Expanded from the 8-22-2013 Sparks Tribune
Web extra — Bill O'Reilly's sex education
Reno Gazette-Journal / 8-16-2013
A quarter century of Barbwire, part deux
Barbwire by Barbano / Expanded from the 8-15-2013 Sparks Tribune
Barbwire: 25 years before the masthead
Barbwire by Barbano / Expanded from the 8-8-2013 Sparks Tribune
Visitors: Is America still tough enough?
Barbwire by Barbano / Expanded from the 8-1-2013 Sparks Tribune
The presence of all colors gives you black
Barbwire by Barbano / Expanded from the 7-25-2013 Sparks Tribune
Bagging black bucks in the Gunshine State
Barbwire by Barbano / Expanded from the 7-18-2013 Sparks Tribune
Blogging with the rabble on the Tower of Babel
Barbwire by Barbano / Expanded from the 7-11-2013 Sparks Tribune
Death panels hard at work right here in River City
Barbwire by Barbano / Expanded from the 7-4-2013 Sparks Tribune
Clarence Thomas, Little Anthony & the Imperials
Barbwire by Barbano / Expanded from the 6-27-2013 Sparks Tribune
Rosy the poll dancer's destructive seduction
Barbwire by Barbano / Expanded from the 6-20-2013 Sparks Tribune
Googling for liquid Romanian castanets
Other than doing our laundry, what should we do about
Big Brother peeking into our collective lace undies?
Barbwire by Barbano / Expanded from the 6-13-2013 Sparks Tribune
2014 Nevada Press Association Award Winner
The 2013 looney tunes legislative lexicon
Barbwire by Barbano / Expanded from the 5-30-2013 Sparks Tribune
MAY 29: Sen. Harry Reid Keynotes Path to Citizenship Public Assembly
Little Flower Church / Kietzke and E. Plumb Ln. / Reno, NV
Details in the May 23 Barbwire—>
Longing for the wisdom of the grateful dead
Barbwire by Barbano / Expanded from the 5-23-2013 Sparks Tribune / Updated 6-1-2013

Star-stuck: Dirty deals for dirty movies
Ghostrider Nicolas Cage sticks it to Nevada school kids
Barbwire by Barbano / Expanded from the 5-16-2013 Daily Sparks Tribune
Mr. Wynnderful waxes wealthier whilst we wither
Barbwire by Barbano / Expanded from the 5-9-2013 Daily Sparks Tribune

The asinine assassination of KJFK talk radio
The Travus 'n' Andy Show's last chance
Barbwire by Barbano / Expanded from the 5-2-2013 Daily Sparks Tribune
4-28-2013
National Workers Memorial Day of the Dead
You're not worth much dead or alive
Impose the death penalty on companies knowingly causing worker fatalities
Do you think your life is worth more than $566 a year?
Barbwire by Barbano / Expanded from the 4-25-2013 Daily Sparks Tribune
UPDATED 5-7-2013 with Robert Reich commentary
Gov. Sandoval's $3 million New York State of Mind
New Nevada ad campaign slips on a sideways banana
Barbwire by Barbano / Expanded from the Sunday 4-21-2013 Reno Gazette-Journal
Portions of the above also appeared in the 4-10-2013 RGJ and the 4-18-2013 Reno News & Review
2014 Nevada Press Association Award Winner
Hopelessly trying to win an earthquake
I publicly wept when they looked at me.
Barbwire by Barbano / Expanded from the 4-18-2013 Daily Sparks Tribune
Sitting ducks in Sparks as storks stalk Carson
Barbwire by Barbano / Expanded from the 4-11-2013 Daily Sparks Tribune
César Chávez's fight continues
Barbwire by Barbano / Expanded from the 4-4-2013 Daily Sparks Tribune
Fixing education: The bulldozer solution
Barbwire by Barbano / Expanded from the 3-28-2013 Daily Sparks Tribune
Gov. Sandoval, César Chávez and the Grateful Dead
Barbwire by Barbano / Expanded from the 3-21-2013 Daily Sparks Tribune
Papa Francisco Primero: ¡Viva La Revolución!
Barbwire by Barbano / Expanded from the 3-14-2013 Daily Sparks Tribune
Petition pondering & pandering:
Just Say No, a Nevada tradition
CLINGING TO THE LEDGE—>Do the Nancy Reagan thing
Just say no and invalidate term limits and right-to-work-for-less in the process
Barbwire by Barbano / Special Online Abstinence Edition / 3-5-2013
An edited and updated version appeared in the 3-7-2013 Daily Sparks Tribune
The brutal law of unintended consequences
Between the devil and the deep Joe Neal
Long-lost research may invalidate more than 100 longstanding Nevada laws
IRONY ALERT—>New higher electoral standard for teachers' tax petition may generate more support
Barbwire by Barbano / Expanded from the 2-28-2013 Daily Sparks Tribune
Barbano back on statewide Nevada Newsmakers TV/radio program