"If you can't say anything nice about someone, sit right here by me."
— Alice Lee Roosevelt Longworth

Aug. 2012-Aug. 2013: the Barbwire's Silver Anniversary Year
Barbwire by Barbano moved to Nevada's Daily Sparks Tribune on Aug. 12, 1988, and has originated in them parts ever since.
Whom to blame: How a hall-of-famer's hunch birthed the Barbwire in August of 1987
Tempus fugit.
We Don't Need No Education: The Neverending Series
BARBWIRE BLASTS FROM THE PAST
Site Map

The bloody guns of October fire on November
Barbwire by Barbano / Expanded from the 11-7-2013 Sparks Tribune
Nevada Day Required Reading
The Lady in the Red Dress
The Barbwire's classic Nevada Day column written in 1983
The compleat history of the Silver State in 500 words
SO WHERE DO WE GO FROM HERE?
Sparks Tribune 10-31-2013 and previously
Let's persuade Apple to start making i-Guns here
Barbwire by Barbano / Expanded from the 10-24-2013 Sparks Tribune
Barbano on the Barbwire plots new TV season
Barbwire Special Web Edition / 10-21-2013
Barbwire: Nevada not really a state
No, we were not Battle Born in Kenya
Top 10 reasons Nevada lives in the 19th Century
Barbwire by Barbano / Expanded from the 10-17-2013 Sparks Tribune
USA at crossroads: New Deal or new Confederacy?
Barbwire by Barbano / Expanded from the 10-10-2013 Sparks Tribune
UPDATE—>Bill Moyers: Shutdown is simply secession by other means
Sex, sports and rock 'n' roll dept.
Moneyball: Invest in texting, tweeting & twerking
Barbwire by Barbano / Expanded from the 10-3-2013 Sparks Tribune
Just like old times: UN,R and Hot August Nights
Barbwire by Barbano / Expanded from the 9-26-2013 Sparks Tribune
How to play pro ball and be cruel to your school
Barbwire by Barbano / Expanded from the 9-19-2013 Sparks Tribune
For sale: The American way of life — and death
Barbwire by Barbano / Expanded from the 9-12-2013 Sparks Tribune
Barbwire more than a decade ahead of the curve—>The campaign against forcibly paid obituaries
Muhammad Ali & Sir David Frost faced off here
Barbwire memories of two superstars
Barbwire by Barbano / Expanded from the 9-5-2013 Sparks Tribune
Reno City Council rolls over for Waste Management—>again
Barbano: Workers, ratepayers, taxpayers & competitors all harmed, as usual
Two monopolies for the price of one
By Dennis Myers / Reno News & Review / 9-5-2013
Lawnmower Man, bladerunners and smoke eaters
Demonstrators at Reno Federal Courthouse deserve combat pay
Barbwire by Barbano / Expanded from the 8-29-2013 Sparks Tribune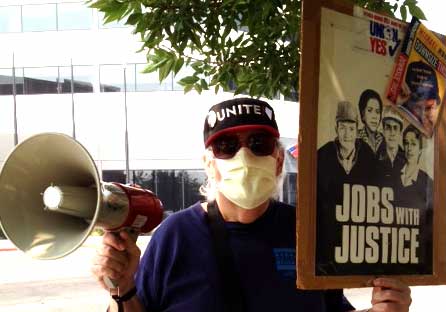 WHO WAS THAT MASKED MAN, TONTO? All participants in the demonstration were reminded that breathing is both voluntary and optional. There is no requirement forcing anyone to inhale Reno's foul forest-fired air. (Photo courtesy of L. Martina Young/APoeticBody.com)
Reno rally to mark the 50th anniversary of the fabled 1963 March for Jobs and Freedom
10 a.m.–12 noon Saturday, August 24, Bruce Thompson Federal Courthouse, S. Virginia & Liberty streets
Barbwire by Barbano / Expanded from the 8-22-2013 Sparks Tribune
We don't need no education, Part 24
Barbwire by Barbano / Expanded from the 8-22-2013 Sparks Tribune
Web extra — Bill O'Reilly's sex education
A quarter century of Barbwire, part deux
Barbwire by Barbano / Expanded from the 8-15-2013 Sparks Tribune
Barbwire: 25 years before the masthead
Barbwire by Barbano / Expanded from the 8-8-2013 Sparks Tribune
Visitors: Is America still tough enough?
Barbwire by Barbano / Expanded from the 8-1-2013 Sparks Tribune
The presence of all colors gives you black
Barbwire by Barbano / Expanded from the 7-25-2013 Sparks Tribune
Bagging black bucks in the Gunshine State
Barbwire by Barbano / Expanded from the 7-18-2013 Sparks Tribune
Blogging with the rabble on the Tower of Babel
Barbwire by Barbano / Expanded from the 7-11-2013 Sparks Tribune
Death panels hard at work right here in River City
Barbwire by Barbano / Expanded from the 7-4-2013 Sparks Tribune
Clarence Thomas, Little Anthony & the Imperials
Barbwire by Barbano / Expanded from the 6-27-2013 Sparks Tribune
Rosy the poll dancer's destructive seduction
Barbwire by Barbano / Expanded from the 6-20-2013 Sparks Tribune
Googling for liquid Romanian castanets
Other than doing our laundry, what should we do about
Big Brother peeking into our collective lace undies?
Barbwire by Barbano / Expanded from the 6-13-2013 Sparks Tribune
The 2013 looney tunes legislative lexicon
Barbwire by Barbano / Expanded from the 5-30-2013 Sparks Tribune
MAY 29: Sen. Harry Reid Keynotes Path to Citizenship Public Assembly
Little Flower Church / Kietzke and E. Plumb Ln. / Reno, NV
Details in the May 23 Barbwire—>
Longing for the wisdom of the grateful dead
Barbwire by Barbano / Expanded from the 5-23-2013 Sparks Tribune / Updated 6-1-2013

Star-stuck: Dirty deals for dirty movies
Ghostrider Nicolas Cage sticks it to Nevada school kids
Barbwire by Barbano / Expanded from the 5-16-2013 Daily Sparks Tribune
Mr. Wynnderful waxes wealthier whilst we wither
Barbwire by Barbano / Expanded from the 5-9-2013 Daily Sparks Tribune

The asinine assassination of KJFK talk radio
The Travus 'n' Andy Show's last chance
Barbwire by Barbano / Expanded from the 5-2-2013 Daily Sparks Tribune
4-28-2013
National Workers Memorial Day of the Dead
You're not worth much dead or alive
Impose the death penalty on companies knowingly causing worker fatalities
Do you think your life is worth more than $566 a year?
Barbwire by Barbano / Expanded from the 4-25-2013 Daily Sparks Tribune
UPDATED 5-7-2013 with Robert Reich commentary
Gov. Sandoval's $3 million New York State of Mind
New Nevada ad campaign slips on a sideways banana
Barbwire by Barbano / Expanded from the Sunday 4-21-2013 Reno Gazette-Journal
Portions of the above also appeared in the 4-10-2013 RGJ and the 4-18-2013 Reno News & Review
Hopelessly trying to win an earthquake
I publicly wept when they looked at me.
Barbwire by Barbano / Expanded from the 4-18-2013 Daily Sparks Tribune
Sitting ducks in Sparks as storks stalk Carson
Barbwire by Barbano / Expanded from the 4-11-2013 Daily Sparks Tribune
César Chávez's fight continues
Barbwire by Barbano / Expanded from the 4-4-2013 Daily Sparks Tribune
Fixing education: The bulldozer solution
Barbwire by Barbano / Expanded from the 3-28-2013 Daily Sparks Tribune
Gov. Sandoval, César Chávez and the Grateful Dead
Barbwire by Barbano / Expanded from the 3-21-2013 Daily Sparks Tribune
Papa Francisco Primero: ¡Viva La Revolución!
Barbwire by Barbano / Expanded from the 3-14-2013 Daily Sparks Tribune
Petition pondering & pandering:
Just Say No, a Nevada tradition
CLINGING TO THE LEDGE—>Do the Nancy Reagan thing
Just say no and invalidate term limits and right-to-work-for-less in the process
Barbwire by Barbano / Special Online Abstinence Edition / 3-5-2013
An edited and updated version appeared in the 3-7-2013 Daily Sparks Tribune
The brutal law of unintended consequences
Between the devil and the deep Joe Neal
Long-lost research may invalidate more than 100 longstanding Nevada laws
IRONY ALERT—>New higher electoral standard for teachers' tax petition may generate more support
Barbwire by Barbano / Expanded from the 2-28-2013 Daily Sparks Tribune
Barbano back on statewide Nevada Newsmakers TV/radio program