Site map
Corporate Propaganda Research Archive


Aug. 2012-Aug. 2013: the Barbwire's Silver Anniversary Year
Barbwire by Barbano moved to Nevada's Daily Sparks Tribune on Aug. 12, 1988, and has originated in them parts ever since.
Whom to blame: How a hall-of-famer's hunch birthed the Barbwire in August of 1987
Tempus fugit.

Lawnmower Man, bladerunners and smoke eaters
Barbwire by Barbano / Expanded from the 8-29-2013 Sparks Tribune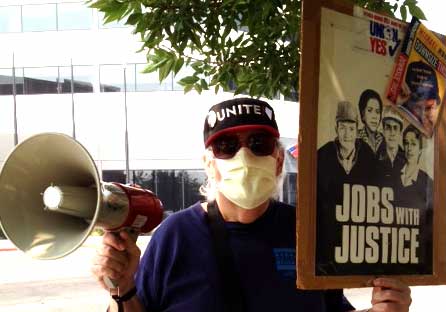 WHO WAS THAT MASKED MAN, TONTO? All participants in the demonstration were reminded that breathing is both voluntary and optional. There is no requirement forcing anyone to inhale Reno's foul forest-fired air. (Photo courtesy of L. Martina Young/APoeticBody.com)
Everybody knows the dice are loaded.
Everybody rolls with their fingers crossed.
Everybody knows the war is over.
Everybody knows the good guys lost.
Everybody knows the fight was fixed.
The poor stay poor, the rich get rich.
That's how it goes. Everybody knows.
Everybody knows the scene is dead
But there's gonna be a meter on your bed
That will disclose
What everybody knows.
— Leonard Cohen
When I ventured into the smoky Seventh Circle of Hell that was downtown Reno last Saturday morning, I didn't expect to encounter Lawnmower Man.
He wasn't as scary as the guy in the Stephen King novel, but disturbing just the same.

The occasion was meant to commemorate the 50th anniversary of the legendary 1963 March on Washington for Jobs and Freedom.

As I walked through the forest-fired haze toward the federal courthouse, I noticed a man lifting a weedwhacker from a pickup.

He cranked up just as our assembly formed.

Then he went from annoying to obnoxious.

"The individual was reckless and rude in his behavior as he threw one of the event signs and banner for the NAACP on the ground and then walked on them. The loud noise made it impossible to talk to him and he was using a potentially dangerous device within a few inches of people including young children," reads a complaint submittedimmediately after the march to U.S. Sens. Harry Reid, D-Searchlight, and Dean Heller, R-Carson City, both of whom maintain offices in the courthouse.

When Lawnmower Man worked the lawn's edge, his powermower hit the feet of people on the sidewalk, including UNR emeritus journalism professor and Tribune columnist Jake Highton.
His blade was thus within an inch or so of causing serious injury.

"The worker, without any notice, proceeded to run the lawnmower so close to the participants that he physically knocked a lady over...causing her to fall into an older woman...which almost knocked her to the ground. The worker showed no concern for the people he had physically knocked down and proceeded to run the lawnmower near several young children," former Reno-Sparks NAACP President Lonnie Feemster asserted in his letter.

"I was shocked at the inconsiderate behavior and the careless treatment," he added.

"Why was the weed-whacking and lawn mowing scheduled at the only time there was an approved public event?...Why didn't security personnel recognize that the behavior of the maintenance worker was causing a problem? This work could have been scheduled at an appropriate time without being disruptive and endangering citizens and children."

Seeing Lawnmower Man push Prof. Highton, I got into his ear, telling him he was endangering people.

Never looking up from his assault on the turf, LM told me to go commit an extremely intimate act which is impossible to accomplish while alone.

I raged, but that was then.

What do I hope happens?
Disciplinary action for him and the uniform from the Dept. of Homeland Security?
Firing?

No.
I'm a union man and Labor Day is Monday.
I would like to sit them down with those they harmed, and talk.

They need to see us as people, not nuisances inhibiting landscape maintenance.

Perhaps a long-dead Baptist preacher would agree.

Photos and more information at RenoSparksNAACP.org/

Honor your work at Monday's Virginia City Labor Day Parade.
Be well. Raise hell. / Esté bien. Haga infierno.
WEB EXTRAS...

HONOR YOUR DON. Keep sending comments supporting legendary Nevada photographer Don Dondero (1920-2003) for the Nevada Press Association Hall of Fame.
His life's work appeared worldwide, including this newspaper.
Enlist in the campaign to install Big Don.
Please send me your memories and endorsements via e-mail or to P.O. Box 10034, Reno NV 89510.
The Barbwire got the late Reno Gazette-Journal columnist Guy Richardson elected last year.
Let's go for a repeat.
"Media is the plural of mediocre."
— Jimmy Breslin
BARBWIRE.TV. Support the return of community TV to these parts.

If last year's elections didn't convince you of the need, the 2013 legislature certainly should have.

Join up. You may donate at ReSurge.TV or contact me.
This is important.
Thank you.
Be well. Raise hell. / Esté bien. Haga infierno. (Pardon my Spanglish.)
____________

Andrew Barbano is a 44-year Nevadan, chair of the Nevada César Chávez Committee, producer of Nevada's annual César Chávez Day celebration, first vice-president and political action chair of the Reno-Sparks NAACP, labor/consumer/civil rights advocate, member of Communications Workers of America Local 9413/AFL-CIO and editor of NevadaLabor.com and JoeNeal.org. As always, his opinions are strictly his own. Check local listings for other Nevada cable systems. E-mail barbano@frontpage.reno.nv.us. Barbwire by Barbano has originated in the Daily Sparks Tribune since 1988.
NevadaLabor.com | U-News | Bulletins + Almanac
Casinos Out of Politics (COP) | Sen. Joe Neal
Guinn Watch | Deciding Factors | BallotBoxing.US
DoctorLawyerWatch.com | Barbwire Oilogopoly Archive
Barbwire Nevada Corporate Welfare Archive
Annual César Chávez Celebration
War Rooms: Banks, Cabbies, Cabela's/cabellyup, Cable TV, Cancer Kids/Mining, Energy, Food, Health Care, Resurge.TV/consumers, Starbucks, Wal-Mart
Search this site | In Search Of...


Copyright © 1982-2013 Andrew Barbano

Andrew Barbano is a 44-year Nevadan, editor of NevadaLabor.com and JoeNeal.org; and former chair of the City of Reno's Citizens Cable Compliance Committee, He is producer of Nevada's annual César Chávez Day celebration and serves as first vice-president, political action chair and webmaster of the Reno-Sparks NAACP. As always, his opinions are strictly his own. E-mail barbano@frontpage.reno.nv.us.

Barbwire by Barbano moved to Nevada's Daily Sparks Tribune on Aug. 12, 1988, and has originated in them parts ever since.
Whom to blame: How a hall-of-famer's hunch birthed the Barbwire in August of 1987
Tempus fugit.

Site composed and maintained by Deciding Factors, CWA 9413 signatory
Comments and suggestions appreciated. Sign up for news and bulletins