BARBWIRE
by
ANDREW BARBANO
Pirate Laureate of the High Desert Outback of the American Dream

¡Viva Chávez!
César Chávez Celebration XIV / Celebración de César Chávez XIV
Wednesday 30 March 2016 / Miércoles 30 de Marzo 2016
Highlights from the record-breaking event at Circus Circus Reno
Stay tuned for bigger and better in 2017

Site map
SITE NAVIGATION TIPS: When all else fails, read the instructions

Get ahead of corporate-influenced news—>Subscribe to Barbwire Confidential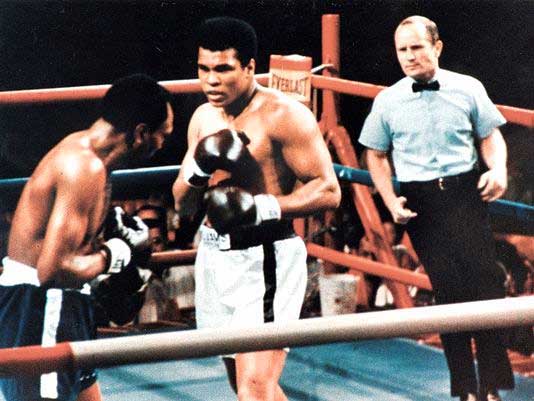 Sahara Tahoe, Stateline, Nevada (21 November 1972) — In what would be his only northern Nevada match, Muhammad Ali squares off against world Light-Heavyweight Champion Bob Foster for the North American Boxing Federation heavyweight title. The referee is future Washoe County DA and District Judge Mills Bee Lane in his first championship fight. Former Golden-Glover Lane (20-1) achieved his own world fame, officiating at dozens more championship bouts. He starred in his own nationally-syndicated television show, Judge Mills Lane, for three years. Ali knocked out Foster in the eighth round but not before Foster became the first opponent to open a cut on the prettiest one's face. For many years thereafter, Lane gave away copies of TV reporter and now-retired attorney David Kladney's above photo.


---
When public interest is secondary to public relations
Barbwire by Barbano / Expanded from the Tuesday 7-5-2016 Sparks Tribune
Karl Marx called religion "the opium of the people." Wrong. Opium is indeed the opiate.
In all the publicity surrounding the big drug bust at Jones-West Ford, one minor aside got lost. The feds ordered their local operatives to delay the big event.
Why?

Alas, public interest often takes a back seat to public relations.

Websearch "opioid epidemic 2015" and Mother Google returns 601,000 results. Change the year to 2016, you get 824,000. That meat-ax comparison reflects reality. All of sudden, the opioid epidemic is getting all the buzz of shark attacks.

I'm a media guy always interested in the demonstrable results of orchestrated PR, propaganda, public relations.

An isolated instance in little Reno generates scant attention. Google it yourself. But if Oxycontin drug busts pop up all over the country in a compressed time frame, you score shark-attack sensationalism. Which provides a plausible reason for the announced delay.

I'm not saying there's no problem. I am saying that PR was apparently a major consideration, almost as if the attorney general sent a memo to local and regional agencies to save their biggest hits for the second quarter of the year.

Even if there was no concerted effort, it worked just that way.

UNINTENTIONAL INTENTIONAL CONSEQUENCES. A sign at a local medical practice last week reinforced the tragic tales now so familiar: No new patients needing opioid medication will be accepted. People in serious pain now have nowhere to turn.

It's quite similar to the attitude of big banks after they were fingered for crashing the world economy, much of it through fraudulent loan practices. They had plenty of money to help kick-start a dead economy but wouldn't lend a dime.

First, they got funds at zero interest from the feds and made major money loaning it back to the government at guaranteed interest from the taxpayers. Second, they were so scared of being accused of lender abuse that they didn't lend at all.

Just like doctors refusing patients in need.

LET THERE BE PAIN. "You never let a serious crisis go to waste," according to Chicago Mayor Rahm Emanuel.

That's so American. We react rather than act. Let the bridges, roads and schools collapse, then we'll do something. Nevada voters imposed a sales tax in 1955 after government failed to plan for the post-war Baby Boom. The Washoe County School District now wants to raise sales taxes to pay for the Tesla Boom.
Medicaid patients in Sparks-Reno are losing their health care thanks to the mutual greed of St. Mary's hospital and insurers. Government appears intentionally powerless.

Where does one go for health care now that Jones-West Ford is out of the biz?

THE LAST UNION MEETING. George Battling" Nelson (1932-2016) requested that his memorial celebration be conducted like a union meeting. The Big Adiós for the great fighter for workers rights will be held at 11:00 a.m. this Saturday, 9 July 2016, in the Plumbers and Pipefitters Training Center, 1150 Greg Street in Sparks (89431). Nelson held many gatherings there as president of the United Auto Workers retiree organization. For updates, watch NevadaLabor.com (where you will also find photos and the story of the original Battling Nelson. Send me remembrances for permanent posting.)
George Nelson had a long history with César Chávez and the United Farm Workers union. More than 50 years ago, the Sparks resident stood with the greatest labor leader of the 20th Century, United Auto Workers President Walter Reuther, at the dedication of UFW headquarters in Delano, Calif.
Reuther provided stable funding for the new UFW from his giant union. Without it, the UFW might not have survived.

For his distinguished record of labor activism, which included delegations to Russia and Japan, Nelson was inducted into the César Chávez Nevada Labor Hall of Fame in 2013.
I was present on June 9 when the UAW presented the ailing Nelson with the Walter Reuther lifetime achievement award, one week before his death.

RIGHTING WRONGS. Lifelong boxing aficionado Nelson labored long on the centennial celebration of the legendary 1910 Fight of the Century.

The bout's Reno location at E. 4th and Toano has state historical signage. Homeowner Tim Elam built a monument commemorating Jack Johnson's training facility at Mayberry and Sherwood.

Nelson worked for years to complete the triangle of fight sites. On June 7, the Reno Parks Commission moved forward on a marker at the Moana soccer field, site of boxer Jim Jeffries' training camp.

Muhammad Ali said that he modeled his ring style after Johnson, the first African-American heavyweight champion.

Like Ali, Johnson was persecuted and prosecuted. President Obama has long had a posthumous pardon on his desk for approval. Battling Nelson gathered thousands of petition signatures in support.

Ali's March 10 memorial service came on the 70th anniversary of Johnson's death.
ADDITIONAL IRONY FROM JOURNALIST DENNIS MYERS' DAILY POOR DENNY'S ALMANAC: On June 28, 1914, exiled heavyweight champion Jack Johnson successfully defended his title against Frank Moran at the Velodrome d'Hiver in Paris. On June 28, 1971, four years after Muhammad Ali refused to be drafted and one year after it heard the case, the U.S. Supreme Court with its usual promptness overturned his conviction.

SENIOR STATUS. George "Battling" Nelson had friends and family to help him in his last days. He also received in-home hospice care. Not everyone is so fortunate.

The Sanford Center on Aging at UNR needs volunteers to assist senior citizens. As few as two hours a week can make a big difference.

"Trained Senior Outreach Services volunteer care providers assist and support clients 60 years and older who are frail, homebound and of low income. These seniors need essential services, socialization, emotional support and transportation for medical appointments and essential errands," according to program director Sina Ward. Volunteers do not administer medicine, assist with housekeeping, laundry, personal care or money management.

"The program goal is to avoid premature institutionalization, a very costly alternative for both elder and taxpayer," Ward stated. For more info, call 775-784-7506 or e-mail <sinaw@unr.edu>.

BACK HOME. Another César Chávez Hall of Famer, former Nevada Assemblymember Bob Price, D-North Las Vegas, is finally back home in Sparks after being bedridden for more than six months with illness contracted while hospitalized for surgery. Nancy Price encourages visits to cheer up the great warrior and longtime Rail City resident.
Bob turned 80 on May 23. I was honored to attend a small family party. His longtime colleague, former Sen. Joe Neal, D-N. Las Vegas, called in with birthday best wishes. Bob Price served almost three decades in the lower house. Bob and Nancy retired to Sparks years ago. He has been a member of Las Vegas IBEW Local 357/AFL-CIO for more than half a century. He helped build the showroom at the Las Vegas Hilton which was opened by Elvis Presley in 1969. Bob has The King's autograph on his old lunchbox to prove it. He chaired the Assembly Taxation Committee for many sessions and became legendary for his advocacy on behalf of the little guys.
Be well. Raise hell. / Esté bien. Haga infierno. (Pardon my Spanglish.)
The Underbelly of the News—>Subscribe to Barbwire Confidential

BARBWIRE WEB EXTRAS —>

TOMORROW'S NEWS TODAY: FEEL UP YOUR FIRE METER. The Reno Gazette-Journal did big spreads on three consecutive Sundays (Sept. 14, Sept. 21 and Sept. 28, 2014) on NV Energy smart meter fires. Welcome aboard. Barbwire readers were two years ahead on the fire meter issue. (Touch a Smart Meter, Go to Jail — 11 October 2012)
FIRE METER UPDATES: THE NEVADA FIRE MARSHALL'S INVESTIGATION concluded "don't worry, be happy." I'm still worried and will continue fondling NVE's precious equipment —> If your smart meter feels very hot, not just from sunshine, call 911.

In its Sunday 21 Dec. 2014 front page headline major story, the Reno Gazette-Journal published results of the NVEnergy-commissioned "don't worry, be happy" echo study. On 1-27-2015, the RGJ published an analysis based on veteran reporter Anjeanette Damon's review of more than 1,000 pages of documents.

Barbwire bottom line: NVE handles this like auto manufacturers handle defects —> It's cheaper to pay legal settlements after people are injured or killed than to fix the problem.

Don'tcha worry 'bout a thing! If you can't trust your power company, whom can you trust?

DIDN'T THEY MAKE A MOVIE CALLED "THE INCREDIBLES"? On 2-6-2015, the RGJ reported that the Public Utilities Commission has ordered NVE to hire an independent laboratory to review the material.

UPDATE: The report said all is well. I still recommend feeling up your fire meter on a regular basis.

ANTE INTO THE GAME: Support the new season of Barbwire.TV by putting your money where my mouth is. A thousand thanks to those who keep sending show suggestions.
"Media is the plural of mediocre."
— Jimmy Breslin
Stay tuned.
I encourage you to donate to the cause at Barbwire.TV/ The medium that shapes public opinion needs at least one refuge where it is not filtered through the distorted green eye shades of prissy corporate accountants for whom profit is the only priority; where self-censorship is the journalist's normal work environment and where all sins of omission are tacitly encouraged and forgiven with the wave of a balance sheet. This is important. We've got a lot of work to do.
Get ahead of corporate-influenced news—>Subscribe to Barbwire Confidential
Be well. Raise hell. / Esté bien. Haga infierno. (Pardon my Spanglish.)

Andrew Barbano is a 47-year Nevadan, chair of the Nevada César Chávez Committee, producer of Nevada's annual César Chávez Day celebration, first vice-president and political action chair of the Reno-Sparks NAACP, labor/consumer/civil rights advocate, member of Communications Workers of America Local 9413/AFL-CIO and editor of NevadaLabor.com and JoeNeal.org and DoctorLawyerWatch.com/ As always, his opinions are strictly his own. Check local listings for other Nevada cable systems. E-mail barbano@frontpage.reno.nv.us. Barbwire by Barbano has originated in the Sparks Tribune since 1988.

Peruse the Underbelly of the News —> Subscribe to Barbwire Confidential
SITE NAVIGATION TIPS: When all else fails, read the instructions
NevadaLabor.com | U-News | Bulletins + Almanac
Casinos Out of Politics (COP) | Sen. Joe Neal
Guinn Watch | Deciding Factors | BallotBoxing.US
DoctorLawyerWatch.com | Barbwire Oilogopoly Archive
Barbwire Nevada Corporate Welfare Archive
Annual César Chávez Celebration
War Rooms: Banks, Cabbies, Cabela's/cabellyup, Cable TV, Cancer Kids/Mining, Energy, Food, Health Care, Resurge.TV/consumers, Starbucks, Wal-Mart
We Don't Need No Education
Search this site | In Search Of...


Copyright © 1982-2016 Andrew Barbano

Andrew Barbano is a 47-year Nevadan, editor of NevadaLabor.com and JoeNeal.org; and former chair of the City of Reno's Citizens Cable Compliance Committee. He is producer of Nevada's annual César Chávez Day celebration and serves as first vice-president, political action chair and webmaster of the Reno-Sparks NAACP. As always, his opinions are strictly his own. E-mail barbano@frontpage.reno.nv.us.

Barbwire by Barbano moved to Nevada's Daily Sparks Tribune on Aug. 12, 1988, and has originated in them parts ever since.
Whom to blame: How a hall-of-famer's hunch birthed the Barbwire in August of 1987
Tempus fugit.

Site composed and maintained by Deciding Factors, CWA 9413 signatory
Comments and suggestions appreciated. Sign up for news and bulletins