Site map
Corporate Propaganda Research Archive


Aug. 2012-Aug. 2013: the Barbwire's Silver Anniversary Year
Barbwire by Barbano moved to Nevada's Daily Sparks Tribune on Aug. 12, 1988, and has originated in them parts ever since.
Whom to blame: How a hall-of-famer's hunch birthed the Barbwire in August of 1987
Tempus fugit.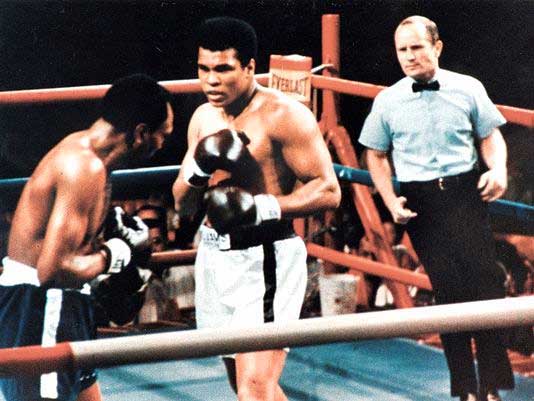 Sahara Tahoe, Stateline, Nevada (21 November 1972) — In what would be his only northern Nevada match, Muhammad Ali squares off against world Light-Heavyweight Champion Bob Foster for the North American Boxing Federation heavyweight title. The referee is future Washoe County DA and District Judge Mills Bee Lane in his first championship fight. Former Golden-Glover Lane (20-1) achieved his own world fame, officiating at dozens more championship bouts. He starred in his own nationally-syndicated television show, Judge Mills Lane, for three years. Ali knocked out Foster in the eighth round but not before Foster became the first opponent to open a cut on the prettiest one's face. Lane gave away copies of TV reporter and now-retired attorney David Kladney's above photo for many years thereafter.
Muhammad Ali and Sir David Frost faced off here
Barbwire by Barbano / Expanded from the 9-5-2013 Sparks Tribune / Updated 6-3 and 6-7-2016
I witnessed Muhammad Ali go mano y mano with Sir David Frost 41 years ago.
Ali had been beaten in the ring for the first time in 1971, losing to heavyweight champion Joe Frazier on a 15-round decision.

He would finally regain the title by knocking out George Foreman in the fabled 1974 "Rumble in the Jungle" rope-a-dope bout in Kinshasa, Zaire (now Congo).

In between, Ali fought light-heavyweight champion Bob Foster for the North American heavyweight belt at the Sahara Tahoe (now Tahoe Horizon) in Stateline, Nev., on Nov. 21, 1972.

A famous photo of Foster, Ali and referee Mills Lane is everywhere in these parts, even in my dentist's office.
It was taken by then-KTVN TV-2 ace reporter David Kladney, now a retired attorney.
The shot even appeared in the recent Reno Gazette-Journal spread about the former Washoe D.A. and District Judge's induction into the Nevada Boxing Hall of Fame.

Kladney dared ask a question at a press briefing that The Greatest didn't much like.

He leaned over the ropes, grabbed the young journalist by his shirt, lifted him with one arm, and in mock-anger shouted "who are you, the local Howard Cosell?"

It was such hilarious video that the network made it the worldwide satellite transmission test for many hours before the fight.
Foster, a great boxer who nonetheless went down seven times before being counted out in the eighth round, managed to open a cut on Ali's self-described "pretty" face for the first time in his career.

My encounter with Ali and Frost happened because of a last-minute invitation from my KOLO TV-8 sales rep. If I wasn't doing anything that evening, would I like to see Frost interview the once-and-future champ?
I showed up early. The small studio only had room for about two dozen spectators.
Channel 8 at the time had the best production facility in the market, albeit tiny by today's standards. Staff was ordered to reach out to advertisers, movers and shakers to fill the small number of seats. I guess after they ran out of movers and shakers, they called me.

Ali made a grand entrance from stairs in the rafters.
He was in classic form. He could have made a good living as a standup comic.
Frost asked if he wanted his children to become boxers and about Islam.
Ali predicted that after he beat Foster and Frazier bested George Foreman, he would get a rematch with Frazier (who lost his title to Foreman in 1973, setting up the Zaire fight).
A world-class athlete needs a lot of fuel.

Ali had apparently not eaten all afternoon, so some novice brought a steak and salad.
The beef was a 20-ounce filet wrapped in (gasp!) bacon. Ali took one look and put it below his chair.
One of my Jewish clients in the audience was impressed.
Fortunately, the salad was on a separate plate and Ali wolfed it down between segments.

Two years before, the U.S. Supreme Court had upheld Ali's contention that his religion forbade him from going to war in Vietnam.
The untouched steak showed all present that he indeed practiced his creed.
According to Scott Armstrong and Bob Woodward's book "The Brethren: Inside the Supreme Court" (Simon & Schuster/Avon Books, 1979), Ali was very close to going to jail save for some law clerks who brought information on Islam to Justice John Marshall Harlan. He reversed his position and convinced enough of his fellow blackrobes that Ali's objection to being drafted was indeed part of strongly held religious belief.

Frost brought his own director and made KOLO sign an agreement that no excerpts would be taken from the show.
When it was over, Frost left with the master recording for telecast in England.
It never aired in the U.S. but a short YouTube clip will be linked to the expanded web edition of this column at NevadaLabor.com/

Sir David interviewed Ali many times thereafter and died last Saturday.
I'm glad our paths once crossed so long ago.
He was a champion.
Be well. Raise hell. / Esté bien. Haga infierno.
WEB EXTRAS...

HONOR YOUR DON. Keep sending comments supporting legendary Nevada photographer Don Dondero (1920-2003) for the Nevada Press Association Hall of Fame.
His life's work appeared worldwide, including the Tribune and most probably every one in Nevada.
Enlist in the campaign to install Big Don.
Please send me your memories and endorsements via e-mail or to P.O. Box 10034, Reno NV 89510.
The Barbwire got the late Reno Gazette-Journal columnist Guy Richardson elected last year.
Let's go for a repeat.
"Media is the plural of mediocre."
— Jimmy Breslin
BARBWIRE.TV. Support the return of community TV to these parts.

If last year's elections didn't convince you of the need, the 2013 legislature certainly should have.

Join up. You may donate at ReSurge.TV or contact me.
This is important.
Thank you.
Be well. Raise hell. / Esté bien. Haga infierno. (Pardon my Spanglish.)
____________

Andrew Barbano is a 44-year Nevadan, chair of the Nevada César Chávez Committee, producer of Nevada's annual César Chávez Day celebration, first vice-president and political action chair of the Reno-Sparks NAACP, labor/consumer/civil rights advocate, member of Communications Workers of America Local 9413/AFL-CIO and editor of NevadaLabor.com and JoeNeal.org. As always, his opinions are strictly his own. Check local listings for other Nevada cable systems. E-mail barbano@frontpage.reno.nv.us. Barbwire by Barbano has originated in the Daily Sparks Tribune since 1988.
NevadaLabor.com | U-News | Bulletins + Almanac
Casinos Out of Politics (COP) | Sen. Joe Neal
Guinn Watch | Deciding Factors | BallotBoxing.US
DoctorLawyerWatch.com | Barbwire Oilogopoly Archive
Barbwire Nevada Corporate Welfare Archive
Annual César Chávez Celebration
War Rooms: Banks, Cabbies, Cabela's/cabellyup, Cable TV, Cancer Kids/Mining, Energy, Food, Health Care, Resurge.TV/consumers, Starbucks, Wal-Mart
Search this site | In Search Of...


Copyright © 1982-2013 Andrew Barbano

Andrew Barbano is a 44-year Nevadan, editor of NevadaLabor.com and JoeNeal.org; and former chair of the City of Reno's Citizens Cable Compliance Committee, He is producer of Nevada's annual César Chávez Day celebration and serves as first vice-president, political action chair and webmaster of the Reno-Sparks NAACP. As always, his opinions are strictly his own. E-mail barbano@frontpage.reno.nv.us.

Barbwire by Barbano moved to Nevada's Daily Sparks Tribune on Aug. 12, 1988, and has originated in them parts ever since.
Whom to blame: How a hall-of-famer's hunch birthed the Barbwire in August of 1987
Tempus fugit.

Site composed and maintained by Deciding Factors, CWA 9413 signatory
Comments and suggestions appreciated. Sign up for news and bulletins