Lithium Nevada sues Thacker Pass opponents, alleging trespass, vandalism and threats
By Bob Conrad / ThisIsReno.com 6-29-2023
NEVADA STILL A COMPANY TOWN
Gross mining mega-merger turns gold to dross for tribes, workers & environment
The Nevada Independent and High Country News / 1-3-2022


Nevada's Cancer Kids
New lawsuit claims Fallon cancer cluster isn't over and leaking military jet fuel pipeline is the cause
Superintendent refuses transfers from suspect school
KRNV TV-4 (NBC) / 11-12 and 11-20-2012
Included in the video but not in the text of the above story is a Fallon mother who asked that her daughter be allowed to transfer from Best Elementary where the jet fuel pipeline runs next to the school's chain-link fence. The superintendent refused her request, among several others.
---
Editor's Note: Many of the news links on this site are from Nevada dailies. In late 2006, the Reno Gannett-Journal began nuking much of its archive. If you encounter any broken links, I encourage you to contact them and send me a copy. On the one hand, they want to build their web traffic in order to increase the price of ads. On the other hand, they are killing that very traffic. Far be it from me to reconcile the Dilbert-style motivations of an outfit for which a 38 percent net profit is not enough. If you can explain it, please enlighten me. (Before you e-mail me, please read this bulletin — AB)
THE MYSTERY CONTINUES TO KILL
Las Vegas Review-Journal Fallon Cancer Cluster Archive
John L. Smith — All Nevadans share the heartache of Fallon's childhood cancer cluster
Panel says no more environmental testing recommended in Fallon

ANGEL KISS FOUNDATION SETS FUNDRAISER
[RENO] — "Date with an Angel," a bachelor/bachelorette auction, will take place at the Atlantis Hotel-Casino on Friday February 1, 2002. Doors open at 6:00 p.m. for a no-host cocktail hour followed by dinner at 7:00 and live auction at 8:00. Dave Williams will act as auctioneer following a silent auction from 6 :00-8:00. Black tie optional. Tickets are $30 and available by contacting the Angel Kiss office at (775) 323-7721. Shane and Krista Kisman will attend along with other Angel Kiss Families.
ASHLEY ROSE KISMAN
9/6/1996-11/19/2001

BULLETIN — This message was received from the Angel Kiss Foundation on Nov. 19, 2001:

Ashley Kisman passed away this morning about 8:30 AM. The family is in the process of arranging services. They will let me know as soon as the arrangements are made.


Kate Sweeney
Executive Director

SPARKS (Nov. 16, 2001) — This message was received from Ashley's family:

"It is now 9:15 a.m. and Ashley is preparing to take off for Las Vegas so that she can meet Britney Spears. Ashley is very excited. She will be going backstage Saturday night after the sound check party to meet Britney.

"Ashley has continued to weaken with the progression of her leukemia. She has become very tired, sore and agitated. She has been put on pain medications to help get rid her extreme pain. Every day is a struggle but she is hanging on and is stronger than any of us could ever be. Her main wish is finally being met by Make-A-Wish (Foundation) and to them we are eternally grateful."

Ashley did not receive a six-point bone marrow match because her health insurance would not pay enough to send her to the right hospital. Her leukemia has now returned. Please pray.
Ashley Rose Kisman became an angel and will remain five forever. She was born in Reno on September 6, 1996. She passed on peacefully at home while surrounded by family members who held, comforted and loved her.

Over the last nine months, Ashley courageously fought a battle against her leukemia like a true champion. Ashley was a very unique child who had the ability to make the best of a difficult situation, and quickly turned her hospital room into a playground where she immediately endeared herself to staff and friends.

She charmed and delighted all those who came in contact with her. On Mon, Nov 19, 2001 at 8:20 a.m., her battle ended.

Ashley taught us many things over the course of her short life. She taught each of us very special lessons, which we will treasure forever. Some of her most important lessons were: to be strong, never give up, and always have hope.

Ashley Rose Kisman will be loved and remembered forever in heaven and earth as an angel who touched our lives. She was a precious gift to everyone she met.

In lieu of flowers, donations can be made honoring Ashley to the Angel Kiss Foundation, 150 Ridge Street, Reno, NV 89501. Viewing will be Monday, Nov. 26, 2001 from 12:00 noon to 1:00 p.m., followed by a service at 1:00 pm. at Ross, Burke & Knobel, 2155 Kietzke Lane, Reno. Burial will follow at Mountain View Cemetery.


A personal note from an editor and father

Daily Sparks Tribune Editorial 11-21-2001

Usually, this space is reserved for the semi-anonymous views of the Tribune's editorial board. Today, I am taking advantage of my position as editor to write a personal note.
Heaven claimed one of its angels this week. Ashley Rose Kisman — the five-year-old Spanish Springs girl whose battle with leukemia was detailed here — died this week.

I personally am crushed. I reported Ashley's story for the first time in June. Since then, I moved up from reporting to editing, but I kept tabs on Ashley's progress or lack thereof.

As journalists, we try our best to be objective, to tell the story in a human but dispassionate way. Even when we succeed in that, we don't always stay emotionally aloof. Ashley's was one of those stories for me.

I never met her. I never got the opportunity. Since I spoke with her father for the first time, she spent most of her life in Oakland where she received a bone marrow transplant. It was an unsuccessful bid to save that beautiful child's life. Her doctors sent her home after the cancer returned. She died Monday morning.

I don't know the details of her death. If I did, I would not share them without her parents' consent. What I do know is that the news moved me to tears -- not particularly flattering for a young newsman who is probably more jaded than most people have a right to be. But the fact is that reporting the news is about our human experience. And without a willingness to invest in that experience, how can we expect to effectively relate it?

My heart goes out to the family. I can't pretend to know what they're going through. I refuse to be so presumptuous as to say I know how they feel. I don't.

The only thing I can offer them is my condolences and perhaps some comfort that in her short life, Ashley Rose Kisman touched some lives. I know — mine was one of them, and I never got a chance to meet her.
J.D. Wilson, Managing Editor
Copyright © 2001 Daily Sparks Tribune. Used by permission.

UPS EMPLOYEES RALLY TO AID TINY LEUKEMIA VICTIM
DAUGHTER OF THEIR CO-WORKER
Workers cash in sick days to help pay four year-old's hospital bills
by Holly Wray
Daily Sparks Tribune
SPARKS (July 10, 2001) — When United Parcel Service employee Debbie Bryan found out that co-worker Shane Kisman's four year-old daughter had been diagnosed with leukemia, she told him she wanted to help in any way she could. Kisman told her they were going to need a lot of money to pay for his daughter Ashley's therapy, lengthy hospital stay and eventual bone marrow transplant.
The Kismans also have to pay travel expenses from their home in Sparks to Oakland, California, where Ashley is staying at a children's hospital. Bryan found out about a UPS program through which employees may cash in their sick days and donate the money to the Kismans for Ashley's medical care.
The donations are funneled through the Angel Kiss Foundation, a nonprofit organization.
"We're giving UPS drivers a place to send their money and have it be tax deductible," said Iris Imperial of Angel Kiss. "We also work in conjunction with some other businesses in putting together something for Ashley, " she noted.
Imperial said there is currently no other fundraising going on, but she is looking for any independent business to help with fundraising. Bryan estimated that 40 people have signed up so far to donate their sick days, each one worth about $150.
Despite the help from UPS employees and Ashley's daycare provider in Spanish Springs, medical bills are still mounting. Kisman said hospital charges, excluding the costs of doctors and anesthesiologists, was up to $300,000 at the end of June. That number is going to increase rapidly after July 24 when Ashley is scheduled to receive a bone marrow transplant. Although she is not an exact match, Ashley's mother will be the bone marrow donor. Kisman said that because of money constraints, his daughter is not receiving the best care available.
Hospitals in California and Oregon asked for hundreds of thousands of dollars up front before Ashley's transplant could be performed there, but the Kismans didn't have that kind of money.
"My daughter's life has come to nothing more than dollars and cents for these people," Kisman said. "We're fighting to get things reconciled so we can get the treatment she needs," he added.
Bryan said one of the most compelling reasons for her to raise money for Ashley's treatment was that hospitals were refusing to treat her.
"I think it's ridiculous that you can deny care to a four-year-old because of a lack of money," Bryan said. "They're not even going to look for a matched donor because UPS insurance doesn't cover any of that. That's horrible." she stated.
Bryan is organizing a golf tournament to be scheduled in late August or early September and will continue to take sick day donations until July 20.
Kisman said Ashley's transplant was originally planned at a hospital at Stanford University, but the facility asked for $600,000 in cash before the procedure could take place. UPS insurance will pay only $150,000 toward bone marrow transplants, Bryan said, which leaves a lot for the family to cover.
"I don't know a whole bunch of people who have $450,000 stuck between the cushions of their couch," Bryan stated.
Kisman said the family scrambled to find another place. "Oakland Children's Hospital agreed to help us out," Kisman said.
"Her best chance of survival will be to use bone marrow from a five out of six match from her mother, which may cause other complications. It's all due basically to money," he noted. Kisman said Ashley's conditioning for the surgery begins on July 16. She will get two doses of radiation daily for five days, then two days of high-dose chemotherapy. She gets one day off, then she will receive the transplant.
Kisman said he operates on between two and four hours of sleep. He works nights, then spends his days on the phone, calling people to bring attention to his family's problems with medical costs. "My time is spent on the phone and filling out insurance applications instead of with my daughter," Kisman said.
"It's a huge battle because the state of Nevada has no facility to treat children with leukemia. So we all have to go out of state. And because I work and have insurance, there's no program to benefit families like mine. We're left out on our own."
Kisman also has a son, Zach, 7, and two stepchildren, Koree, 10 and Breanne, 11. He said his family has helped to keep things going while he makes sure Ashley is receiving treatment.
"I'm working as many days as I can," Kisman said. "My mom and sister drive in from LA to take take different shifts at the hospital because she's only four years old. There's no nurse 24 hours a day, so someone has to be there especially when she's getting chemo and other things. Even going to the bathroom is a major ordeal," he added.
Through it all, Kisman said Ashley has been very strong and upbeat.
"She turned her hospital bed into a trampoline, her trampoline away from home," Kisman said. "We want to make our daughter survive."
Copyright © 2001 Daily Sparks Tribune. Used by permission.

EDITOR'S NOTE: Shane Kisman is a member of Teamsters Local 533, which is also helping raise money for his daughter. Union members may contact business representative Mark Tracy at (775) 348-6060.

Ashley Kisman's website may be accessed by clicking here. E-mail ashleyrosekisman@aol.com
[2004 UPDATE: The above family website is no longer active]
Mail donations to
U.S. Bank
c/o Bridgett Darrieta
Ashley Rose Kisman Fund
9750 Pyramid Lake Highway
Sparks, NV 89436
(775) 424-0100
---
Fallon cluster overshadows local dramas
55 local families deal with childhood cancer
by J.D. Wilson
The Daily Sparks Tribune
SPARKS (June 6, 2001) -- While media attention has focused on 14 cases included in the Fallon cancer cluster, at least 55 local children have also been dealing with cancer.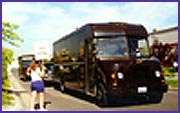 UPS employees have donated sick day pay to help Teamster Shane Kisman's daughter, Ashley.
The families of those children are also dealing with the fallout from the coverage.
"Every family has said something to me," said Diane Malek, a social worker at Oakland Children's Hospital, which treats most childhood cancer cases from northern Nevada.
"The Reno-Sparks-Carson families feel ignored. Their situation is exactly the same."
Four year-old Ashley Kisman of Sparks was diagnosed with acute myeloid leukemia in February. Her father thought he was taking her to the doctor for a cold, but the day ended in a hospital in Oakland, Calif.

"They had us fly her down immediately," Shane Kisman recalls. "They wanted her there within four hours, so our only option was to fly."

After several weeks of chemotherapy treatments, Ashley's leukemia went into temporary remission. She was home for two weeks before a relapse forced her return to the hospital. Kisman said she will likely not be home for six more months.

During her short visit, Ashley saw a news story on television about the children from Fallon and their recent trip to Disneyland. She asked her father when she would get to go.

Kisman said he has tried to get some attention for his daughter's situation and the plight of other families in similar circumstances. He said he was told by several media that unless his daughter is included in the Fallon cluster, he does not have a story.

"I do have a story because I have a little girl who's dying," Kisman said. "We're in the same hospital as some of the kids from Fallon. The difference is they come in here for a couple of weeks and go home. We're stuck there for months."

Wiping away tears, Kisman said he has no ill feelings toward any of the families. Instead, he said he is frustrated by the lack of sensitivity shown to local families.

"Nobody wants to know about it," Kisman said.

Ashley is currently undergoing regular chemotherapy treatments which have caused all of her blonde locks to fall out. Doctors are searching for a match for a bone marrow transplant — her last chance for survival.

Acute myeloid leukemia is very aggressive and very hard to treat. Right now, doctors give her a 30 percent chance of living, but even if a bone marrow donor is found, many obstacles to her recovery remain.

Ashley stays in the hospital for weeks hooked up to an intravenous (IV) line receiving chemotherapy, daily blood tests, weekly spinal taps and blood platelet transfusions. She is unable to leave her room

Ashley can't go the restroom without assistance because of the IV. Kisman said even eating is an ordeal because the chemotherapy kills her appetite. A family member is constantly with Ashley, her mother, father, aunt or uncle.

"We try to do shifts because when you're there, it's overwhelming," Kisman said. "It's just draining. It takes a couple of days to get back into your routine when you get home."

The financial impact also has been tremendous. Each week Ashley spends in the hospital costs more than $42,000 which covers only the room and nursing, not treatments, tests or physician fees.

A fund has been set up to help. Donations can be made at any U.S. Bank to the Ashley Rose Kisman Fund. Angel Kiss, a local charity, also helps families dealing with childhood cancer. They can be reached at (775) 853-8335.
Copyright © 2001 Daily Sparks Tribune. Used by permission.