BREAKING NEWS —>
DoctorLawyerWatch.com
Union members picket "greedy and unaccountable" St. Mary's-Reno Hospital
By Jeri Davis / This is Reno 11-9-2020
Intensive care
St. Mary's-Reno nurses picket Wednesday September 18, 2019
What's harder: Finding a doctor or Stormy Daniels?
Sucking up money: The ever-expanding tentacles of the voracious Renown medical octopus
Barbwire by Andrew Barbáno
Expanded from the 3-21-2018 Sparks Tribune
Gowabunga!
Los Angeles Times journalists vote 248-44 to unionize
Journalists at the Los Angeles Times have overwhelmingly elected to form a union and be represented by the NewsGuild-Communications Workers of America. It's a historical first for the 136-year-old news organization that for much of its history was known for its opposition to organized labor.
By James Rufus Koren / Los Angeles Times 19 January 2018
Editor's Note: This website's editor/publisher is a longtime member of Nevada CWA Local 9413/AFL-CIO. Mazeltov!

HOT-WIRED (and wireless) STRIKE
AT&T Wireless, Wireline and DIRECTV workers walk off the job
After AT&T refuses to present serious proposals by deadline, three-day strike hits dozens of cities.
First-ever AT&T wireless strike could close many retail stores this weekend.
"Frustrated over the lack of progress in contract talks, more than 17,000 AT&T union members
in California and Nevada walked off their jobs on Friday."
Los Angeles Times / 5-19-2017
CWA wins California/Nevada strike at AT&T
By Samantha Masunaga / Los Angeles Times 3-23-2017
Nevada utilities continually consume consumers
Barbwire by Barbano / Expanded from the 5-31-2016 Sparks Tribune
Longtime CWA member Bill Birkman dies
Nevada Alliance for Retired Ameicans / 6-2-2014
30 NOV. 2013 04:26:31 a.m. PST / 12:26:31 ZULU/GMT/SUT/CUT —> Poor Denny's Almanac
On this date in 1835, Samuel Langhorne Clemens was born in the four-year-old hamlet of Florida, Missouri. —>
Hot type: Las Vegas Sun burns down on Nov. 20, 1963
The newspaper was formerly the Las Vegas Free Press, owned by the International Typographical Union which long since merged with the Communications Workers of America/AFL-CIO. Reno and Las Vegas publications stayed unionized into the 1970's and early 1980's, but no union shops remain in the hotbed of union activity which is the Nevada of today.
What was once may someday come again.
Las Vegas Sun / 11-20-2013
AT&T workers demonstrate at AT&T Reno
HOT AUGUST STRIKE!
AT&T WORKERS STAGE TWO-DAY WALKOUT IN NORTHEASTERN U.S. AND NEVADA-CALIFORNIA
AT&T Bargaining Updates from Local 9400
AT&T union workers locked out in Reno
Communications Workers union pickets AT&T in Reno
Internet call center contract expires
CWA 9413's Liz Sorenson wins inaugural César Chávez Silver State Public Service Award as union organizer of the year.
CWA WINS AT ST. MARY'S-RENO
Thursday, 4 Dec 2008, 12:24 p.m. PST, 20:24 ZULU/GMT/SUT/CUT


Innovative CWA campaign results in significant gains for CC Communications workers in Fallon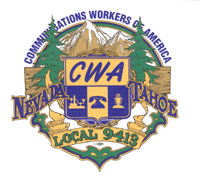 THE NEW DEAL
CPI PHONES HOME
The union's victory was largely set in place when an impartial factfinder ruled in May in the union's favor on most of the workers' demands. That decision cut the heart out of the company's stonewalling.

Apparently, the county commissioners also saw in it their error in the treatment of their own constituents and employees.

Here are the salient points of the new CWA contract with CC Communications.

1. Elimination of a two-tiered pay scale which penalized new-hires. (Editor's note: This is an extreme rarity these days.)
2. An applicable inflation rate of 5%. A raise to that effect was put in place retroactive to June 1, 2005, plus a .25% contribution to the Public Employees Retirement System.
3. Future pay will be indexed to the Urban CPI based on the most recent 12 months ending on March 31 of each year.
4. Stronger safety language.
5. Double- time after 49 hours.


The CWA raise is roughly double of what workers in the rest of Churchill County have received.

EDITOR'S COMMENT: The wide-ranging effects of this victory should not be underestimated. Contract after contract, in Nevada and across the nation, has resulted in wage increases less than the inflation rate — in effect, a pay cut.

Employers and their subcontractors have done so merely because they can. When RTC/Citifare employees struck the Reno-Sparks-Washoe County bus system a few years ago, they were forced by the British-owned management contractor to accept a two percent raise despite the fact that the Regional Transportation Commission had authorized three percent.

The workers of CC Communications are to be congratulated for a win in a narrow-minded, media-controlled town like Fallon (see below). Perhaps the lowest insults were those which asserted that phone company jobs are better than most, so take what they give you — even if it's a pay cut — and kwitcherbitchin'.

Lots of other unions in particular, and the huge number of unorganized workers across this nation in general, need to heed the example of small, tightly-knit worker groups that have refused to succumb to fear, company intimidation and — in Fallon's case — community-wide shunning and vilification.

Repentant world-class union buster Martin Levitt stated in his book, Confessions of a Union-Buster (now in its umpteenth printing), that the few times he was unable to defeat a union came when the workers refused to break solidarity.

CC Comm's Fallon workers now rank high in the Nevada labor hall of fame — along with the likes of the Reno Hilton security guards — as shining examples of what can happen if you stand up and fight for your rights. You can prevail even here on the High Desert Plantation in the country with the most repressive labor laws in the industrialized world. If a union can make it in Fallon, imagine the potential elsewhere.

Solidarnosc!

Be well. Raise hell.
CENSORED IN FALLON: RADIO STATIONS REFUSE TO AIR UNION WORKERS' ADVERTISING WHICH QUESTIONS PHONE COMPANY EXPENSE ACCOUNTS
FALLON (24 Jan. 2006) – Three Fallon radio stations have refused to broadcast advertising which questions expenditures by executives of CC Communications, Churchill County's publicly owned telephone-cable TV-internet service provider.

The commercials will begin airing Wednesday, Jan. 25, on Reno-based stations KOZZ 105.7-fm and KBUL 98.1-fm, both of which have large audiences in Churchill County.
The banned spots question credit card charges by company managers.
CC Communications is compelled by Nevada law to fully disclose expenditures but so far has given the union representing its workers only amounts, dates and vendors.

Communications Workers of America Local 9413/AFL-CIO represents about 65 employees who have worked without a contract since July 1. A new contract was rejected in a vote of the membership last November.
In a letter delivered to CC Comm Human Resources Director Jane Jenkins today, union staff representative John Doran states that "on Nov. 23, 2005, the Union requested a complete list of managers and supervisors who were issued company credit cards, which included the 'monthly breakdown of charges for the past three years for each credit card issued with an explanation for what the charge was for.'
"The Company did not provide 'what the charge was for.' The Union again requests this information. This request is made pursuant to public records as defined in (Nevada Revised Statutes) 239.010."


The union believes that the company's actions constitute an illegal unfair practice which is governed by the Nevada Local Government Employee-Management Relations Board.

"We could understand KVLV am-fm declining our spot schedule, as County Commissioner Lynn Pearce, who is charged with oversight of CC Communications, is an owner of the station as well as a morning personality," Doran said.

"However, KHWG-am unprofessionally colluded with CC Comm management by playing our commercials for them last week without our permission," Doran added.

"In refusing our paid schedule, KHWG management noted that CC Comm — a citizen-owned company — is a big advertiser," he stated.
"The accuracy of our ads was not questioned," the longtime Nevada labor leader noted.
The commercials state, in part, "If you are one of the chosen few at the top of the food chain, you've been eating good and making lots of interesting purchases in very interesting places, kind of a never-ending card party. The county has a strict policy regulating credit card use.
"Next time you run into CC Communications executive-types at lunch in Fallon, ask them to show you the card — they don't leave home without it.
"Why would they?
"A list of purchases is posted at NevadaLabor.net.
"County Commissioner Lynn Pearce oversees CC Communications.
"Call him at (775) 428-1254.
"Ask him to look in their wallets.
" The CC Communications county credit card — priceless work if you can get it."

The censored commercials are available for listening at NevadaLabor.net.


A partial list of vendors patronized with CC Communications credit cards.


Blue Ribbon Meats
Harmony, Brooklyn New York
Cock 'n' Bull Restaurant
Bubba Gump Shrimp Company,
New Orleans
Lands' End
Subway
The Fontainebleau, Miami
Business Objects Crystal
Plumpjack Hotel Squaw Valley
Art Today, Inc.
Subway again
Dairy Queen
Oriental Trading Company
Sandwinds Restaurant
Subway again
Late charge (oops)



Golf Tournament.com
Stratosphere Las Vegas
Howlin Good Barbecue
McDonalds
Royal Towncar
Overlimit fee (oops again)
Baldini's Sports Casino
Mirage, Palms and Hard Rock Hotel,
Las Vegas
Port of Subs
Sushi Boat
Round Table Pizza
Westin Maui
Leilani's on the Beach, Maui
Golden Rice Bowl
Total Fitness Athletic Center, Fallon
6-30-2004





Information provided by the company at union request.


2.36.040 County Credit Cards:


Each county employee who is issued a county card may only use the credit card to purchase goods or services for the county. An accurate record of expenses to include duplicate receipts of all transactions must be submitted to the comptroller's office for payment. No personal transactions are allowed. Any transactions not in compliance with this section shall subject the employee to disciplinary procedures as outlined in chapter 3.52 of this code and cause forfeiture of said credit card upon an order by the board of commissioners. (Bill 2002-G, 2002)

CC Communications

Distribution: Salaried Employees
Effective Date: February 15, 1992
Revision Date: March 17, 1997
Subject: Credit Card
File Under: Administration
Page 1 of 1 Pages

CREDIT CARD POLICY

The use of a company credit card (Mastercard) for travel and business expenses is encouraged for all management, supervisory and staff employees.
The use of this card allows for the reduction and amount of cash advances. It allows for better record keeping.
Occasional purchases made for the company can save considerable time and effort rather than obtaining a cash advance or using your own credit card or check. These types of purchases should be kept to a minimum.
Do not physically loan your card to any other employee.
Receipts for charges should be kept until you receive the Mastercard bill from Accounting. When approving the bill attach your receipts to it with the purpose and guests appropriately noted on the back of the receipt.