BARBWIRE
by
ANDREW BARBANO
Pirate Laureate of the High Desert Outback of the American Dream

¡Viva Chávez!
César Chávez Celebration XIV / Celebración de César Chávez XIV
Wednesday 30 March 2016 / Miércoles 30 de Marzo 2016
Highlights from the record-breaking event at Circus Circus Reno

Site map
SITE NAVIGATION TIPS: When all else fails, read the instructions

Get ahead of corporate-influenced news—>Subscribe to Barbwire Confidential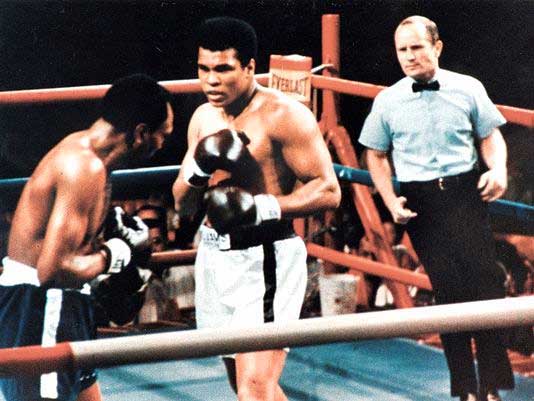 Sahara Tahoe, Stateline, Nevada (21 November 1972) — In what would be his only northern Nevada match, Muhammad Ali squares off against world Light-Heavyweight Champion Bob Foster for the North American Boxing Federation heavyweight title. The referee is future Washoe County DA and District Judge Mills Bee Lane in his first championship fight. Former Golden-Glover Lane (20-1) achieved his own world fame, officiating at dozens more championship bouts. He starred in his own nationally-syndicated television show, Judge Mills Lane, for three years. Ali knocked out Foster in the eighth round but not before Foster became the first opponent to open a cut on the prettiest one's face. For many years thereafter, Lane gave away copies of TV reporter and now-retired attorney David Kladney's above photo.

---
Muhammad Ali: Winning against earthquakes
Barbwire by Barbano / Expanded from the Tuesday 6-7-2016 Sparks Tribune / Updated 6-10-2016
"You can no more win a war than you can win an earthquake."
So advised Rep. Jeannette Rankin, R-Montana, the only member of Congress to vote against both world wars.

Muhammad Ali understood. Much has been written about his 1972 sojourn to these parts to fight light heavyweight champion Bob Foster at Lake Tahoe with Mills Lane as referee.

Only the Barbwire covered his encounter with Sir David Frost.

Last Saturday came this from Matthew Anctil in Denver: "My mom, Beth Anctil, was a sales rep at KOLO-TV and got my dad and me in...I searched KOLO and David Frost and voila! up popped your article — we were in the same room! I specifically remember Ali getting upset about the bacon on his meal, which you mentioned as well.

"He was the greatest, a memory I will never forget. Nice to find your column across the miles and years. Hope all is well in the Big R, a city I fondly remember from my formative years. I was a Wooster (High School) Colt."

The full column written at Frost's 2013 death will be linked to the expanded Barbwire at NevadaLabor.com/ It includes a clip from Frost's 1972 show that never aired in the United States.

WAR, WHAT IS IT GOOD FOR? To see an earthquake for yourself, hie thee to Carson City. The chilling traveling display Always Lost has come home for its final showing at Western Nevada College, Mondays through Saturdays until July 29 (closed July 4).

I first encountered it at the Nevada Legislature and publicly wept when I witnessed those faces of the dead of war. (Barbwire 4-18-2013)

It proves Muhammad Ali right once again.

SATELLITE GUN CONTROL. PBS reports that US-supplied weapons are readily available for all manner of terrorists from the main Iraqi Army depot "if you have influence," according to Reuters.

Not news. Our tax money has long been funding all sides of the bloody trillion-dollar quagmire on the sands of Araby.
The solution is readily available: Satellite gun control, smart guns. If you can disable a stolen car via GPS, you can disable firearms.

The Necromantic Rifle Association is death on smart guns that can only be fired by their owners. Gun stores that stock them lose business and get death threats.

Smart guns may be bad for the profits of wealthy weapons manufacturers who fund the NRA but good for our troops.

So who are the real patriots?

SPEAKING OF DEATH THREATS. Last week, hundreds of senior softball teams came to Sparks to compete at Golden Eagle Regional Park. Expanded public hours were also announced so that locals can likewise play on cancer-causing, lead-laden, crumb-rubber toxic turf.

I was sickened to see innocent Carson and Douglas students without surgical masks raking up clouds of crumb rubber while scrubbing graffiti off the Carson High football field. Lead and benzene are especially dangerous for young people and the stuff is all over Nevada. (The Barbwire exclusive series began 11-24-2015.)

The EPA has finally opened an investigation. Golden Eagle's turf is due for replacement this year. Does anybody at Sparks City Hall read?

BARBWIRE WEB EXTRAS —>

THE BIG 8-0. Bedridden Hall of Fame former Nevada Assemblymember Bob Price, D-North Las Vegas, turned 80 on May 23. I was honored to attend a small family party. His longtime colleague, former Sen. Joe Neal, D-N. Las Vegas, called in with birthday best wishes.

Nancy Price encourages visits to cheer up the great warrior and longtime Rail City resident. Send cards and flowers to ManorCare, 2350 Wingfield Hills Rd., Sparks 89436.
Bob Price served almost three decades in the lower house. Bob and Nancy retired to Sparks years ago. He has been a member of Las Vegas IBEW Local 357/AFL-CIO for more than half a century. He helped build the showroom at the Las Vegas Hilton which was opened by Elvis Presley in 1969. Bob has the King's autograph on his old lunchbox to prove it. He chaired the Assembly Taxation Committee for many sessions and became legendary for his advocacy on behalf of the little guys.

TV TIME. Airing multiple times starting Saturday, June 4, I tell "Old Tales of Nevada" (and some new ones) on the longrunning program. Check local listings.

Be well. Raise hell. / Esté bien. Haga infierno. (Pardon my Spanglish.)
---
The Underbelly of the News—>Subscribe to Barbwire Confidential
TOMORROW'S NEWS TODAY: FEEL UP YOUR FIRE METER. The Reno Gazette-Journal did big spreads on three consecutive Sundays (Sept. 14, Sept. 21 and Sept. 28, 2014) on NV Energy smart meter fires. Welcome aboard. Barbwire readers were two years ahead on the fire meter issue. (Touch a Smart Meter, Go to Jail — 11 October 2012)
FIRE METER UPDATES: THE NEVADA FIRE MARSHALL'S INVESTIGATION concluded "don't worry, be happy." I'm still worried and will continue fondling NVE's precious equipment —> If your smart meter feels very hot, not just from sunshine, call 911.

In its Sunday 21 Dec. 2014 front page headline major story, the Reno Gazette-Journal published results of the NVEnergy-commissioned "don't worry, be happy" echo study. On 1-27-2015, the RGJ published an analysis based on veteran reporter Anjeanette Damon's review of more than 1,000 pages of documents. Barbwire bottom line: NVE handles this like auto manufacturers handle defects —> It's cheaper to pay legal settlements after people are injured or killed than to fix the problem.


Don'tcha worry 'bout a thing! If you can't trust your power company, whom can you trust?

DIDN'T THEY MAKE A MOVIE CALLED "THE INCREDIBLES"? On 2-6-2015, the RGJ reported that the Public Utilities Commission has ordered NVE to hire an independent laboratory to review the material.

UPDATE: The report said all is well. I still recommend feeling up your fire meter on a regular basis.
ANTE INTO THE GAME: Support the new season of Barbwire.TV by putting your money where my mouth is. A thousand thanks to those who keep sending show suggestions.
"Media is the plural of mediocre."
— Jimmy Breslin
Stay tuned.
I encourage you to donate to the cause at Barbwire.TV/ The medium that shapes public opinion needs at least one refuge where it is not filtered through the distorted green eye shades of prissy corporate accountants for whom profit is the only priority; where self-censorship is the journalist's normal work environment and where all sins of omission are tacitly encouraged and forgiven with the wave of a balance sheet. This is important. We've got a lot of work to do.
Get ahead of corporate-influenced news—>Subscribe to Barbwire Confidential
Be well. Raise hell. / Esté bien. Haga infierno. (Pardon my Spanglish.)

Andrew Barbano is a 47-year Nevadan, chair of the Nevada César Chávez Committee, producer of Nevada's annual César Chávez Day celebration, first vice-president and political action chair of the Reno-Sparks NAACP, labor/consumer/civil rights advocate, member of Communications Workers of America Local 9413/AFL-CIO and editor of NevadaLabor.com and JoeNeal.org and DoctorLawyerWatch.com/ As always, his opinions are strictly his own. Check local listings for other Nevada cable systems. E-mail barbano@frontpage.reno.nv.us. Barbwire by Barbano has originated in the Sparks Tribune since 1988.

Peruse the Underbelly of the News —> Subscribe to Barbwire Confidential
SITE NAVIGATION TIPS: When all else fails, read the instructions
NevadaLabor.com | U-News | Bulletins + Almanac
Casinos Out of Politics (COP) | Sen. Joe Neal
Guinn Watch | Deciding Factors | BallotBoxing.US
DoctorLawyerWatch.com | Barbwire Oilogopoly Archive
Barbwire Nevada Corporate Welfare Archive
Annual César Chávez Celebration
War Rooms: Banks, Cabbies, Cabela's/cabellyup, Cable TV, Cancer Kids/Mining, Energy, Food, Health Care, Resurge.TV/consumers, Starbucks, Wal-Mart
We Don't Need No Education
Search this site | In Search Of...


Copyright © 1982-2016 Andrew Barbano

Andrew Barbano is a 47-year Nevadan, editor of NevadaLabor.com and JoeNeal.org; and former chair of the City of Reno's Citizens Cable Compliance Committee. He is producer of Nevada's annual César Chávez Day celebration and serves as first vice-president, political action chair and webmaster of the Reno-Sparks NAACP. As always, his opinions are strictly his own. E-mail barbano@frontpage.reno.nv.us.

Barbwire by Barbano moved to Nevada's Daily Sparks Tribune on Aug. 12, 1988, and has originated in them parts ever since.
Whom to blame: How a hall-of-famer's hunch birthed the Barbwire in August of 1987
Tempus fugit.

Site composed and maintained by Deciding Factors, CWA 9413 signatory
Comments and suggestions appreciated. Sign up for news and bulletins