BARBWIRE
by
ANDREW BARBANO
Pirate Laureate of the High Desert Outback of the American Dream

¡Viva Chávez!
César Chávez Celebration XIV / Celebración de César Chávez XIV
Wednesday 30 March 2016 / Miércoles 30 de Marzo 2016
Highlights from the record-breaking event at Circus Circus Reno

Site map
SITE NAVIGATION TIPS: When all else fails, read the instructions

Get ahead of corporate-influenced news—>Subscribe to Barbwire Confidential


Everybody knows the dice are loaded.
Everybody rolls with their fingers crossed.
Everybody knows the war is over.
Everybody knows the good guys lost.
Everybody knows the fight was fixed.
The poor stay poor, the rich get rich.
That's how it goes. Everybody knows...
Everybody knows the scene is dead
But there's gonna be a meter on your bed
That will disclose
What everybody knows...
Everybody talking to their pockets.
Everybody wants a box of chocolates
and a long red rose. That's how it goes.
Everybody knows.

— Leonard Cohen
Be careful what you wish for: Justice is a game
Barbwire by Barbano / Expanded from the Tuesday 5-10-2016 Sparks Tribune

The indictment of Reno doctor Robert Rand and several others on pill-mill drug charges has dominated local news. Last week, the parents of one his patients filed a wrongful death lawsuit. The family may not recover much.
Thanks to the fraudulent 2004 "doctors are leaving Nevada" media campaign, voters passed an initiative petition capping damages. Worse, the petition mandated that all expenses paid by a victim's insurer be deducted from any award. Most malpractice lawsuits today would thus cost more to pursue than maximum possible recovery. That's why almost all current lawyer advertising solicits only accident cases. Much more at DoctorLawyerWatch.com/
NUMBER ONE WITH A BULLET. Last week, I marveled that Assemblyperson Michele Fiore, R-Gomorrah South, won the endorsement of the Southern Nevada Central Labor Council/AFL-CIO in her primary bid for congress.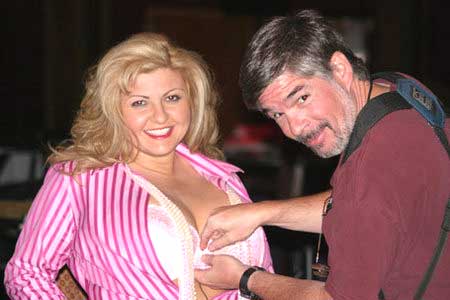 Who was that lady I saw you with last night?
(But can she cook?)
That resulted in the umbrella Nevada State AFL-CIO endorsing both Machine Gun Michele and Democrat Jacky Rosen, Sen. Harry Reid's pick to replace incumbent Republican Joe Heck. Gen. Heck is now running for U.S. Senate and thereby hangs two tales.

Organized labor supported an unknown Dr. Heck who beat the anti-union State Sen. Ann O'Connell in the 2004 GOP primary. Four years later with Obama on the ticket, Heck was knocked out by a more suitable Democrat.

The monster labor created came back from the dead in 2010. In the year of the Tea Party, Heck beat first-term Rep. Dina Titus, D-Las Vegas Congressional District 3. (She now holds former Rep. Shelly Berkley's super-safe seat in LV CD-1.)

One union leader theorized that labor is replaying Harry Reid vs. Sharron Angle from 2010, trying to get the weakest possible Republican into November against the unknown Rosen.

That's a very dangerous game, even with Fiore's labor endorsement expiring after the June primary. All who know her admit that mercurial Michele is an excellent campaigner.

Be careful what you wish for. You just might get it.

DIOGENES ALERT: "Now I understand that people don't like taxes, but we are at 1992 state government spending levels. That's after the tax reform." So said Nevada State Senate Majority Leader Michael Roberson, R-Las Vegas, in a recent debate. Roberson is the favorite to beat Fiore and perennial candidate Danny Tarkanian in next month's CD-3 primary.

Roberson is correct. Only The Barbwire pointed out months ago that Nevada education spending remains flat despite the much-ballyhooed 2015 business tax hikes.

Republican State Controller Ron Knecht, the Nevadan who comes closest to Donald Trump in self-importance, recently wrote that the "alternative budget" he proposed to the legislature last year "would have significantly increased educational spending from prior levels."

He did not present an alternative budget, just a ludicrous three-page letter.

WASTE, FRAUD AND ABUSE in education has finally been documented. Read journalist Hugh Jackson's report Chartered Cruise on the Las Vegas public radio website, also linked to this column at NevadaLabor.com/

HALL OF FAME former Nevada Assemblymember Bob Price, D-North Las Vegas, remains bedridden at Tahoe Pacific South Meadows in the same complex as Renown South Meadows, 10101 Double-R Blvd. (89521)

Send well-wishes and flowers to the longtime Sparks resident or call (775) 326-6148. Nancy Price encourages visits to cheer up the legendary warrior.
Bob Price served almost three decades in the lower house. Bob and Nancy retired to Sparks years ago. He has been a member of Las Vegas IBEW Local 357/AFL-CIO for more than half a century. He helped build the showroom at the Las Vegas Hilton which was opened by Elvis Presley in 1969. Bob has the King's autograph on his old lunchbox to prove it. He chaired the Assembly Taxation Committee for many sessions and became legendary for his advocacy on behalf of the little guys.
Be well. Raise hell. / Esté bien. Haga infierno. (Pardon my Spanglish.)
---
The Underbelly of the News—>Subscribe to Barbwire Confidential
BARBWIRE WEB EXTRAS —> TOMORROW'S NEWS TODAY: FEEL UP YOUR FIRE METER. The Reno Gazette-Journal did big spreads on threeconsecutive Sundays (Sept. 14, Sept. 21 and Sept. 28, 2014) on NV Energy smart meter fires. Welcome aboard. Barbwire readers were two years ahead on the fire meter issue. (Touch a Smart Meter, Go to Jail — 11 October 2012)
FIRE METER UPDATES: THE NEVADA FIRE MARSHALL'S INVESTIGATION concluded "don't worry, be happy." I'm still worried and will continue fondling NVE's precious equipment —> If your smart meter feels very hot, not just from sunshine, call 911.

In its Sunday 21 Dec. 2014 front page headline major story, the Reno Gazette-Journal published results of the NVEnergy-commissioned "don't worry, be happy" echo study. On 1-27-2015, the RGJ published an analysis based on veteran reporter Anjeanette Damon's review of more than 1,000 pages of documents. Barbwire bottom line: NVE handles this like auto manufacturers handle defects —> It's cheaper to pay legal settlements after people are injured or killed than to fix the problem.


Don'tcha worry 'bout a thing! If you can't trust your power company, whom can you trust?

DIDN'T THEY MAKE A MOVIE CALLED "THE INCREDIBLES"? On 2-6-2015, the RGJ reported that the Public Utilities Commission has ordered NVE to hire an independent laboratory to review the material.

UPDATE: The report said all is well. I still recommend feeling up your fire meter on a regular basis.
ANTE INTO THE GAME: Support the new season of Barbwire.TV by putting your money where my mouth is. A thousand thanks to those who keep sending show suggestions.
"Media is the plural of mediocre."
— Jimmy Breslin
Stay tuned.
I encourage you to donate to the cause at Barbwire.TV/ The medium that shapes public opinion needs at least one refuge where it is not filtered through the distorted green eye shades of prissy corporate accountants for whom profit is the only priority; where self-censorship is the journalist's normal work environment and where all sins of omission are tacitly encouraged and forgiven with the wave of a balance sheet. This is important. We've got a lot of work to do.
Get ahead of corporate-influenced news—>Subscribe to Barbwire Confidential.
Be well. Raise hell. / Esté bien. Haga infierno. (Pardon my Spanglish.)






Andrew Barbano is a 47-year Nevadan, chair of the Nevada César Chávez Committee, producer of Nevada's annual César Chávez Day celebration, first vice-president and political action chair of the Reno-Sparks NAACP, labor/consumer/civil rights advocate, member of Communications Workers of America Local 9413/AFL-CIO and editor of NevadaLabor.com and JoeNeal.org and DoctorLawyerWatch.com/ As always, his opinions are strictly his own. Check local listings for other Nevada cable systems. E-mail barbano@frontpage.reno.nv.us. Barbwire by Barbano has originated in the Sparks Tribune since 1988.
Peruse the Underbelly of the News —> Subscribe to Barbwire Confidential
SITE NAVIGATION TIPS: When all else fails, read the instructions
NevadaLabor.com | U-News | Bulletins + Almanac
Casinos Out of Politics (COP) | Sen. Joe Neal
Guinn Watch | Deciding Factors | BallotBoxing.US
DoctorLawyerWatch.com | Barbwire Oilogopoly Archive
Barbwire Nevada Corporate Welfare Archive
Annual César Chávez Celebration
War Rooms: Banks, Cabbies, Cabela's/cabellyup, Cable TV, Cancer Kids/Mining, Energy, Food, Health Care, Resurge.TV/consumers, Starbucks, Wal-Mart
We Don't Need No Education
Search this site | In Search Of...


Copyright © 1982-2016 Andrew Barbano

Andrew Barbano is a 47-year Nevadan, editor of NevadaLabor.com and JoeNeal.org; and former chair of the City of Reno's Citizens Cable Compliance Committee. He is producer of Nevada's annual César Chávez Day celebration and serves as first vice-president, political action chair and webmaster of the Reno-Sparks NAACP. As always, his opinions are strictly his own. E-mail barbano@frontpage.reno.nv.us.

Barbwire by Barbano moved to Nevada's Daily Sparks Tribune on Aug. 12, 1988, and has originated in them parts ever since.
Whom to blame: How a hall-of-famer's hunch birthed the Barbwire in August of 1987
Tempus fugit.

Site composed and maintained by Deciding Factors, CWA 9413 signatory
Comments and suggestions appreciated. Sign up for news and bulletins