BETTY J. BARBANO
1941-2005


Culinary organizer Kiko Reyes dies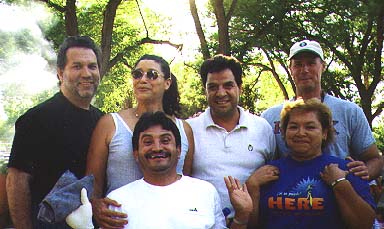 IN A HAPPIER TIME —Kiko Reyes, at front in white, celebrates the signing of union contracts with the Reno Hilton and the Flamingo Hilton-Reno at a picnic in Reno's Idlewild Park on July 23, 2001. Hotel Employees & Restaurant Employees Union Local 86 Secretary-Treasurer Scott MacKenzie stands at back left. At back right is D. Taylor, who has since been elevated to executive secretary-treasurer of the now-merged locals. MacKenzie is now executive director of the State of Nevada Employees Association. (NevadaLabor.com photo)
RENO (Dec. 7, 2005) —Nevada State AFL-CIO Executive Secretary-Treasurer Danny Thompson sent a somber bulletin to the movement shortly after 5:00 p.m.

"It is with great sadness that I report that Brother Kiko Reyes, organizer for Culinary Local 226 in Reno, died yesterday after falling from his roof. Brother Reyes was an organizer for Local 86 and Local 226 since 1980. We will be seeking donations for his family. We will pass along the funeral arrangements as soon as we receive them.

"Thank you."



Rest in peace, our brother.

Federico "Kiko" Reyes, 1959-2005
Memorial arrangements announced

Vaya con dios.

Breaking News from the Barbwire
Updated 12-13-2005
Fire at Will and Whack the Messenger
CURIOUS LANGUAGE
Sen. Harry Reid either mis-spoke or has new information that Osama bin Laden is dead.
We report. You decide.
Blaming the Victim:
Dubya dances while consumers cringe
11-13-2005
Off with their heads!
And if that doesn't work, cut off their thumbs.

A Nevada Day Tea Party for DC
Sub-minimum wage work widespread in Nevada
Good Friday: Wherein the Barbwire foments a fox paw of international diplomacy and apologizes to our old friend Condoleeza
10-9-2005
SPECIAL REPORT: Nevada State AFL-CIO convention plays to a full house in Reno

Speaker Perkins may seek congressional seat

Pimps and thieves at the pump
9-25-2005
Amoral moralists pontificate as parishes perish
9-18-2005
Laborers' Union donates $30,000 construction project,
easing pressure on Red Cross hurricane relief funds
9-16-2005
Sunday of multiple sorrows
9-11-2005

Deadly Spin in the oil slicks of New Orleans

Job openings — Move quickly!
Media Howlers
A short attention span means never having to say you're sorry
8-28-2005
Funeral arrangements announced for LV labor leader Bill Smirk (Glaziers Local 2001)
Patriot Games
Sparks City Council passes rebellion
against U.S. Patriot Act
UPDATED 8-24-2005
Getting Focused
The latest on the rigged consumer games of gasoline and cable TV price fixing
Plus: an old colleague reports from his home in a Gaza Strip refugee camp
8-14-2005
Payback Time
America must pay for their sins with the thing closest to their hearts —their wallets.
NEW FROM GOMORRAH SOUTH —
A POLITICAL PARTY FOR WHITE GUYS
DIVORCED BEDMATES
National trauma of AFL-CIO split could have been avoided right here in Nevada
EXCLUSIVE: A story never reported until now
7-31-2005
GCC Teamsters win at Quebecor, world's largest printer
Ballot Boxing 2005
7-24-2005
BOHICA Time
Corporate welfare runs amuck
Carson City government turns city hall into a gambling hall, potentially sharing tax revenue with auto dealer.

Day of infamy 6-23-47 — The Republican congress overrides President Truman's veto of the Taft-Hartley freeloader law
No bus strike in Reno-Sparks this year
---
Conservative Welfare Reform
Jespersen interviewed for Hollywood documentary
5-15-2005

Harrah's loses latest round to bartender fired in 2000 for refusal to wear makeup

UPDATE: San Francisco (5-16-2005) — Just three days after reversing its own three-judge panel, the Ninth Circuit fast-tracked Darlene Jespersen's en banc hearing.
UPDATE 6-23-2005 — A full court of 11 judges heard arguments in The City on June 22, 2005.
Keep an eye on this website for updates. Click here for worldwide links and the complete history of the landmark Jespersen case, including a NEW exclusive report from the Ninth Circuit courtroom.

Be well. Raise hell.