Site map
Corporate Propaganda Research Archive


Everybody knows the dice are loaded.
Everybody rolls with their fingers crossed.
Everybody knows the war is over.
Everybody knows the good guys lost.
Everybody knows the fight was fixed.
The poor stay poor, the rich get rich.
That's how it goes. Everybody knows.
Everybody knows the scene is dead
But there's gonna be a meter on your bed
That will disclose
What everybody knows.
— Leonard Cohen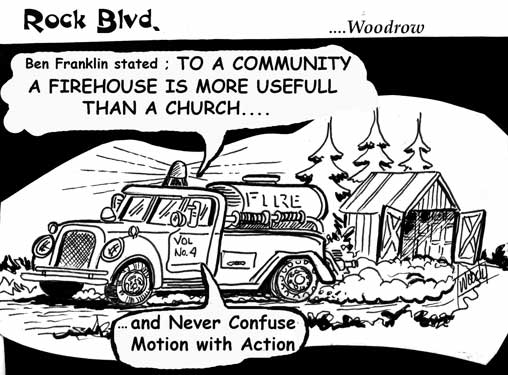 Copyright © 2012 Woodrow Barlettani for The Daily Sparks Tribune
Playing with fire
Barbwire by Barbano / Expanded from the 7-15-2012 Daily Sparks Tribune
Updated 7-17-2012

Not only are the Reno City Council and Washoe County Commission figuratively burning down their own houses, they might literally burn down yours.
MURPHY'S LAW DEPT. At about 12:30 p.m. on July 2, roughly 28.5 hours after the divorce of the City of Reno and Washoe County fire departments, a major forest fire broke out near the exclusive Caughlin Ranch area of southwest Reno, one of two newly unprotected county areas.
At about 1:45 p.m., I saw one U.S. Forest Service and three Reno Fire Department trucks "speeding" to the scene, if you can term being more than an hour late as speeding. In addition to their taxes, I've gotta hunch Caughlin fire insurance rates just went up.

I chuckled when the new fire chief said the system worked "flawlessly."
For the best perspective on how partisan politics has cut back local fire protection, read former Tribunite Dennis Myers' inflammatory exposé about how the Washoe County Commission Republican majority raised taxes and cut fire protection simply to damage unions.
News Editor Myers' June 28 Reno News & Review piece will be linked to the web edition of this column at NevadaLabor.com/

ULTERIOR MOTIVES, PART DEUX. The best way to stifle a fire is keep the lid on. Former Reno City Manager Charles McNeely mastered the fine art of misrepresenting the city's finances. He apparently failed to keep the lid on in San Bernardino. Now, he's out of job and San Berdoo is belly up.

The city was in the red for 13 of the past 16 years but reported deficits as surpluses for public consumption, Enron-style.

"There was a $3 million discrepancy in last year's budget," SB Mayor Pat Morris told Pasadena's National Public Radio affiliate KPPC.

"McNeely abruptly resigned after the error came to light. He claims his resignation was spurred by what he called poisonous political divisions between mayor's office, the city attorney and the city council," KPPC reported.

As I wrote years ago, McNeely's main job was keeping the lid on Reno's true financial condition.
In late 2008, I broke the story that his finance underling, Andy Green, was resigning to go to (irony alert) Pasadena. I thus predicted that McNeely would soon walk and he did. Green's principal job was shoveling the city council at public meetings.

Perhaps McNeely's talent at keeping Reno taxpayers in the dark made him attractive to SB.
He can now retire on fat California and Nevada pensions to his estate in Brazil.
I hope he says hello to Joe Conforte for us.

ET TU, CLINGER? A few days ago, extroverted Reno Mayor Bob Cashell surprisingly deferred to new City Manager Andrew Clinger to mouthpiece the state of the city address. In the finest McNeely fashion, Corporal Clinger performed a passionate tango with that ubiquitous lady of pliable moral character, Ms. Rosy Scenario.
Nobody much questioned Reno's $289 million of unfunded liabilities and the unmentioned downtown redevelopment corporate welfare program that's upside down and sucking money from the general fund. (See Cabellyup.com.)

ONCE BURNED, TWICE SHY. Local activists are firing up their friends to show up at the July 16 Washoe County Commission meeting. Commissioners will consider placing a question on the November ballot for a general services tax on motor vehicle value.
A one percent increase would generate about $9 million a year for "critical public services such as senior services, public safety and public infrastructure."

As always, the devil is in the details. In 1982, Nevada Transit boss Jerry Hall went all over town pimping a sales tax increase to "save Elderport," the senior/disabled transportation service started by activists Dorothy Pharis and Patricia Fladager.
The ballot question was worded in "such as" language so that the future Regional Transportation Commission could use the money any way it wanted.
Pharis and Fladager were soon out and the money-wasting RTC was born.

BOOKS ARE SO 20th CENTURY. We might as well start burning books because a library that's closed is no more than a storage locker.

At 4:00 p.m. this Wednesday, July 18, the Washoe County Library Board meets at the Sparks Library on 12th St. I hope someone will be there to unlock the door.

They will consider cutting back the already almost zilch hours of the Verdi branch and "approval of revised interlocal agreements for the Duncan/Traner, Gerlach and Verdi Community Libraries."

Without the latter agreements, there would be no public hours at these school libraries. Worse, in Duncan/Traner's case, about two-thirds of the books and computers would go away. (See the Barbwire of 20 May 2012.)

The drafts are available at WashoeCounty.US.

HOT TICKET. Country-folk legend Anne Feeney plays Reno this Tuesday, July 17, at Abby's Hwy 40, 424 E. 4th St.
There is no charge but donations for the band are encouraged. Seating is very limited so get there at 6:00 p.m. for the 7:30 performance.
She's coming as a favor to the Reno Wobblies Union (IWW) as the last stop on her Woody Guthrie 100th Birthday Tour.
Ms. Feeney's We Just Come to Work Here, We Don't Come to Die made the 2006 Smithsonian Folkways collection of classic labor songs, a frequent feature on my once-and-future TV show.
She has recently made a remarkable comeback from cancer, so there will be no smoking.
UPDATE: Feeney hospitalized in Oregon. Concert off. BBQ, music and party still on.
SUPPORT THE NEVADA CITIZEN TV PROJECT to re-establish a non-corporate people's channel in these parts.
You might just see a show featuring Anne Feeney.
You may donate at ReSurge.TV or contact me.
Thank you.

Be well. Raise hell.
____________
Andrew Barbano is a 43-year Nevadan, chair of the Nevada César Chávez Committee, producer of Nevada's annual César Chávez Day celebration, first vice-president and political action chair of the Reno-Sparks NAACP, labor/consumer/civil rights advocate, member of Communications Workers of America Local 9413/AFL-CIO and editor of NevadaLabor.com and JoeNeal.org. As always, his opinions are strictly his own. Check local listings for other Nevada cable systems. E-mail barbano@frontpage.reno.nv.us. Barbwire by Barbano has originated in the Daily Sparks Tribune since 1988.

Smoking Guns...


Followed by a moon shadow

TRAVUS T. HIPP, 1937-2012

ADIÓS, COMPADRE — Our friend Travus, 75, passed away peacefully between 2:00 and 3:00 a.m. PDT on 18 May 2012 at his home in Silver City, Nevada. The sun is in eclipse as I write this at 6:30 p.m. on May 20.

CHANGE OF VENUE (5-22-2012) — Adiós in Silver City, Nevada, Saturday, May 26, 2012 —> Updated 5-27-2012 — > The auld church where Travus lived and died proved too small for the expected multitude, so gathering, gnoshing and remembering commenced at the Silver City Community Center, 385 High Street, at 10:00 a.m. PDT. The graveside memorial service began at High Noon. Travus was buried next to his rock star companion Lynne Hughes, a short walk away. My remembrance of Lynne from the 3-21-1993 Daily Sparks Tribune has been linked to Travus' formal obituary at this website. All memories accepted for permanent posting hereat. Stay tuned for pictures and stories of the appropriately rainy day.

Thanks for all your kind words. Keep up the good work and the good fight.

Be well. Raise hell.

Andrew Barbano

Travus T. Hipp & Tales of Nevada's Futures Passed
Expanded from the 6-3-2012 Daily Sparks Tribune


At bottom, he was an artist who used his voice to soar and slice, a tenor for the tenor of our times. Many of his mourning California listeners talk about the vocal spells he wove, how he soundly organized the noise of daily life into music that entertained, engaged, enlightened, educated, enthralled and occasionally enflamed. [From the saga of Travus T. Hipp and contributions by The Barbwire to the May 25 Reno Gazette-Journal and May 26, 2012, Daily Sparks Tribune.]

Economist: This is a true depression
Elliott Parker Guest Editorial / Las Vegas Sun / 11-27-2011

The plight of the paper pushers
The great recession made bashing public workers a national sport
Dennis Myers / Reno News & Review / 11-23-2011

Bury the Bad News with Rose-colored Reporting
How urgent can economic troubles be if leaders say things are getting better?
Dennis Myers / Reno News & Review / 11-23-2011

Fact-free nation: Inside the lie machine
Mother Jones Magazine May-June 2011 / Cover story and in-depth analysis

Barbwire Corporate Welfare Archive
Cabellyup.com

From clear-cut forests to dirty Gulfstream waters, this land belongs to old BP
TOLJASO LONG TIME AGO
BP/ARCO: The greasy root of our evils
Barbwire / Daily Sparks Tribune 9-10-2006
The awful truth — Read it and weep, fellow suckers

Labor Day 2009: Rise of the Vampire Corpobots
Expanded from the 9-6-2009 Daily Sparks Tribune

Angry Americans and Freudian fraud
Using war to market cigarettes
Expanded from the 8-23-2009 Daily Sparks Tribune

BARBWIRE Nevada Corporate Welfare Archive

Propaganda fuels gasoline price fixing
Barbwire 8-14-2005

Donate to the cable ratepayer legal defense fund at our PayPal-enabled ReSurge.TV Consumer War Room


Phillips, Kevin; Numbers Racket: Why the economy is worse than we know
Harper's Magazine; May 2008; page 43
Phillips has authored numerous books on history and politics over the past 40 years. His most recent, Bad Money: Reckless Finance, Failed Politics and the Global Crisis of American Capitalism, was published by Viking on April 15, 2008.

ORDER Taking the Risk Out of Democracy
Corporate Propaganda versus Freedom and Liberty
By Alex Carey
Edited by Andrew Lohrey
Foreword by Noam Chomsky
University of Illinois Press


SEE ALSO: Lapham, Lewis H.; Tentacles of Rage: The Republican Propaganda Mill, A Brief History; Harper's Magazine cover article; September, 2004, page 32.

By one conservative estimate, the corporate right has spent about $3 billion over the past three decades manufacturing public opinion to suit big business goals. Lapham's number covered the early 1970's to the present day. Alex Carey noted that by 1948, anti- New Deal corporate propaganda expenditures had already reached $100 million per year, not adjusted for inflation, for advertising alone. (Carey, ibid; page 79)

Adjusted for inflation, that 1948 $100 million becomes $801,659,751.04 in 2005 dollars.

Conservatives Help Wal-Mart, and Vice Versa
As Wal-Mart struggles to rebut growing criticism, it has discovered a reliable ally: conservative research groups.
New York Times 9-8-2006; Free registration may be required.

BARBWIRE: Labor Day '94: People vs. corporate con job, 9-4-94
Chilling forecasts from Alex Carey

BARBWIRE: The Nevada Republican Party Becomes Communist, 3-30-97
A prescient Plato on the dangers of oligarchy
NevadaLabor.com | U-News | Bulletins + Almanac
Casinos Out of Politics (COP) | Sen. Joe Neal
Guinn Watch | Deciding Factors | BallotBoxing.US
DoctorLawyerWatch.com | Barbwire Oilogopoly Archive
Barbwire Nevada Corporate Welfare Archive
Annual César Chávez Celebration
War Rooms: Banks, Cabbies, Cabela's, Cable TV, Cancer Kids/Mining, Energy, Food, Health Care, Resurge.TV/consumers, Starbucks, Wal-Mart
Search this site | In Search Of...


Copyright © 1982-2012 Andrew Barbano

Andrew Barbano is a 43-year Nevadan, editor of NevadaLabor.com and JoeNeal.org; and former chair of the City of Reno's Citizens Cable Compliance Committee, He is producer of Nevada's annual César Chávez Day celebration and serves as first vice-president, political action chair and webmaster of the Reno-Sparks NAACP. As always, his opinions are strictly his own. E-mail barbano@frontpage.reno.nv.us.

Barbwire by Barbano premiered in the Daily Sparks (Nev.) Tribune on Aug. 12, 1988, and has originated in those parts ever since. Tempus fugit.


Site composed and maintained by Deciding Factors, CWA 9413 signatory
Comments and suggestions appreciated. Sign up for news and bulletins