BARBWIRE
by
ANDREW BARBANO
Pirate Laureate of the High Desert Outback of the American Dream

¡Viva Chávez!
César Chávez Celebration XIII / Celebración de César Chávez XIII
Tuesday 31 March 2015 / Martes 31 de Marzo 2015
Highlights of the event at Circus Circus Reno

Site map
SITE NAVIGATION TIPS: When all else fails, read the instructions

Get ahead of corporate-influenced news—>Subscribe to Barbwire Confidential


Everybody knows the dice are loaded.
Everybody rolls with their fingers crossed.
Everybody knows the war is over.
Everybody knows the good guys lost.
Everybody knows the fight was fixed.
The poor stay poor, the rich get rich.
That's how it goes. Everybody knows...
Everybody knows the scene is dead
But there's gonna be a meter on your bed
That will disclose
What everybody knows...
Everybody talking to their pockets.
Everybody wants a box of chocolates
and a long red rose. That's how it goes.
Everybody knows.

— Leonard Cohen
The Donald and The Church Lady run among us
Barbwire by Barbano / Expanded from the Tuesday 10-27-2015 Sparks Tribune / Updated with a merry 'toon 10-27-2015
Donald Trump and Sharron Angle? Christmastime for us columniators!
Just after I learned that The Donald will darken the Sparks Nugget this Thursday, I heard a scurrilous political rumor (is there any other kind?) that moonhowlers are pushing perennial pol Sharron Angle to enter the GOP primary to replace the departing Sen. Harry Reid, D-Searchlight.

Gomorrah South Congresscritter Joe Heck will no longer be a lock if the mercurial Mrs. Angle meanders in. Isn't that special?

Presumptive Democratic nominee Catherine Cortez-Masto has been all but invisible in recent months. This may provide a goosing.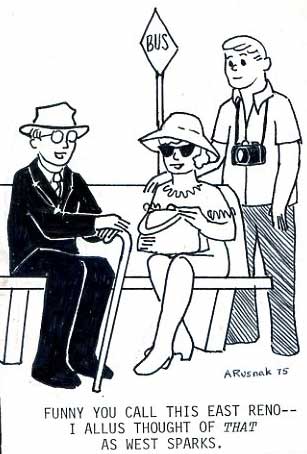 By the late, great Ann Rusnak, her third Tribune 'toon published on 5 June 1975. (Courtesy of Dan Rusnak)
WHAT'S GOOD FOR THE GOOSE is good for the Gansert. GOP state senate frontrunner Heidi Gansert is a likewise lackadaisical campaigner.
I first broke the news that Gov. Sandoval's former major domo would run to replace retiring Republican Sen. Greg Brower in the southwestern Reno-Incline Village district.

At least one well-known Democrat is seriously scoping the race that could well decide which party controls the upper house in 2017.

NO RESPECT. If you Google "Trump Sparks visit," you'll learn that His Wonderfulness will speechify at the Nugget in Reno.
Jeez, I didn't know the tiny Nugget near the Reno arch at 233 N. Virginia Street could accommodate a Trumpian crowd.

Reminds me of the not-so-olden days when John Ascuaga advertised the Sparks Nugget location as the mythical East Reno.

Nonetheless, I hope the actual Reno Nugget schedules extra bartenders.
SATURDAY NIGHT SPECIALS. Last Saturday's Reno-Sparks NAACP fundraising banquet at Circus Circus brought some surprises.

State Sen. Ruben Kihuen, D-Las Vegas, emceed after the scheduled host scratched. As they say in the movie biz, he's box office gold.

The first immigrant ever to serve in the Nevada legislature, he's running for the south central Nevada/northern Clark County congressional seat considered the nation's most likely 2016 Democratic pickup.

Honorees included longtime NAACP stalwarts Bill and Jane Moon. Attendees were understandably awestruck by their 63-year marriage.

Applause, applause.

AWARD WINNERS, TOO. After I picked up plaques for the event from Greenbrae Trophy, I stopped to get a key made at nearby Shelly's Hardware. I'm happy to report that longtime former owner Bob Taylor, now apparently in better health, often visits after getting a haircut next door.

BOOKSMARTS AND SPAGHETTI. This Thursday, the Committee to Save the Duncan Community Library hosts a pasta feed for those willing to sign up as volunteers to preserve and expand the multi-purpose facility.

Twenty years ago, Darryl Feemster rallied former NFL players and local leaders to build the facility which has recently suffered recessionary budget cuts and threats of closure. (Public officials always cut services for the disabled and libraries first. Why?)

The Duncan Library serves the neighborhood in addition to the adjacent elementary school.

The event begins at 6:15 p.m. Oct. 29 at the Evelyn Mount Community Center (the long-ago YWCA) at 1301 Valley Road. To attend and volunteer, RSVP at (775) 657-4600.

Be well. Raise hell. / Esté bien. Haga infierno. (Pardon my Spanglish.)
The Underbelly of the News—>Subscribe to Barbwire Confidential
BARBWIRE WEB EXTRAS... TOMORROW'S NEWS TODAY: FEEL UP YOUR FIRE METER. The Reno Gazette-Journal did big spreads on three consecutive Sundays (Sept. 14, Sept. 21 and Sept. 28) on NV Energy smart meter fires. Welcome aboard. Barbwire readers were two years ahead on the fire meter issue. (Touch a Smart Meter, Go to Jail — 11 October 2012)
FIRE METER UPDATES: THE NEVADA FIRE MARSHALL'S INVESTIGATION concluded "don't worry, be happy." I'm still worried and will continue fondling NVE's precious equipment —> If your smart meter feels very hot, not just from sunshine, call 911.

In its Sunday 21 Dec. 2014 front page headline major story, the Reno Gazette-Journal published results of the NVEnergy-commissioned "don't worry, be happy" echo study. On 1-27-2015, the RGJ published an analysis based on veteran reporter Anjeanette Damon's review of more than 1,000 pages of documents. Barbwire bottom line: NVE handles this like auto manufacturers handle defects —> It's cheaper to pay legal settlements after people are injured or killed than to fix the problem.


Don'tcha worry 'bout a thing! If you can't trust your power company, who can you trust?

DIDN'T THEY MAKE A MOVIE CALLED "THE INCREDIBLES"? On 2-6-2015, the RGJ reported that the Public Utilities Commission has ordered NVE to hire an independent laboratory to review the material. UPDATE: The report said all is well. I still recommend feeling up your fire meter on a regular basis.
ANTE INTO THE GAME: Support the new season of Barbwire.TV by putting your money where my mouth is. A thousand thanks to those who keep sending show suggestions.
"Media is the plural of mediocre."
— Jimmy Breslin
Stay tuned.
I encourage you to donate to the cause at Barbwire.TV/ The medium that shapes public opinion needs at least one refuge where it is not filtered through the distorted green eye shades of prissy corporate accountants for whom profit is the only priority; where self-censorship is the journalist's normal work environment and where all sins of omission are tacitly encouraged and forgiven with the wave of a balance sheet. This is important. We've got a lot of work to do.
Get ahead of corporate-influenced news—>Subscribe to Barbwire Confidential.
Be well. Raise hell. / Esté bien. Haga infierno. (Pardon my Spanglish.)




Andrew Barbano is a 47-year Nevadan, chair of the Nevada César Chávez Committee, producer of Nevada's annual César Chávez Day celebration, first vice-president and political action chair of the Reno-Sparks NAACP, labor/consumer/civil rights advocate, member of Communications Workers of America Local 9413/AFL-CIO and editor of NevadaLabor.com and JoeNeal.org and DoctorLawyerWatch.com/ As always, his opinions are strictly his own. Check local listings for other Nevada cable systems. E-mail barbano@frontpage.reno.nv.us. Barbwire by Barbano has originated in the Sparks Tribune since 1988.
Peruse the Underbelly of the News —> Subscribe to Barbwire Confidential

Applying Christian forgiveness to a fault
Barbwire by Barbano / From the Tuesday 6-30-2015 Sparks Tribune

Life & death tickle the underbelly of the news
Barbwire by Barbano / Expanded from the Tuesday 6-23-2015 Sparks Tribune

Al Capone takes stock of Nevada education
Barbwire by Barbano / Expanded from the Tuesday 6-16-2015 Sparks Tribune / Updated 6-17-2015

The 2015 Nevada Legislature's greatest hits
Barbwire by Barbano / Expanded from the Tuesday 6-9-2015 Sparks Tribune

Chaos theory: Republicans learn to use their majority — on each other
Cover Story by Dennis Myers / Reno News & Review 6-4-2015 Several related stories linked thereat

Stench of sulfur suffuses Nevada's year of the gun
Barbwire by Barbano / Uncensored full-length edition expanded from the censored Tuesday 6-2-2015 Sparks Tribune
Updated D-Day, 6-6-2015: How I handled a similar situation

Dogs and ponies, DARE traps and tokenism
Barbwire by Barbano / Expanded from the 5-26-2015 Sparks Tribune

Corporate welfare unites me with the moonhowlers
Barbwire by Barbano / Expanded from the 5-19-2015 Sparks Tribune

Hotplates, hotheads, hot rumors and hot Moose
Barbwire by Barbano / Expanded from the 5-12-2015 Sparks Tribune

MayDay! The bright side of riots in the streets
Barbwire by Barbano / Expanded from the 5-5-2015 Sparks Tribune

In the Uber-Nevada Legislature, words can kill
Barbwire by Barbano / Expanded from the 4-28-2015 Sparks Tribune

Tesla rewrites history to chisel worker paychecks
Barbwire by Barbano / Expanded from the 4-21-2015 Sparks Tribune

Radiation Nation: Gomorrah South bakes in the glow of victory
Barbwire by Barbano / Expanded from the 4-14-2015 Sparks Tribune

Revenge, redistricting and amnesia in Cartoon City
Barbwire by Barbano / Expanded from the 4-7-2015 Sparks Tribune

Harry Reid, Eddy Arnold, César Chávez and Gaga Madonna
Barbwire by Barbano / Expanded from the 3-31-2015 Sparks Tribune

High noon for the high desert outback of the American Dream
Small minds discuss people, average minds discuss events, great minds discuss ideas.
Barbwire by Barbano / Expanded from the 3-24-2015 Sparks Tribune

St. Patrick, I need a green energy beer
Barbwire by Barbano / Expanded from the 3-17-2015 Sparks Tribune


Michele Fiore: the Italian girl mama wanted for me?
Barbwire by Barbano / Excised from the 3-10-2015 Sparks Tribune as "not suitable" / Updated 3-12 and 3-13-2015

Who was that lady I saw you with last night?
That was no lady, that was...none of your damned business!




But can she cook?

Barbano to legislative committee: Let Tesla, Switch and Apple help pay for police officer video cameras

Clinging to the Ledge: guts, feathers and all
Barbwire by Barbano / Expanded from the 3-3-2015 Sparks Tribune

We don't need no stinking wages!

It became necessary to destroy the community in order to save it
Barbwire by Barbano / Special online edition 2-26-2015

The skeleton of the underbelly of the news
Barbwire by Barbano / Expanded from the 2-24-2015 Sparks Tribune

Parsing our parsimonious public pursers
Barbwire by Barbano / Expanded from the 2-17-2015 Sparks Tribune

What else is new? Southern Nevada CLC authorizes strike sanction vs. wage violator.

The flush of victory and the irony of deceit
Barbwire by Barbano / Expanded from the 2-10-2015 Sparks Tribune

Senate Republicans take a jackhammer to the bedrock of Nevada trade unionism
The last bastion of local hire comes under fire
By Sean Whaley / Las Vegas Review-Journal 2-4-2015

---

Follytix, Foxcatchers and corporate weasels
Barbwire by Barbano / Expanded from the 2-3-2015 Sparks Tribune

We Don't Need No Education Archive


The ever-expanding Ira Hansen Archive of an anachronism

BREAKING BAD
Walter White and some other white guy

| | |
| --- | --- |
| Who's,,, | ...Who? |
| | |
SITE NAVIGATION TIPS: When all else fails, read the instructions
NevadaLabor.com | U-News | Bulletins + Almanac
Casinos Out of Politics (COP) | Sen. Joe Neal
Guinn Watch | Deciding Factors | BallotBoxing.US
DoctorLawyerWatch.com | Barbwire Oilogopoly Archive
Barbwire Nevada Corporate Welfare Archive
Annual César Chávez Celebration
War Rooms: Banks, Cabbies, Cabela's/cabellyup, Cable TV, Cancer Kids/Mining, Energy, Food, Health Care, Resurge.TV/consumers, Starbucks, Wal-Mart
We Don't Need No Education
Search this site | In Search Of...


Copyright © 1982-2015 Andrew Barbano

Andrew Barbano is a 46-year Nevadan, editor of NevadaLabor.com and JoeNeal.org; and former chair of the City of Reno's Citizens Cable Compliance Committee. He is producer of Nevada's annual César Chávez Day celebration and serves as first vice-president, political action chair and webmaster of the Reno-Sparks NAACP. As always, his opinions are strictly his own. E-mail barbano@frontpage.reno.nv.us.

Barbwire by Barbano moved to Nevada's Daily Sparks Tribune on Aug. 12, 1988, and has originated in them parts ever since.
Whom to blame: How a hall-of-famer's hunch birthed the Barbwire in August of 1987
Tempus fugit.

Site composed and maintained by Deciding Factors, CWA 9413 signatory
Comments and suggestions appreciated. Sign up for news and bulletins