BARBWIRE
by
ANDREW BARBANO
Pirate Laureate of the High Desert Outback of the American Dream

¡Feliz año nuevo!
César Chávez Celebration XIII / Celebración de César Chávez XIII
Tuesday 31 March 2015 / Martes 31 de Marzo 2015
Circus Circus Reno

Site map
SITE NAVIGATION TIPS: When all else fails, read the instructions
"If voting mattered, they wouldn't let us do it." — Travus T. Hipp, 1982

Get ahead of corporate-influenced news—>Subscribe to Barbwire Confidential


Everybody knows the dice are loaded.
Everybody rolls with their fingers crossed.
Everybody knows the war is over.
Everybody knows the good guys lost.
Everybody knows the fight was fixed.
The poor stay poor, the rich get rich.
That's how it goes. Everybody knows.
Everybody knows the scene is dead
But there's gonna be a meter on your bed
That will disclose
What everybody knows.
— Leonard Cohen
Clinging to the Ledge: guts, feathers and all
Barbwire by Barbano / Expanded from the 3-3-2015 Sparks Tribune
"No man's life, liberty or property are safe while the Legislature is in session." — Judge Gideon J. Tucker, 1866 (often erroneously attributed to Mark Twain).

ED VOGEL, 1948-2015. One of the best journalists Nevada has ever produced, the former Las Vegas Review-Journal Capital Bureau Chief died of cancer Feb. 22.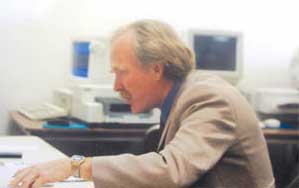 AS WE WILL ALWAYS REMEMBER HIM: Ed Vogel hard at work in the legislative press room.
After witnessing him ask some especially tough questions of Sen. Joe Neal, D-N. Las Vegas, I asked if it was irritating.


Not at all, the lawmaking legend replied, "he prints what I say," meaning that Vogel always reported scrupulously and accurately.


That's how you make the Nevada Press Association Hall of Fame.


Too bad Ed's not around to cover this year's fiasco in Cartoon City, the new nickname for Nevada's capital.
CUTTING YOUR PAYCHECK. Go to Barbwire.US to read my Feb. 26 special edition updating legislative attempts to cut your earnings, especially Senate Bill 119.
Parent Leaders for Education, a Republican-leaning local group, supports the bill's tax hikes while ignoring its wage issues.
PISTOLS AND PIXELS DEPT. This Thursday, the Assembly Judiciary Committee, chaired by former Tribune columniator Ira Hansen, R-KKK, hears Assembly Bill 148 which would allow guns in schools. The bill's principal sponsor is defrocked Assembly Majority Leader Michele Fiore, R-Gomorrah South, the renowned physician who can cure cancer with saline infusions (or so she says).

On March 9, the lower house Government Affairs Committee hears AB162 mandating video cameras on peace officers.

VIRGINIA CITY JUSTICE. The Clark County CSI report about the 2014 homicide of Judith Black is still being witheld awaiting the blood spatter report from an independent expert.
The Gomorrah South medical examiner agreed with Washoe County's that the death Storey Sheriff Gerald Cook-Antinoro ruled accidental was actually a homicide.
I made a freedom of information request for the sheriff's 2014 e-mails and got a huge file after election day. I can't open it and no consultant has been able to do, either.

Justice has now been delayed and denied for almost a full year.

'Twas ever thus in small COWnty Nevada.

ELECTILE DYSFUNCTION DEPT. TV-8's Ed Pearce in conjunction with the Trib's new sister publication, the Mineral County Independent News, last week updated the ongoing outrage of more than 170 Mineral County votes uncounted from last November's election, enough to change results in three local races.
Long silent former County Clerk-Treasurer Cherrie George just issued a five-page statement defending her actions and blaming the private voting system contractor.

What else is new? I've been complaining about this kind of stuff since 1978, foreshadowing the 2000 Florida presidential debacle, but nothing changes.
The right to vote has been denied. Time for federal court.

SO A GUY WALKS INTO A BAR DEPT. Last week, somebody was shocked, shocked! to witness a Washoe County teacher of my acquaintance drinking in public.

Teachers must set moral examples, he sniped.

"They don't pay me enough to have morals," snapped the beer-sipping educator.
MARK YOUR CALENDAR for César Chávez Celebration XIII on the great one's birthday, Tuesday, March 31, at Circus Circus Reno. Details at CesarChavezNevada.com/
Brian Sandoval last week made it a lucky 13 times in a row that a Nevada governor has turned down an invitation to speak.

Be well. Raise hell. / Esté bien. Haga infierno. (Pardon my Spanglish.)
The Underbelly of the News—>Subscribe to Barbwire Confidential
BARBWIRE EXTRAS...
65 YEARS OF KICKING THE CAN DOWN THE YELLOW BRICK ROAD. Read Tribune alumnus Dennis Myers' tour de force about a tour de farce in the Feb. 5 Reno News & Review. His cover story "No Fair" provides a quick and vicious history lesson about Nevada government failing to take care of its people.
MYERS: Nevadans may well wonder why one of the state's biggest and most familiar problems could be ignored so assiduously for decades, like an elephant in the room. In the end, the explanation comes down to a rule of thumb for politicians: Offending the affluent comes with consequences. Offending the working poor does not.
He also posits a tax solution which liberals may find quite surprising. (I resemble that remark.)
TOMORROW'S NEWS TODAY: FEEL UP YOUR FIRE METER. The Reno Gazette-Journal did big spreads on three consecutive Sundays (Sept. 14, Sept. 21 and Sept. 28) on NV Energy smart meter fires. Welcome aboard. Barbwire readers were two years ahead on the fire meter issue. (Touch a Smart Meter, Go to Jail — 11 October 2012)
FIRE METER UPDATES: THE NEVADA FIRE MARSHALL'S INVESTIGATION concluded "don't worry, be happy." I'm still worried and will continue fondling NVE's precious equipment —> If your smart meter feels very hot, not just from sunshine, call 911. In its Sunday 21 Dec. 2014 front page headline major story, the Reno Gazette-Journal published results of the NVEnergy-commissioned "don't worry, be happy" echo study.

On 1-27-2015, the RGJ published an analysis based on veteran reporter Anjeanette Damon's review of more than 1,000 pages of documents. Barbwire bottom line: NVE handles this like auto manufacturers handle defects —> It's cheaper to pay legal settlements after people are injured or killed than to fix the problem.


Don'tcha worry 'bout a thing! If you can't trust your power company, who can you trust?

DIDN'T THEY MAKE A MOVIE CALLED "THE INCREDIBLES?" On 2-6-2015, the RGJ reported that the Public Utilities Commission has ordered NVE to hire an independent laboratory to review the material.
ANTE INTO THE GAME: Support the new season of Barbwire.TV by putting your money where my mouth is.
A thousand thanks to those who already responded and keep sending show suggestions
"Media is the plural of mediocre."
— Jimmy Breslin
Stay tuned.
I encourage you to donate to the cause at Barbwire.TV/

The medium that shapes public opinion needs at least one refuge where it is not filtered through the distorted green eye shades of prissy corporate accountants for whom profit is the only priority; where self-censorship is the journalist's normal work environment and where all sins of omission are tacitly encouraged and forgiven with the wave of a balance sheet.
This is important. We've got a lot of work to do.
Get ahead of corporate-influenced news—>Subscribe to Barbwire Confidential.
Be well. Raise hell. / Esté bien. Haga infierno. (Pardon my Spanglish.)




Andrew Barbano is a 46-year Nevadan, chair of the Nevada César Chávez Committee, producer of Nevada's annual César Chávez Day celebration, first vice-president and political action chair of the Reno-Sparks NAACP, labor/consumer/civil rights advocate, member of Communications Workers of America Local 9413/AFL-CIO and editor of NevadaLabor.com and JoeNeal.org and DoctorLawyerWatch.com/ As always, his opinions are strictly his own. Check local listings for other Nevada cable systems. E-mail barbano@frontpage.reno.nv.us. Barbwire by Barbano has originated in the Sparks Tribune since 1988.
Peruse the Underbelly of the News —> Subscribe to Barbwire Confidential

Smoking Guns...
Get ahead of corporate-influenced news—>Subscribe to Barbwire Confidential

We don't need no stinking wages!

It became necessary to destroy the community in order to save it
Barbwire by Barbano / Special online edition 2-26-2015

The skeleton of the underbelly of the news
Barbwire by Barbano / Expanded from the 2-24-2015 Sparks Tribune

Parsing our parsimonious public pursers
Barbwire by Barbano / Expanded from the 2-17-2015 Sparks Tribune

What else is new? Southern Nevada CLC authorizes strike sanction vs. wage violator.

The flush of victory and the irony of deceit
Barbwire by Barbano / Expanded from the 2-10-2015 Sparks Tribune

Senate Republicans take a jackhammer to the bedrock of Nevada trade unionism
The last bastion of local hire comes under fire
By Sean Whaley / Las Vegas Review-Journal 2-4-2015

---

Follytix, Foxcatchers and corporate weasels
Barbwire by Barbano / Expanded from the 2-3-2015 Sparks Tribune

We Don't Need No Education Archive


The ever-expanding Ira Hansen Archive of an anachronism

BREAKING BAD
Walter White and some other white guy

| | |
| --- | --- |
| Who's,,, | ...Who? |
| | |

Cancer is a fungus that can be washed out with salt water. Anybody for an ocean swim? Surf's up for God's own cancer cure.

Her campus carry bill (AB148) is not dangerous because alcohol is banned on campus


But what if the student bitches ask for it? Well, according to Machine Gun Mama, packing heat will ensure the safety of "hot little girls."

Culinary Union protestors should be shot, especially if they inconvenience Michele's grand entrance to a hotel.

Let's shoot the lawmakers who gave Nevada land away to the feds. (Anyone serving in 1864 is dead anyway, so no harm, no foul?)

Government welfare queen Cliven Bundy is just a misunderstood patriot.


Breaking Bad 4: Ira and his ammosexuals flip us the finger
Barbwire by Barbano / Expanded from the 12-9-2014 Sparks Tribune / Updated 12-11-2014
SITE NAVIGATION TIPS: When all else fails, read the instructions
NevadaLabor.com | U-News | Bulletins + Almanac
Casinos Out of Politics (COP) | Sen. Joe Neal
Guinn Watch | Deciding Factors | BallotBoxing.US
DoctorLawyerWatch.com | Barbwire Oilogopoly Archive
Barbwire Nevada Corporate Welfare Archive
Annual César Chávez Celebration
War Rooms: Banks, Cabbies, Cabela's/cabellyup, Cable TV, Cancer Kids/Mining, Energy, Food, Health Care, Resurge.TV/consumers, Starbucks, Wal-Mart
We Don't Need No Education
Search this site | In Search Of...


Copyright © 1982-2015 Andrew Barbano

Andrew Barbano is a 46-year Nevadan, editor of NevadaLabor.com and JoeNeal.org; and former chair of the City of Reno's Citizens Cable Compliance Committee. He is producer of Nevada's annual César Chávez Day celebration and serves as first vice-president, political action chair and webmaster of the Reno-Sparks NAACP. As always, his opinions are strictly his own. E-mail barbano@frontpage.reno.nv.us.

Barbwire by Barbano moved to Nevada's Daily Sparks Tribune on Aug. 12, 1988, and has originated in them parts ever since.
Whom to blame: How a hall-of-famer's hunch birthed the Barbwire in August of 1987
Tempus fugit.

Site composed and maintained by Deciding Factors, CWA 9413 signatory
Comments and suggestions appreciated. Sign up for news and bulletins