BARBWIRE
by
ANDREW BARBANO
Pirate Laureate of the High Desert Outback of the American Dream
Site map
SITE NAVIGATION TIPS: As John Hanks says, when all else fails, read the instructions.



Reach out your hand
If your cup be empty.
If your cup is full,
may it be again.
Let it be known
there is a fountain
that was not made
by the hands of men.
— Ripple
Robert Hunter & Jerry Garcia, 1974
Shirl Elliker: Nevada loses an honorable man
Barbwire by Barbano / Expanded from the 2-27-2014 Sparks Tribune / Updated 1-5-2017

If you've ever wondered why you ended up here in the High Desert Outback of the American Dream, Shirl Elliker's life will prove instructive.
We need all the help we can get.

In 1974, Shirl and his wife, Gay, operated Jewelart in Moana West Shopping Center.
I owned an advertising agency and heard that the merchants association account was up for grabs.

I also learned that the fight was fixed for the son of one of the board members.
Not an unusual occurrence in Reno then, or now.

Before agency presentations, several new members were elected, including one Shirl Elliker.

So I rolled the dice, even flying to Seattle to record custom musical images at actor Danny Kaye's production studio.
My producer was Greg Thompson, who later developed killer shows for Harrah's and a slew of Gomorrah South properties. (Harrah's once used a quote from my review of a Thompson extravaganza on a radio spot voiced by God hisself masquerading as Wolfman Jack.)
I won, dealing the good ole boys' network a rare defeat.

Shirl's leadership paid big dividends for the Moana merchants.
Twice, I engineered visits from Mickey Mouse, Donald Duck, Pluto, Goofy, Snow White, Peter Pan, Wendy and Captain Hook, direct from Disneyland.
The management of Park Lane, then the only major mall in the region, turned green with envy.

Disney did four stage shows a day at Moana.
You had to walk six blocks to get near the place.

"There is no sight more fearsome than a determined mother with an armful of kids," observed Pauline's Sportswear owner John Hanks who operated shops at both Moana and Greenbrae Center in Sparks.

One shoe store proprietor actually complained about the Disney crowds, grousing that his key parking spaces were clogged by all those people.
Half the mothers in Reno and Sparks came to his doorstep and still he crabbed.
Go figger.
Our "Laurel & Hardy Go Shopping" TV campaign won multiple advertising awards. The longrunning silent movies featured local radio personality Doug Davies and Reno High grad/Hollywood screen actor Herman "Jack" Marston. The multi-talented Hanks shot all the film.

Merchants associations are testy beasts, which is why Shirl was the right leader.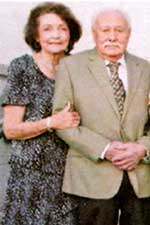 Gay & Shirl Elliker
Park Lane is now a long-vacant lot. Moana West still prospers.

Shirl and Gay went on to acquire Tanner's merchandise shows and additionally operated a shop in Reno's Antique Mall.

Shirl was also a photographer for the Reno-Sparks Association of Realtors.
In his spare time, he restored a '59 Ford pick'emup.

I hope I learned a little from that good man's calm, gentle and productive manner of handling people.

True Nevadans like Shirl Elliker are sorely needed in state and local government but rarely run.

He died on Feb. 16 at age 78, survived by his wife of almost 50 years, children, grandchildren and many whose lives he enriched.

Count me among them.
WEB EXTRAS—>

RENDER UNTO CESAR: Northern Nevada César Chávez Celebration XII happens on the great labor leader's birthday, Monday, March 31, 2014.
Commit for tickets and tables now at CesarChavezNevada.com.
I'm planning a TV special about César Chávez's days in Nevada and more surprises.
Stay tuned.
ANTE INTO THE GAME: Support the new season of Barbwire.TV by putting your money where my mouth is.

PayPal monthly subscription software is now operational at the website.
A thousand thanks to those who already responded.
Keep sending show suggestions.
Current frontrunners include (pardon the pun) wild mustangs as canned goods, education, i-Guns and gay Olympics with César Chávez in Nevada recently surging.
Now come queries about ballot questions. After the Jan. 30 column came a surge of questions about the Nevada State Education Association corporate tax petition on this November's ballot.
Stay tuned.
"Media is the plural of mediocre."
— Jimmy Breslin
Please forward additional ideas or vote on the above.
I encourage you to donate to the cause at Barbwire.TV/

The medium that shapes public opinion needs at least one refuge where it is not filtered through the distorted green eye shades of prissy corporate accountants for whom profit is the only priority; where self-censorship is the journalist's normal work environment and where all sins of omission are tacitly encouraged and forgiven with the wave of a balance sheet.
This is important.
We've got work to do.
HONOR YOUR DON. Keep sending comments supporting legendary Nevada photographer Don Dondero (1920-2003) for the Nevada Press Association Hall of Fame.
His life's work appeared worldwide, including the Tribune and most probably every newspaper in Nevada.
Enlist in the campaign to install Big Don.
Please send me your memories and endorsements via e-mail or to P.O. Box 10034, Reno NV 89510.
The Barbwire got the late Reno Gazette-Journal columnist Guy Richardson elected in 2012.
Let's double down.
Be well. Raise hell. / Esté bien. Haga infierno. (Pardon my Spanglish.)
____________
Andrew Barbano is a 45-year Nevadan, chair of the Nevada César Chávez Committee, producer of Nevada's annual César Chávez Day celebration, first vice-president and political action chair of the Reno-Sparks NAACP, labor/consumer/civil rights advocate, member of Communications Workers of America Local 9413/AFL-CIO and editor of NevadaLabor.com and JoeNeal.org and DoctorLawyerWatch.com/ As always, his opinions are strictly his own. Check local listings for other Nevada cable systems. E-mail barbano@frontpage.reno.nv.us. Barbwire by Barbano has originated in the Sparks Tribune since 1988.
The Barbwire's Silver Anniversary
Barbwire by Barbano moved to Nevada's Daily Sparks Tribune on Aug. 12, 1988, and has originated in them parts ever since.
Whom to blame: How a hall-of-famer's hunch birthed the Barbwire in August of 1987
Tempus fugit.
SITE NAVIGATION TIPS: As John Hanks says, when all else fails, read the instructions.
NevadaLabor.com | U-News | Bulletins + Almanac
Casinos Out of Politics (COP) | Sen. Joe Neal
Guinn Watch | Deciding Factors | BallotBoxing.US
DoctorLawyerWatch.com | Barbwire Oilogopoly Archive
Barbwire Nevada Corporate Welfare Archive
Annual César Chávez Celebration
War Rooms: Banks, Cabbies, Cabela's/cabellyup, Cable TV, Cancer Kids/Mining, Energy, Food, Health Care, Resurge.TV/consumers, Starbucks, Wal-Mart
We Don't Need No Education
Search this site | In Search Of...


Copyright © 1982-2014 Andrew Barbano

Andrew Barbano is a 45-year Nevadan, editor of NevadaLabor.com and JoeNeal.org; and former chair of the City of Reno's Citizens Cable Compliance Committee, He is producer of Nevada's annual César Chávez Day celebration and serves as first vice-president, political action chair and webmaster of the Reno-Sparks NAACP. As always, his opinions are strictly his own. E-mail barbano@frontpage.reno.nv.us.

Barbwire by Barbano moved to Nevada's Daily Sparks Tribune on Aug. 12, 1988, and has originated in them parts ever since.
Whom to blame: How a hall-of-famer's hunch birthed the Barbwire in August of 1987
Tempus fugit.

Site composed and maintained by Deciding Factors, CWA 9413 signatory
Comments and suggestions appreciated. Sign up for news and bulletins