Callers to my TV show tell me of serious skulduggery afoot at John Ascuaga's Nugget.

In another human resources coup for which the Nevada gambling industry has become infamous, the Sparks hotel-casino's cocktail servers are now on the chopping block with change runners slated to take over their jobs.

On behalf of the Tribune's world class photo editor Debra Reid, I hereby request the first photo opportunity to shoot a male change runner forced to wear a mini-skirt.

Apparently, cocktail servers and change runners have been given about a week to decide if they want to do two jobs for the price of one.

Nothing has been said about the futures of those who decide against this creative exercise in personnel management.

Workers who called me are well aware that if you quit, you don't qualify for unemployment benefits, unlike fired workers who count against the "experience rating" effect on employer insurance premiums.

DÉJÀ VU DEPT. A few years back, bartenders and cocktail servers at the Harrah's-owned Rio in Gomorrah South were required to become Broadway show singers and dancers. Many left their longtime jobs.

In 1992 after Hilton bought out Bally's Reno (the former MGM Grand, now the Grand Sierra Resort, follow the bouncing ball), workers were forced to cross-train to do two other jobs.

This led directly to a longrunning organizing campaign by the Carpenters Union at both northern Nevada Hilton properties. The Culinary Union eventually took over representation of the workers in a major comeback.

In 1974, in a personal fit of pique against Las Vegas Culinary Union boss Al Bramlett, Mr. Ascuaga decided not to renew his union contract. (The Irish and Basque banty roosters just did not get along.)

The Nugget spearheaded a union-busting consortium of hotels and restaurants from Sparks to Tahoe. They lost every round at the National Labor Relations Board and in court, but managed to hang up the process for the next 18 years. By the time the final decision came down ordering the Nugget to post a notice in its employee break room that it had broken the law and promised to sin no more, the union was almost out of business. The Nugget was legally required to let the union in to organize, but the opportunity by 1992 lay with the Hilton hotels.

Culinary Local 86 was too weak to work on either and was eventually merged with the giant Las Vegas union.

There is justice in the world. Most members of the 1974 union-busting consortium have gone out of business.

Mr. Ascuaga has built his high rises with union labor and has had a longstanding contract with the Carpenters Union for his in-house maintenance staff. But given the Nugget's record in breaking federal labor law, it might have real trouble trying to stop a new organizing drive, something that this new "drag queens for change" policy may well ignite.

AT&T vs. CHARTER. A caller to my show informed me on Friday that AT&T is finally ready to compete against Charter cable, something which was supposed to happen more than two years ago. I called AT&T on the air and confirmed that large swaths of this region are wired and ready. I made the mistake of telling my fellow member of the Communications Workers union who answered the phone that we were on live TV and webstreaming. She was compelled to refer me to the media relations office which told her to take a number. I said just let me talk to their boss in Las Vegas, whom I know. No dice, but it looks like some serious rivalry for the Charter bandidos is about to happen. (Offering small discounts from Charter's inflated prices, satellite service is not truly competitive. Elsewhere, real competition in the few markets where available led to price drops up to 90 percent.)

Regular readers know that my consumer group, ReSurge.TV, is leading the charge to keep Charter from assassinating community television and radio in northwestern Nevada. The Reno City Council considered two mutually deficient settlement offers from Charter at its Oct. 8 meeting.
A motion by Councilman Pierre Hascheff to order city staff to negotiate a meld of the two failed by a 3-2 margin. Sharon Zadra and Jessica Sferrazza supported Hascheff, with Dave Aiazzi and Dwight Dortch opposed. It takes four votes to pass anything, so the council then decided to delay matters for two weeks. (Mayor Bob Cashell was absent, Councilman Dan Gustin recused himself because Charter is his longtime advertising client.)

Charter has threatened to move public, educational and governmental access stations to the higher-cost, lower-audience digital tier in order to skim the bandwidth for lucrative high-definition channels.

Reno must not sign off before all cards are on the table. We don't know the nuances and Councilman Aiazzi has not provided complete information on legal ramifications. A regional deal must be hammered out with all players in the game at the table, including Sen. Harry Reid, D-Nev. (who has offered to support court action), access system managements and producers, ratepayers and local governments. I am scheduled to testify before the Carson Board of Supervisors this Thursday at the invitation of Supervisor Pete Livermore.
ReSurge.TV remains prepared to file legal action. It still looks like we may have to take Charter to court, especially if the City of Reno caves to a cockamamie deal.
Contributions to the cable ratepayer legal defense fund may be made by credit or debit card through ReSurge.TV, the organization website. Checks may be mailed payable to ReSurge.TV, P.O. Box 10034, Reno, NV 89510.

PAST DEADLINE UPDATE: I just got a bulletin from one of my Alaska readers. The financial website 247wallst.com reports that "Charter Communications (CHTR) might not be able to buy set-top boxes, connectors and VoIP (Voice-over-Internet Protocol) systems to supply all of its customer demand. The cable company has $20 billion in debt and a $.73 stock. Debt service eats up all of the company's operating income and the principal on some of that paper comes due soon. Charter customers calling in to get new HDTV receivers may find that there will be a delay as the company struggles to finance inventory for customer installations."

As part of its settlement offer, Charter told the Reno City Council that it was prepared to install digital boxes (free for the first year) for all of its 20,000 Reno-Sparks-Washoe County (single and double digit channel) analog customers. It serves a similar number outside Washoe. Charter's BS offer was contingent on response to a single coupon offer expiring on Dec. 29. Two or fewer of every 100 ratepayers would respond, according to industry standards. Now, Charter's ability to buy the hardware is also in serious question.
When I chaired the City of Reno's Citizens Cable Compliance Committee in 2003, we were reliably informed that Charter was in such disastrous financial shape that it could not afford new parts for its service personnel. They were forced to cannibalize used gear from households which had canceled, among other things.
With Charter's chronic financial problems in mind, Sen. Joe Neal, D-North Las Vegas, and I tried to get a bill through the 2003 legislature which would have allowed municipalities to manage (until a new operator could be found), a cable system which failed to provide service. Charter and Gomorrah South's Comcast-Greenspun juicers crushed Neal's bill and pulled the ladder further up behind them, winning prohibition of municipal wireless (WiFi) services which are spreading like wildfire nationwide. The state emergency broadcast system stands compromised as a result of such corporate greed. (Read the whole sad story by clicking here.)

Cold Chills Dept.
10-11-2008
Last month, the Computer Security Group at UC Santa Barbara released a video showing exactly how to hack a touch-screen Sequoia voting system --- in such a way that even a manual count of the system's "paper trails" would not have revealed the hack. In 2006, just days before the general elections, The BRAD BLOG revealed how a yellow button on the back of Sequoia's touch-screen systems could be pressed in such a way as to allow any voter to vote as many times as he/she liked. —> MORE from The Brad Blog
KARL ROVE IS BACK. A man who would not identify himself got in the face of people turning in registration documents at the Washoe County Registrar of Voters' office on Oct. 6. Sparks labor leader Skip Daly was not intimidated by such harassment (the guy was looking over people's shoulders and heckling the staff), but your dear old Aunt Tilly might be. We have just seen the early shape of things to come as GOP vote suppression strategies metastasize nationwide. Please report all incidents to me immediately.

The GOP is doing its best to undercut the credibility of the election, apparently planning to contest it in court. If it gets to the U.S. Supremes, I think we know how that will go. (Can you say "President Palin"?)

As I reported last week, this election is illegal going in. There are NO voting machines in the country certified under federal law. Nevada's Sequoia junkers provide cosmetic assurance with that cash register tape "paper trail."
Anyone who saw the documentary Hacking Democracy knows that the real vulnerability lies in the computer cartridge which holds the tallies. In the film, which ran on HBO last Sunday, it took an expert less than 60 seconds to hack the cartridge.

In tests after a recently bungled recount in (gasp!) Florida, Sequoia machines put out a different result every time, and that's just one of a series of horror stories.

THE GREATEST STORY NEVER TOLD. I tried my best to find five-figure funding to screen A Single Woman at the University of Nevada. Because of quirky film festival entry rules, the motion picture about Rep. Jeannette Rankin, R-Montana (1880-1973), is available for showing only at a university or museum.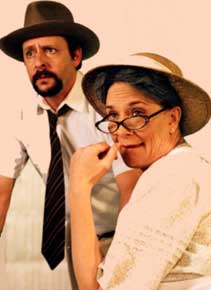 Judd Nelson and Jeanmarie Simpson star in A Single Woman
"You can no more win a war than you can win an earthquake."
— Jeannette Rankin
She was the first woman elected to congress and voted against both world wars.

Late in life, she became an icon for peace and women's rights, the Susan B. Anthony of the modern feminist movement.

The film stars actress / playwright / screenwriter Jeanmarie Simpson, who conceived of her one-woman play while with the Nevada Shakespeare Company (NSC).
A Single Woman premiered in Reno then was taken on a national tour. Women everywhere were both motivated by Rankin's story and outraged that they had never before heard of her.

The movie co-stars Judd Nelson, features the music of Joni Mitchell and the voices of narrator Martin Sheen along with Patricia Arquette, Karen Black, Peter Coyote, Frances Fisher, Mimi Kennedy, Margot Kidder, Kamala Lopez (who also directed), Elizabeth Pena, Cindy Sheehan and Chandra Wilson.

The Nevada Shakespeare Company's Cameron Crain plays several roles, reprising his work in the play which he performed with Simpson more than 200 times in a multi-state tour between February of 2004 and November of 2006.
He and Simpson each retain an ownership interest in the film.

The Rankin saga could have served as a very valuable vehicle for bringing women home to progressive causes in this year's election, but several heavyweight pols didn't view it that way.
Some wealthy Nevadans who might have anted into the game have been damaged by the depredations of Dubya and his dunces.

The film will be screened at the U.S. Capitol on Oct. 30. Given Congress' tergiversation on peace, I doubt that many will show for the show.
Alas and alack, like peace, A Single Woman may now be subtitled as love's labours lost.

Be well. Raise hell.