BARBWIRE
by
ANDREW BARBANO


Followed by a moon shadow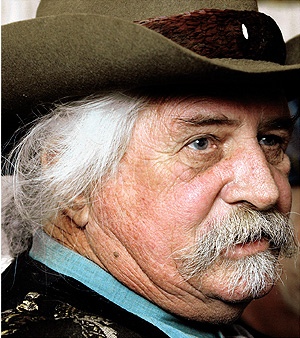 TRAVUS T. HIPP, 1937-2012
ADIÓS, COMPADRE — Our friend Travus, 75, passed away peacefully between 2:00 and 3:00 a.m. PDT on 18 May 2012 at his home in Silver City, Nevada. The sun is in eclipse as I write this at 6:30 p.m. on May 20.

SLIGHT CHANGE OF VENUE (5-22-2012) — Adiós in Silver City, Nevada, Saturday, May 26, 2012 —>
The auld church where Travus lived and died is too small for the expected multitude, so gathering, gnoshing and remembering will commence at the Silver City Community Center, 385 High Street, at 10:00 a.m. PDT. Bring food if you want but most important, bring yourself and all your memories. Memorial service starts at High Noon. Travus will be buried next to his rock star companion Lynne Hughes, a short walk away. My remembrance of Lynne from the 3-21-1993 Daily Sparks Tribune will posted with Travus' formal obituary at this website. All memories accepted for permanent posting hereat. Thanks for all your kind words. Keep up the good work and the good fight.

Be well. Raise hell.

Andrew Barbano
Guest Writings by Travus T. Hipp
TRAVUS 2005
TRAVUS 2008
Everybody Knows
by Travus T. Hipp
From the 6-4-2006 Daily Sparks Tribune
Reproduced by permission
Copyright © 2006 Cabale News Service

The information revolution is over and, once again, we lost.

The ability of everyday people to access more information than they could possibly want or use is firmly established, as are the systems to track and observe our own or others activities. To trade off access to knowledge in return for powers of absolute social control is a devil's bargain at best and I doubt we are getting the best of it.

In an age of industrial development, the pursuit of knowledge as a tool for social success and advancement was the axiom of public education. The underlying presumption was a naive belief in progress flowing automatically from knowledge. Science would solve all problems and government, of one sort or another, would protect and serve the higher goals of humanity. The key was knowing history to learn the lessons of the past, and science to prepare ourselves for the future. A measure of great literature and/or philosophy rounded out the package and young men were ready to go forth and manage the modern world.

It didn't turn out that way!

The monopoly of the privileged on education was broken, first by the G.I. Bill after WWII, later by the proliferation of state and junior colleges and finally by the Internet, over which the most esoteric research and information is available at a key stroke. We can now know as much as the emperors of academy and lifelong professors of secret studies.

Unfortunately, it doesn't make any more difference than the collective intellectual impact of past generations of the knowledgeable of the nation and world.

If ignorance is bliss, knowledge is its own punishment. Knowing both what's going on and what can be done about it about it is highly stressful when you have no means of instituting change. We all know that the Earth is heating up. Whether we can do anything about it is arguable, but not trying to do the things we know would help is criminal.

Everybody knows marijuana is a benign intoxicant that poses little or no threat to society while alcohol and tobacco kill tens of thousands of Americans every year, but we still fill our overcrowded prisons with long sentence for pot heads.

Everybody knows that spending hundreds of billions of dollars while cutting taxes on the rich and corporate is an invitation to economic disaster. Everybody knows better, but we can't do a damn thing to save our great-grandchildren from crushing national debt.

And, by now, everybody knows what the French learned from Algeria and Vietnam and we should have perceived. We all have the information necessary to do better than our shameful past of mindless exploitation. We know how to make life easier for people. We know how to begin to fix the mistakes of the past. We even have some ideas about how to live in a world where we are neighbors, not landlords.

In this cowering new world, bravery is rare, wisdom is ignored by the powerful, and knowing what's going on will get you free coffee at the local homeless shelter before seven in the morning.





U-News 2004-05Archives
NevadaLabor.com | U-News | Bulletins + Almanac
Casinos Out of Politics (COP) | Sen. Joe Neal
Guinn Watch | Deciding Factors | BallotBoxing.US
DoctorLawyerWatch.com | Barbwire Oilogopoly Archive
Barbwire Nevada Corporate Welfare Archive
Annual César Chávez Celebration
War Rooms: Banks, Cabbies, Cabela's, Cable TV, Cancer Kids/Mining, Energy, Food, Health Care, Resurge.TV/consumers, Starbucks, Wal-Mart
Search this site | In Search Of...

Copyright © 1982-2006, 2012, 2017 Andrew Barbano