BARBWIRE
by
ANDREW BARBANO


Dondero Gallery
Addendum to the Barbwire of June 1, 2003
Updated 5-7-2006, 8-9 and 10-3-2013, 8-3-2017

Dondero wallpapers the newspaper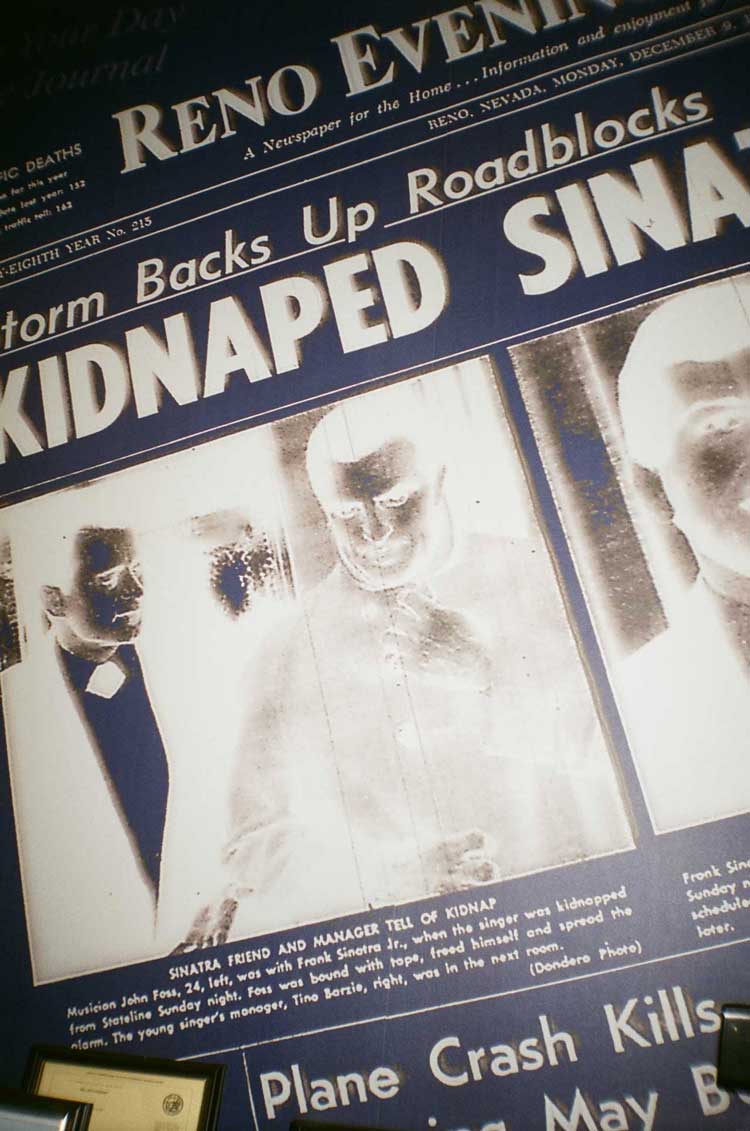 ENDANGERED SPECIES — The above detail from the 9 Dec. 1963 Reno Evening Gazette dominates the 12-foot-high wallpaper in the Kuenzli Street foyer of the Reno Gazette-Journal. The plaques at lower left are square with the floor. Part of the entry to the newsroom may be seen at lower right. For many years, Dondero's world renowned photo Frank Sinatra and Marilyn Monroe also graced the large RGJ reception/subscription area. With the paper now being printed at the Nevada Appeal in Carson City, the building will soon be sold and the historic wall thus becomes another endangered historical artifact. (Anachronism credits: Barbwire photo taken in July 2017; 35mm film [remember that?] processing by Gordon's Photo.)
7-15-2014 — Last chance to endorse Don Dondero for NPA Hall of Fame
Send it in now or forever hold your peace
SUPPORT DONDERO'S INSTALLATION INTO THE NEVADA PRESS ASSOCIATION HALL OF FAME
The world's most memorable business card


JUST HOW DRUNK DO YOU THINK I AM? Dondero used to carry full-color business cards. One version had a Marilyn Monroe-style blonde standing under the Reno arch in the middle of north Virginia Street — topless (the model, not the arch).

The night was bloody cold. The lady in question wore a mink coat to stay warm. Dondero scheduled it for well after midnight to minimize auto traffic. He and "Marilyn" waited at a nearby bar. Finally the moment arrived. They rushed into the street. The lady dropped her mink below her shoulders, Dondero got the shot, she recovered and they headed back to the saloon.

"Sure enough," he told me years later, "there were two drunks standing nearby under a street light. As we walked back into the bar, I heard the one who'd had his back to us say to the other 'do you exshpect me to believe a story like that?'"

_______

Were the two drunks really there, or did it just make for a better story?
Who cares.


_______

HISTORICAL NOTE — Yes, there's a history behind the three words printed on the flip side of the card. Back in Reno's glory days, gambling hall pioneer Harold Smith, Sr., had billboards placed worldwide reading "Harolds Club or Bust," a takeoff on the famed 19th Century "Pike's Peak or Bust" westward migration. So the bust in question had twin meanings. Pardon the pun.

(Scan courtesy of D. Brian Burghart, Reno News & Review)


SNAKING OUR WAY THROUGH A PHOTO SHOOT AT DON'S HOUSE
(Left to right) Betty Barbano, Andrew Barbano and belly dancer Rachel Jill with her very well behaved pet python, Sahadda, at a still/video session at Don and Liz Dondero's house. The client was a plumbing/heating/air conditioning trade association. I'll leave it to your imagination to figure out how the belly dancer and snake fit in. Notice the tools of Don's trade on the desk in the foreground. (1990)

HARD WORK ON A HOT SUMMER DAY — Union ironworkers at the top of the John Ascuaga's Nugget second tower construction, Sparks, Nevada, July 29, 1996.

THE NEVADALABOR.COM SIGNATURE — Regular visitors to NevadaLabor.com will recognize this as the ubitquitous link for returning to the home page. Above is union ironworker Nick White at the top of the John Ascuaga's Nugget second tower construction, Sparks, Nevada, July 29, 1996.

INVASION OF THE TREE HUGGERS — Perhaps the best Reno News & Review cover ever. I know the identities of all three "models" who made the supreme sacrifice so that Don could get this shot in the snows of Mt. Rose. Their secret is safe with me. Sort of.

PHOTO BY DONDERO — Sparks labor leader Richard "Skip" Daly and the Barbwire man at the top of the Nugget second tower construction on July 29, 1996.

WHILE WE WERE TALKING, DON WAS WORKING — While Skip Daly and I were talking construction, Don wandered off and got some great shots, including this action scene of a high crane bringing a load of concrete down like a mother bird feeding her young. John Ascuaga's Nugget second tower construction, Sparks, Nevada, July 29, 1996.

BIG DON HITS THE BIG 8-0 — Left to right, daughter Lynn Weatherford of Sparks, granddaughter Sara Weatherford, daughter Debbie Dondero of Reno, Liz and Don.
NevadaLabor.com | U-News | Bulletins + Almanac
Casinos Out of Politics (COP) | Sen. Joe Neal
Guinn Watch | Deciding Factors | BallotBoxing.US
DoctorLawyerWatch.com | Barbwire Oilogopoly Archive
Barbwire Nevada Corporate Welfare Archive
Annual César Chávez Celebration
War Rooms: Banks, Cabbies, Cabela's/cabellyup, Cable TV, Cancer Kids/Mining, Energy, Food, Health Care, Resurge.TV/consumers, Starbucks, Wal-Mart
We Don't Need No Education
Search this site | In Search Of...


Copyright © 1982, 2003, 2006, 2013, 2014, 2017 Andrew Barbano

Andrew Barbano is a 37-year Nevadan, a member Communications Workers of America Local 9413 and editor of NevadaLabor.com and SenJoeNeal.org. Barbwire by Barbano has originated in the Daily Sparks (Nev.) Tribune since 1988.

Site composed and maintained by Deciding Factors (CWA signatory)
Comments and suggestions appreciated. Sign up for news and bulletins.