Keep sending comments supporting legendary Nevada photographer Don Dondero (1920-2003) for the Nevada Press Association Hall of Fame.
His life's work appeared worldwide, including the Tribune and most probably every newspaper in Nevada.

Enlist in the campaign to install Big Don.
Please send me your memories and endorsements via e-mail or to P.O. Box 10034, Reno NV 89510.
The Barbwire got the late Reno Gazette-Journal columnist Guy Richardson elected in 2012.
Let's go for a repeat.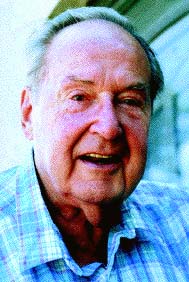 (Photo courtesy of D. Brian Burghart, Reno News & Review)
A Dondero Wedding
Renate and I were married Jan. 23, 1969, in the First Methodist Church. Since we didn't know anybody in Reno except my employer, Pete Echeverria, it was a small wedding: Pete Echeverria was the best man, his wife Kay the flower girl, and Don Dondero was the official photographer.

We wanted to get married in Virginia City, but the snow was so deep that January that all the churches were closed.

Don Dondero invited us to his home so he could take the photos there.
What a great guy!
Peter Chase Neumann
Attorney at Law
Reno, Nevada
---

Andy: I'll send in the yes for pal Don Dondero today. Great photographer, great guy. —Warren

[EDITOR'S NOTE: With editorial writers Norman Cardoza and Foster Church, Reno Gazette-Journal Executive Editor Warren LeRude won Nevada's first Pulitzer Prize in 1977, for editorial writing. He is a professor of Journalism at the University of Nevada-Reno.]
From an editor and a friend
I am so totally in on this one. — D. Brian Burghart, 2013
I learned a lot from Don when he was the staff photographer for the Nevada Weekly and the Reno News & Review. I remember one time in 1994 he drove me in his Cadillac down the back side of Peavine on a rutted fire road trying to get behind the Verdi fire for photos. The fire, as I recall, had shut down I-80. I can't actually remember if we got any great images, but I do remember he had me smoke a cigar the whole way, since his doctor wouldn't let him smoke. Definitely belongs in the Hall of Fame, and not just for his celebrity shots, but for his breaking news stuff.

Thanks,

D. Brian Burghart, Editor-Publisher
Reno News & Review
7-15-2014
Reno News & Review Editorial 6-5-2003: D. Brian Burghart remembers Dondero at his passing

---
From the winner of the 2009 Nevada Press Association First Amendment Champion Award
Add my name to the growing list of people supporting Andy Barbano's nomination of Don Dondero for induction into the NV Press Assn. Hall of Fame.
I came to know Don late in his life and early in mine after I moved to Reno in 1975. He shared his outstanding celebrity photography with me including an uncropped
photo of Frank Sinatra, Marilyn Monroe (and "Wingy" Grober)
at
Crystal Bay's Cal-Neva Lodge
in 1960 with husband
Arthur Miller
scowling in the upper-left background. Don cropped out Miller and the photo is now the most famous of the thousands in Don's collection.
Guy Louis Rocha
Author, historian, retired Nevada State Archivist
Carson City, Nevada
---
From longtime Nevadan Harry Spencer:
Don Dondero deserves hall of fame honor
/Sparks Tribune 8-20-2013

It was late in 1958 or early in 1959 when a slightly disheveled individual showed up at the newly formed Myles, Spencer and Trail Advertising Agency. It turned out that his name was Don Dondero and he was a photographer looking for new clients to serve.
I informed him that the agency already had a full complement of photographers that we were currently using. He said he understood that there were many established photo guys in Reno but that he was just starting out as a professional photographer. He offered to shoot cameos of the agency at no charge so that we could judge his work.
He then proceeded to snap the photos in jig time (a trademark of his ability). When he returned the next day with the developed pictures, I commented to him that they were exceedingly sharp and well lit. He thanked me and gave me his card and said if I had any assignments that I thought he could handle to please give him a call.
Shortly thereafter, I had an assignment and gave Don a ring. He performed flawlessly. Again, I was impressed with the speed with which he snapped his photos.
It wasn't long after that I returned to the
Mapes Hotel
to handle its advertising and publicity. The Mapes had an on-sight photographer named
Irving Gross
, who had his darkroom in the building. His assistant was the famous
Gitta
, who would hit the various night spots in Reno to snap photos of people dining or at shows, rush back to Gross, who would quickly develop the pictures, and send Gitta back to peddle them. Since this was practically an all-night procedure, Irving was seldom available during the day for publicity or news shots. Consequently, when I opened my agency at the Mapes, I found that Don was available during the daylight working hours as well as for the many events in the Skyroom at night.
It was in 1960, during the
Winter Olympics
at Squaw, that I first used Don on a practically daily basis. Shortly after the Olympics, we had another major publicity event when the motion picture company came to Reno to film "The Misfits." Once again Don was on daily call and it was during this time that he shot all of his iconic pictures of
Marilyn Monroe
, especially
the famous one of Marilyn and Frank Sinatra together
. The photo has since appeared in thousands of publications as it purportedly was the only photo of the two stars ever taken together.
Up until the day he passed away some 10 years ago, Don was on call for any and all photography that I required. No matter the hour of day or night, whether he was in his cups or not, Don never missed getting a crisp clear shot.
Currently there is a move afoot to enshrine Don Dondero in the Nevada Press Association Hall of Fame. I heartily add my endorsement of this nomination.
– Harry Spencer is a long-time northern Nevada resident.
---
From Jean Stoess, Don's co-author of "Dateline: Reno"
Andy:
I always enjoy reading your column about why Sundance Bookstore banned Dateline: Reno. I never heard a word from them, and of course I don't think Don's comments were all that terrible. That's the way things were in those days.
I spent many hours in the Washoe County Library reading microfilmed copies of the local newspapers from about 1960 through 1990, and I believe Don captured the flavor and history of the period in his comments. He dictated what he wanted to say about each photograph, and I would typeset the caption almost as he said it. One of his friends later said everything in the book sounded just like Don, which of course was our intent. I have never enjoyed co-authoring a book as much as this one. Don was always upbeat and said crazy things no matter where we were.
Don's Celebration of Life in the California Building at Idlewild Park took two hours for all the guests to tell their Don Dondero stories. Don would have loved it.
Good luck on your quest to get Don Dondero installed in the Nevada Press Association Hall of Fame.
I can't think of anyone more deserving.
Jean
_________
Jean Stoess of Reno is the first woman ever to have served on the Washoe County Commission and is the former president of the Sierra Club's Nevada affiliate.
---
From: Steve Ranson <sranson@lahontanvalleynews.com>
To: Andrew Barbano <barbano@frontpage.reno.nv.us>
Date: Wed, 28 Aug 2013 07:27:30
Subject: Re: Don Dondero NPA Hall of Fame nomination

It may be too late for this year, and if so, let's make a push for him next year. I knew Don well over the years. First met him when I volunteered as a high school student at KTVN in the late 1960s. What a dry sense of humor...Loved it.
Steve
[EDITOR'S NOTE: Steve Ranson is the longtime editor of the Lahontan Valley News in Fallon/Churchill County, Nev.]
---
I wholeheartedly support Don Dondero's inclusion in the Nevada Press Association Hall of Fame.

I first met Don when I joined the Washoe Zephyr's Toastmaster's club at Uncle John's Pancake House in 1980. I was there that I was exposed (pardon the pun) to his wonderful wit.

His photography was amazing. He perfectly captured his era and Reno's heyday in the 60's and beyond.

I can't think of anyone more worthy of this honor.

Regards,

Sam Shad
7-15-2014

ps: If anyone ever ran any of his photos without paying the royalties, he went after them.
---
In Nevada when I was growing up in Reno, there were a lot of folks who worked on the fringes of journalism, one foot in newspapers, another foot in whatever offered itself—public relations, photo studios, news bureaus, whatever.

Reno was small. The city's newspapers were across the street from my father's barber shop. Those kinds of personalities contributed a lot to the texture and mood of news coverage in that era. Don Dondero was one of them. I don't remember when I wasn't aware of him, though it was not until 1996 that I actually met him. I used his photo studio for print work but more than that, I saw his credit line in numerous publications—the Nevada State Journal, the Reno Evening Gazette, Nevada Highways and Parks magazine (as it was then called), Life magazine, and innumerable weeklies around the state.

It was when I first worked for the Reno News & Review that I finally became acquainted with him in person. It was interesting having long conversations with him because he knew so much about what happened in Nevada news in the 1950s and '60s. He became a resource for me. I could check the background of stories with him.

Today we would consider the mid-century role of folks like Don a little incestuous for journalism, but at the time it wasn't even an issue, and it was common in cities around the nation. His activities gave the Nevada public more informed news coverage. He was one of the people who helped make our city a community.
I think he belongs in the hall of fame.

All best,

Dennis Myers, News Editor
Reno News & Review
7-15-2014
---
Memories of Don Dondero from his longtime friend and colleague, Bob Carroll
I first met Don when I was doing the news on KOLO TV-8. He educated me on Reno politics.

Don studied journalism at the University of Nevada-Reno, but didn't finish due to joining the U.S. Navy upon the outbreak of World War II. [1]

He had great ability for not only taking a great photo but also what the journalistic consequences were going to be. He shot with the story in mind.

He had this uncanny (knack): People wanted Don to take their picture.

He was a very funny guy. One time, the buzz around town was about topless casino dealers. Don shanghaied me to the Holiday Hotel to shoot one.

The photo of "Nevada's first topless dealer" made the Sacramento Bee and an untold number of newspapers everywhere. The shot was of a guy with his shirt off.

He didn't kid around when it was a serious story. He was a good writer who could have been a reporter.

He once got a tip that the future Happy Rockefeller went to Harry Drackett's ranch in Verdi to serve her time for a divorce so that she could marry the New York governor.

"C'mon, Carroll, you, me and (Nevada Press Association Hall of Famer Rollan) Melton are going to Verdi. She goes for a ride every morning at 9:00 a.m."

The three big guys piled into Dondero's diminutive Volkswagen and arrived just in time at the Donner Trail Guest Ranch.

"No pictures, please," pleaded the future first lady of New York. "Please respect my privacy," she added.

"I have seven kids to feed and work is thin," Dondero responded.

She knew the sob story was a hoax, laughed about it and OK'd the photo.

Don got the shot.

He could also see the future.

In a plane one day shooting aerials, he said "you know, Carroll, what's gonna happen with photography? Pretty soon, some housewife is gonna to be able to buy a camera at Seventh and Keystone (location of a Raley's supermarket) and get almost as good a shot as I can get with this $2,000 camera."

Almost Don, but based on the evidence, nowhere near.

— As told to Andrew Barbano
______________
[1] From Daily Sparks Tribune 6-8-2003 coverage of Dondero's memorial service —

Dondero won the U.S. Navy's Distinguished Flying Cross for sinking a Japanese freighter during WWII. His plane was shot down during the action. He bailed out and survived at sea until rescued by Filipino guerrillas.

Rev. Bill Chrystal concluded the afternoon by relating how, many years later, a man approached Dondero.

"You don't know me, but I'm the guy who packed your parachute."

Rev. Chrystal used that as a metaphor for Liz Dondero's influence on her husband's life. From the comments made Friday, both Don and Liz packed a lot of parachutes for a lot of people who came to love them.
______________
Bob Carroll spent many a morning flying over Reno doing his radio "Skywatch" newscasts, often with Dondero aboard shooting aerials. Mr. Carroll currently produces and hosts a weekly program, "The Music of America," on KUNR 88.7 fm and on the City of Reno cable channel.

---
Please forward more personal memories of Don and Liz Dondero and I'll post them here and forward them to the Nevada Press Association.
Thanks.
Be well. Raise hell.