---
POSTCARDS FROM DONDERO. Last Friday was D-Day, so I journeyed to a copy shop with Jean Stoess, photographer Don Dondero's co-author of "Dateline Reno." Mrs. Stoess suggested that I bring copies of last Sunday's column to the memorial service of the man who became Nevada's photographic memory.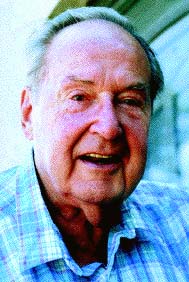 Dondero, 1920-2003

(Photo courtesy of D. Brian Burghart, Reno News & Review)
While Xerox stock was rising, Jean pointed to a nearby display rack. Thereon were four greeting cards, one featuring Marilyn Monroe whispering in Clark Gable's ear, the others with the blonde legend solo.

"Those are Don's photos," she said.

I bought them all. The store manager mentioned that the rack would not be re-stocked, as the distributor had recently passed away. On the day of his memorial service, Dondero had sent me a postcard reminder that they aren't making any more like him.

About 200 people attended the photo-festooned gathering at the historic California Building at Idlewild Park. A who's who of olde Reno attended and here and there a citizen of Sparks, most notably John Ascuaga hisself.

Rev. Bill Chrystal of the First Congregational Church, who attends many such ceremonies, said afterward that such a large attendance for a man of 83 was quite remarkable.

A long list of speakers delivered touching and funny tributes warmer than the room. I have learned to listen most intently for statements of people helped along in life by the departed. Most of those who spoke said just that about Don and Liz Dondero. The Carson High School sweethearts, married 58 years, died 14 days apart last month.

Last week's column has slowly become a Dondero website and photo gallery. I invite anyone to send me remembrances to post.

In uploading some shots Don took for me in 1996 during construction of the second tower of John Ascuaga's Nugget, I noticed that none of them needed cropping, enhancement or correction. I was looking at the work of a master.
At age 75, Don scaled ladders on that scorching summer day right along with the much younger union construction guys. He made order out of chaos, shooting perfectly composed photos 20 stories above downtown Sparks.

Dondero won the U.S. Navy's Distinguished Flying Cross for sinking a Japanese freighter during WWII. His plane was shot down during the action. He bailed out and survived at sea until rescued by Filipino guerrillas.

Rev. Chrystal concluded the afternoon by relating how, many years later, a man approached Dondero.

"You don't know me, but I'm the guy who packed your parachute."

Rev. Chrystal used that as a metaphor for Liz Dondero's influence on her husband's life. From the comments made Friday, both Don and Liz packed a lot of parachutes for a lot of people who came to love them.

BACK TO HARSH REALITY. The City of Reno's Citizens Cable Compliance Committee emergency meeting scheduled for May 29 was cancelled with my blessings after city staff hired an expert to review Charter's latest rate hike, due for imposition on June 15.

Alas and alack, Dr. Bob Sepe reported back that the city lost any opportunity to fight the increase last year. Charter filed a financial disclosure with the Federal Communications Commission last August, but did not notify the city of its intent to raise rates based on those costs. The city would have had to file a protest notice no later than September 30, 2002, challenging the expense filing without having a rate increase request with which to compare it. Absolute regulatory insanity. Laws and regulations need to be changed.

By filing notice of the rate hike well after the window of opportunity for objective review has closed, Charter gets the ratemaking equivalent of a four-pitch, four-base walk.

As chair of the committee, I have placed this issue on our June 26 agenda for a resolution of advice to the council so that no such filing will again pass unreviewed and unchallenged.

LEGISLATIVE SKULDUGGERY. Sen. Randolph Townsend, R-Reno-Carson, continues to do the bidding of the cable industry. Last week, he again attempted to introduce a new tax on non-cable television services such as satellite and private antenna (Quadravision). The idea has already failed twice this year. The cable companies want to impose a tax equal with franchise fees as a way to use government to wound competitors. Franchise fees are justified because cable operators use municipal rights-of-way to deliver their service.

CLINGING TO THE LEDGE. Voters in both Sparks and Clark County last week sent a very clear message. By 55 to 45 percent, Rail City citizens rejected a property tax increase for a Wingfield Springs fire station. Gomorrah South bounced a property tax hike for libraries by a landslide with over 60 percent against.

Call it the Wal-Mart effect. Northwest Reno will be plagued with a Wal-Mart superstore because of the Regional Transportation Commission's "all the money into one pot" policy. Developers pay according to a one-size-fits-all impact fee schedule. The dollars go to current operations with a fervent hope that continued growth will bring enough new money to build new roads and such as needed. When growth stops paying for itself, government tries to spread the cost to the general population.

Did anyone go to the megawealthy pimps of Wingfield Springs and ask them for more?

Voters have seen their rent raised with increased property taxes as an excuse. Homeowners know it's true. The legislature is currently deadlocked over a billion dollars in new taxes because gambling-spawned growth reached the point of diminishing returns six years ago. The casino industry owns just under two-thirds of the lawmakers, as evidenced by their votes supporting the industry's tax plan which basically gives the overlords a free ride.

For the past 23 years, workers have seen their Congress and presidents give tax breaks to the rich while piling onto the little guy. The message of last Tuesday was clear.

Now, who will lead the revolution?

Be well. Raise hell.