Photographer Don Dondero's long and distinguished career was capped by this year's publication of his book Dateline Reno. Dondero has gathered enough pictures over the years to put out dozens of books. He was the official photographer of the 1960 Winter Olympics at Squaw Valley. He also spent a lot of time shooting Gable, Monroe, Clift, Wallach and Huston while they were shooting The Misfits.

While the book is selling well all over northern Nevada with California distribution next, it is now guaranteed classic status: it's been banned in Reno.

"I could understand banned in Boston, but banned in Reno?" said an incredulous co-author Jean Stoess.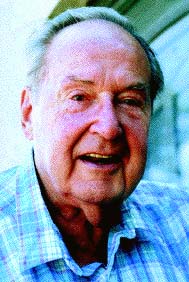 (Photo courtesy of D. Brian Burghart, Reno News & Review)
Alas, 'tis true. The good folks at Sundance Books on Keystone Avenue have refused to sell Dondero's photo reminiscenses of the Reno of yore. Their objection lies in a comment Don made about his early 1960s assignment to photograph Mrs. Bing Crosby. The Associated Press located Kathryn Crosby staying at Reno's Holiday Hotel and arranged for a photograph by the Don of Photology.

"I was apprehensive because some women kind of let themselves go when the get pregnant, but my worries were unfounded," Dondero says in the book.

Sundance manager Christine Kelly read that and pulled a George Bush, saying the the quote "shows kind of, I think, a narrow vision."

Don Dondero, a casualty of the vision thing.

"It reflects a rather negative picture of women and pregnancy. I'm a native Nevadan," she said, objecting to fellow native Dondero's "work that's supposed to reflect Reno."

She added that such comments "from someone very influential, when you have something like that in a caption, people will think it reflects a macho bullshit attitude. It's a distorted view of what's historical about Reno, people who live here and were here. It doesn't reflect good," she told me, then added a dimension worthy of any chamber of commerce.

"We have all this activity to rebuild downtown. He should be more careful how he says things. (The caption) lacks sensitivity and insight," Kelly said.

Wait a minute. Isn't this the same store that stocked Salman Rushdie's Satanic Verses? Doesn't Sundance sell everything from Pat Buchanan to Gloria Steinem? Yes, but "this was local. I have a voice. If he'd re-do his text, I'd sell it," Kelly stated.

Store owner Dan Earl agreed. "I don't particularly mind the showgirl pictures in the book because that's Reno. The are offensive, yes, but we've got worse."

Earl is being gentle. Some of the photos are admittedly outright, old-fashioned male chauvinist cheesecake. Stoess remarked about one photo taken from an angle looking up through a woman's legs, probably posed years before the famed James Bond movie poster of similar perspective.

Christine Kelly asked me to talk to some women about the remark before going to press. The first woman I talked to was Stoess, who holds impeccable feminist credentials. She was the first woman who ever sat on the Washoe County Commission and later served a term as a member of the Airport Authority of Washoe County.

"To people who've lived with my feminist comments for years, I'm sure this is going to come as a great shock to them" Stoess told me in a call from Chicago. About Don's comment, she said "it's true. If I didn't think it appropriate, I wouldn't have let it go through. That's the way things were 30 years ago," Stoess added.

Wait a minute. Didn't Christine Kelly advocate historical accuracy when she said "it's a distorted view of what's historical about Reno, people who live here and were here." That's exactly what Dondero and Stoess tried to do. The book represents Dondero's view, in words and pictures, of how things were. Three decades ago, he was concerned about getting a good photo of a beautiful pregnant movie star married to a superstar. The words express what he was thinking then. That's how things were.

Should Dondero change his language to suit todays norms of political correctness?

"Jean didn't give it a second thought," he told me. "I was happy to see Kathryn Crosby look so well."

Store owner Earl said "if he's going to be that denigrating to women, I don't think we need that in our store." He added that he has not specifically zapped any other book, although he does avoid certain distributors such as those marketing neo-Nazi literature or hard-core porno. However, I doubt that he bans Uncle Tom's Cabin or Huckleberry Finn, both of which are loaded with objectionable stereotypes.

I'm a Sundance customer. My wife bought my birthday present there. The place is filled with publications loaded with far more inflammatory comments. My birthday present was recently denounced by the editors of The Wall Street Journal. Sundance sells several other Stoess works, including From Infertility to In-Vitro Fertilization and Women with Power with a foreword by Diane Feinstein and afterword by Geraldine Ferraro.

"I have politically correct credentials," Stoess said, "yet they ban the photography book."

Were the booksellers wrong to censor? Absolutely. Was the 1960s Dondero insensitive? By today's standards, yes. But to edit comments about the way he felt back then would ill serve history. The Dondero of today would still focus on the same goal: getting the best possible photograph.

The broader question is how far can people be expected to bland-down language so that no one can possibly be offended. Writing would soon sink to the level of instructions from the Red Chinese post office.

My wife, like Stoess, is a mother. She also objected to the Donald's comments. Store manager Kelly admits to a complete lack of communication with Dondero and Stoess.

Christine, they're in the phone book.

SPEAKING OF TELEPHONES AND POST OFFICES: Former Reno police lieutenant Jim Hartshorne is laid up in Washoe Medical Center with the recurring back problems which caused him to prematurely retire after more than 20 years on the force.

The ex-Marine ran for Washoe County Sheriff in 1982, the same year he made the short list of 10 candidates for the chief's job in humid Houston. After leaving RPD, Hartshorne worked as a hotel-casino executive and ran for Reno City Council in 1989. Recently, he has spent time between hospital stays motorhoming throughout the U.S. and Mexico with his wife, Dawna.

His room at the most expensive hotel in town could stand a little cheer. You can write to him care of Washoe Med, 77 Pringle Way, Room 124, Reno 89502. Tell him you heard about him on the Barbwire.

---
Larry King
: "Did God tell you to vote for
George Bush
?"
Pat Robertson
: "Yes." (The TV evangelist controlled more than a third of Republican convention delegates.)
Be well. Raise hell.