RENO, Nev. (U-News) Updated 3-26-2019 GMT — Nevada Governor Steve Sisolak will make history on March 27 when he becomes the first Silver State chief executive to attend Reno's annual César Chávez celebration. The governor will deliver the evening's keynote address.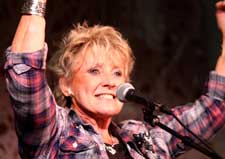 Lacy J. Dalton
In another first, country music hall-of-famer Lacy J. Dalton will perform the title track from her new EP "Scarecrow" as well as a selection of her greatest hits. The longtime Nevada resident is very involved in Silver State public affairs, especially as an advocate for wild horses.
César Chávez XVII will take place at the Grand Sierra-Reno on Wednesday, March 27. Tahoe Ballroom doors will open for conservative booze and maximum schmooze at 5:30 with dinner at 7:00 p.m. Seating is limited and early reservations are strongly recommended. Prices have not increased from last year. Reservations are $95 for adults. Seniors 65+ or students (with student i.d.) are $50 per person. Children under 12 are $35.

Reservations may be made via CesarChavezNevada.com or by contacting event producer Andrew Barbano at (775) 882-TALK or e-mailing <barbano@frontpage.reno.nv.us>. Event and table sponsorship information is also available at the website. Laborers' International Union Local 169, a founding supporter since 2003, is again the event's platinum sponsor. With the 2019 Nevada Legislature in session, a wide range of lawmakers, lobbyists and community organizations are expected to participate.

"People have asked me how we top last September's NAACP tribute to Aretha Franklin complete with a 1965 Pink Cadillac convertible," Barbano said. "This is how we try."

Long before he became an international figure, César Chávez traveled to northern Nevada about worker issues, according to the late Reno-Sparks NAACP President Dolores Feemster who met with him at his request in the early 1960s (lunch at the former Continental Lodge at Plumb Lane & S. Virginia St.). As usual, the Reno-Sparks NAACP will register voters and sign up new members.

Las Vegas 8-14-1992 — César Chávez with picketers at the Frontier Hotel on the Las Vegas Strip. The Frontier strike lasted more than eight years and garnered worldwide attention as the longest-running strike in the country. The union won. (Photo courtesy of Culinary Workers Union Local 226.)

The event will pay tribute to the memory of NAACP matriarch Feemster, who died in 2018, as well as to former Nevada Attorney General and Chief Justice Charles Springer, who died on Feb. 19. Springer stands with the giants for his lifelong advocacy of all aspects of human rights (civil rights, minority rights, women's rights, workers' rights).

Sen. Joe Neal, D-N. Las Vegas (ret.), will lead a tribute to his fellow César Chávez NevadaLabor.com Hall of Famer and longtime colleague Bob Price, D-NLV, who passed away on January 4, 2019. The first African American and second-longest serving senator in Nevada history (32 years), Sen. Neal was honored with a Lifetime Commitment Award by the Nevada State AFL-CIO in 1997 and is a member of the Nevada State Senate Hall of Fame. Price, former business manager of Las Vegas IBEW Local 357/AFL-CIO, represented North Las Vegas for 28 years in the Nevada State Assembly. Price and his wife, former University Regent Nancy Price, retired to Sparks more than a decade ago. The event will additionally remember the contributions of another former IBEW business manager, recently deceased Reno IBEW Local 401/AFL-CIO Business Manager Jerry David.
Former Nevada Labor Commissioner Stan Jones, the courtly gentleman with the mellifluous voice who could kill anti-labor legislation with just a short speech, died last year. A sheet metal worker (Local 26/AFL-CIO), Jones served under Republican and Democratic governors. He was arguably the last labor commissioner to take seriously his legal mandate to advocate for workers. His successors have largely viewed their jobs as protecting employers from their own employees.

Nevada Press Association Hall of Famer John L. Smith will attend to autograph copies of his new book "The Westside Slugger: Joe Neal's Lifelong Fight for Social Justice." (University of Nevada Press 2019, $34.95) John grew up in a union household, the son of Prince L. "Smitty" Smith Jr., longtime business agent of Painters & Allied Trades Local 159. John resigned after more than three decades as an award-winning columnist with the Las Vegas Review-Journal when he refused to allow the new owner, the virulently anti-union Sheldon Adelson, to influence his writing.

Maria Zamora, another César Chávez NevadaLabor.com Hall of Famer, will speak and auction off a United Farm Workers flag which she hand-sewed and carried aloft while marching with César Chávez throughout California a half-century ago. Proceeds will be donated to local charities. [UPDATE: This has been moved to the 2020 event.]
We will feature a preview of the locally produced Broadway-style musical — César Chávez Resistencia! (Resistance!). The play is equal parts drama, music and ancient Greek amphitheatre. Aeschylus and Sophocles, call your agents. You're back in style.
By popular demand, Ballet Folklorico de La Sierra will make an encore as will noted Reno artist Erik Holland who will unveil his new César Chávez memorial portrait, the latest in a series.

"Ballet Folklorico will close the evening because no one should be asked to follow that performance," Barbano said. "They are spectacular even without a pink Cadillac."

Chávez family members, some of whom are longtime Nevadans, have been invited as usual but will not attend this year. Longtime Reno resident Ramon Chávez has notified event management that his mother, Mary Ann, very recently passed away. She and her husband Librado "Lee" Chávez, one of César's brothers, were frequent patrons over the years. Lee Chávez died in 2016. Mary Ann last graced us with her presence in 2018. We will remember her among the labor giants we have lost in the past year.
Additional features will be announced as the date approaches. As always, awards for outstanding union leadership will be presented.
Reno's first César Chávez Day was declared on July 15, 1986, by then-Mayor Pete Sferrazza. Chávez spoke before a regional gathering of the International Association of Machinists, then to a general meeting of union members at the American Federation of Musicians Local 368 auditorium. History and photos of that day and all subsequent celebrations may be accessed at CesarChavezNevada.com/ In his later years, César Chávez often visited southern Nevada, frequently rallying Culinary Union members on the Las Vegas Strip at the Frontier Hotel in what became the longest strike in U.S. history. (The union won.)

César Chávez was born near Yuma, Ariz., on 31 March 1927 and died in 1993 at age 66. Family members agree that his series of dramatic fasts along with the rigors of his work shortened his life. His siblings lived into their nineties.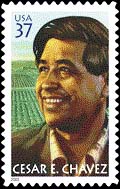 ¡Sí se puede!
In 1994, President Clinton honored Chávez with a posthumous Presidential Medal of Freedom, the nation's highest civilian award.

In 2003, the U.S. Postal Service issued a first class stamp in his honor, sparking the annual Reno celebrations.

In 2013, President Obama issued a proclamation for César Chávez Day. Gov. Sisolak will do the same later this month.

As a candidate in 2008, Obama endorsed making Chavez's birthday a national holiday. Petitions have been signed at previous Reno events and forwarded to Washington.
Stay tuned.
Be well. Raise hell. Esté bien. Haga infierno.

¡Sí se puede!
In Solidarity,

Andrew Barbano
CesarChavezNevada.com
NevadaLabor.com
Barbwire.TV
(775) 882-TALK [882-8255]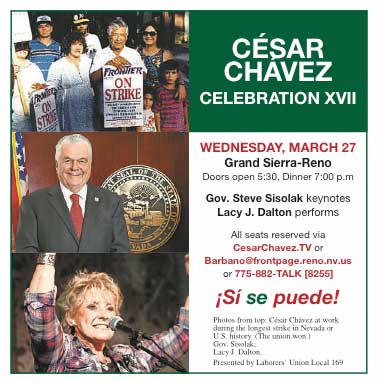 Reno Gazette-Journal ads break March 24
KTVN TV-2 (CBS/Home of March Madness)
Spots break 'round the clock starting March 24
[VIEW]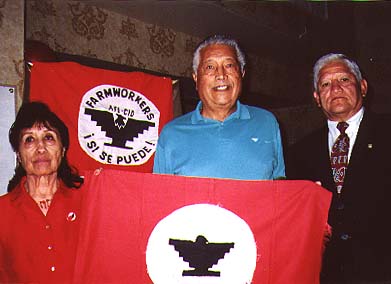 VETERANS — Left to right, Maria Zamora, Librado "Lee" Chávez and Tony Mayorga. Lee Chávez holds up a hand-crafted United Farm Workers of America flag signed by his late brother. The flag is part of Ms. Zamora's collection of Chávez/UFWA memorabilia which she displayed at the 2004 Chávez Celebration. Ms. Zamora marched with César Chávez in the 1960s and cooked for the multitudes as they trekked across California. She traveled from California to attend the 2014 event and has been our guest several times since. She weaved wonderful stories for the audience in her Hall of Fame address. As always, the Chávez family was well represented by Reno resident Ramon Chávez and his family. Tony Mayorga served many years as director of training and President of Laborers' Union Local 169, a founding sponsor of the celebration. [Librado Chávez and a dozen family members attended the 2008-2011 events. Lee and Tony are now gone. Tony was inducted to the César Chávez Nevada Labor Hall of Fame by fellow honoree Sen. Joe Neal on March 31, 2018. He thus became only the second posthumous recipient. Adios, hermano.]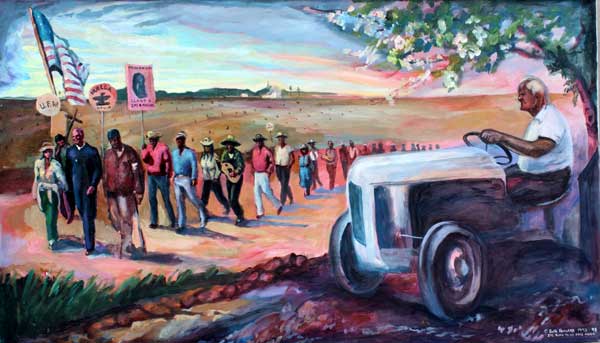 The César Chávez Long March 3-17-1966
by Reno artist Erik Holland


The original watercolor above was displayed for several years in the Nevada legislative offices of State Senator and future Congressman Ruben Kihuen, D-Las Vegas, prime sponsor of the 2009 César Chávez Day bill which is now state law. (Nevada Revised Statutes 236.027/AB301-Kihuen et al./2009). Mr. Holland is preparing a new painting to be unveiled at César Chávez Celebration XVII on March 27, 2019, latest in the series. The Reno-Sparks NAACP will participate with a full display and voter registration, as usual. Click here for event reservations and sponsorship information. Copyright © 2009 Erik Holland. All rights reserved.
Poor Denny's Almanac:
Remember: St. Patrick was once a slave who returned to minister to the land which had once shackled him.
On St. Patrick's Day: in 1934, thirty African American students were ejected from the U.S. House of Representatives dining room when they sought service as a protest against the firing of a waiter who tried to serve blacks, with police shoving the students out of the restaurant, down the hallway, and outdoors, fists swinging and blows landing; in 1966, farm workers led by César Chávez began a march from Delano to Sacramento; in 1970, U.S. postal workers struck.

[Courtesy of longtime Nevada reporter Dennis Myers' daily Poor Denny's Almanac © 2018]

You may make reservations via Facebook.