BARBWIRE
by
ANDREW BARBANO
Expanded from the 4-5-1998 Daily Sparks Tribune
Updated 2-25-2007, 4-3-2011 and 1-9-2019


The day Bob Price died and returned to tell the tale


He woke weakly, as from an unremarkable dream. But the floor felt coarsely real. So did that bilious limpness brought by the dull pain robbing him of air. He felt hands and almost heard a voice repeating "I love you, Bob."



He reclaimed enough consciousness to behold a breathlessly beautiful face beaming both reassurance and apprehension. She did not speak, he could not.



Strong arms lifted him away. She gave him a thumbs up, he returned the gesture, then she evaporated along with everything else.



North Las Vegas Assemblyman Bob Price had journeyed among the grateful dead and lived to tell the tale. Starched stiff on the floor of the Reno airport for some 20 minutes, his heart and lungs had stopped while the clock took a couple of laps without him.



SWEET MOMENT — Nevada Assemblyman Bob Price greets Rosalind Clarke of Aptos, Calif., the former stranger who saved his life. Price was not feeling well on March 24 when he embarked on a flight from Las Vegas to Reno for a legislative hearing. Had he stayed home alone, he would probably have not survived. Attributing his feeling sick to low blood sugar levels, the diabetic Price, 61, ate a bag of M&M's on the flight to Reno. "Peanuts, I tasted peanuts," Clarke said after administering mouth-to-mouth resuscitation. She presented a gum ball machine filled with peanut M&M's to Mr. Price as a get-well present.
Assemblywoman
Sandi Krenzer,
D-Las Vegas, who had been traveling with him to a legislative meeting, screamed for help as passersby glanced over, then continued their scurry through the maze.


"I love you, Bob," Krenzer sobbed like a cheerleader mistakenly assigned to a public execution.


Travelers flocked like sheep in the middle of a road, bleating at the unexpected Nevada entertainment as Bob Price turned smurf purple.


Then a little girl stepped forward. To disinterested gawkers she may have looked like a fashion model fresh from the pages of Vogue or Cosmo. But she was really a waif named Roz who had watched helplessly many years before as adults tried and failed to revive another man turning blue, her daddy.


The child remembered and reached across the years. The daughter learned cardiopulmonary resuscitation when she grew up, but had never used the skill.
Rosalind Clarke
wasn't even supposed to be in Reno when she got her chance.


Blustery weather had frightened her mother out of flying home on schedule. The next day, they arrived at the airport a half-hour late - just in time to see a man collapse. Perhaps her father had sent her.


Heroism bursts to the surface from a reservoir deep within. Guardian angels neither think before acting nor look before leaping. Galvanized by primal fear that witnessing death will kill the witness, the chosen morph into supermen.


Rosalind Clarke would look good in a cape. Dressed in elegant clothes and sporting pixy perfect frosted hair, the slightly-built woman without hesitation attempted to inflate the lungs of a stranger twice her size. The disparity forced her to resort to double-breathing, the equivalent of sprinting while kneeling.


For a few frenzied moments on a hard airport floor, a four-lunged human entity struggled for survival. When Price revived, Roz Clarke retained little ability to speak and resorted to the thumbs-up gesture.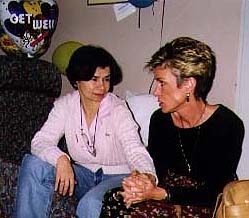 FAST FRIENDS — University of Nevada Regent Nancy Price, left, and Rosalind Clarke talk at Washoe Med. Mrs. Price was on Air National Guard duty at Naval Air Station Lemoore in California on March 24 when her husband suffered a heart attack at Reno-Tahoe International Airport. One of the airport firefighters who responded to the distress call was a former air guard member and personally knew the Prices. His knowledge of military communications enabled him to quickly notify Mrs. Price, who immediately flew to Reno. She is completing her six-year term on the board of regents and has announced her candidacy for the GOP nomination in Nevada's first congressional district. The seat is being vacated by Rep. John Ensign, R-Las Vegas.

"I wouldn't have done it, I wouldn't have put my mouth on his," a hotel worker later told Clarke, expressing a not unfounded fear. Today, a kiss can be lethal. Last week, a child with strep throat bit a man on the hand, killing him within 24 hours.



Such detachment has spawned a new class of bystander, the actively passive. "Straighten his leg!" shouted someone in line.



"I was busy. Why didn't he come over and do it himself?" Mrs. Clarke wonders.



Assemblywoman Krenzer's screaming for a doctor finally paid off as one walked up, saw that Clarke had succeeded in reviving the victim, and promptly scampered off to his flight, refusing to even leave his name.



Last Monday, Bob Price underwent triple-bypass heart surgery at Washoe Medical Center. The night before, he had a special visitor from California.



Roz Clarke arrived to hugs and tears from the entire Price family. She brought a tiny pewter angel, pinned it to Bob Price's gown, then read a prayer she had composed on hotel stationery.



She came back "because I remembered an Indian belief that you become responsible if you save a life God wanted to take."



Roz returned to preserve a mutual triumph over death. Ironically, she fell ill at her hotel Wednesday and today lies in St. Mary's Regional Medical Center with an undetermined ailment.



She's got a lot of angels watching over her.



Say a prayer, and take care of each other.



Roz Clarke got picked and performed heroically.



Tomorrow, it could be you.
---

BACKGROUND ON TWO CLOSE FRIENDS



Bob Price is an electrician by trade. He has been a member of International Brotherhood of Electrical Workers Union Local 357 in Las Vegas for 42 years.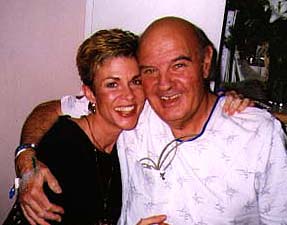 WINNING HER WINGS — Assemblyman Bob Price and his guardian angel, Rosalind Clarke of Aptos, Calif., at Washoe Medical Center. The pewter angel pin which Clarke gave Price just before his triple-bypass surgery can be seen on the pocket of his gown above Mrs. Clarke's right hand.
He was first elected to the Nevada State Assembly in 1974 and stands second in seniority only to Speaker Joe Dini, D-Yerington.
He is most identified as longtime chairman of the assembly taxation committee and as a strong supporter of workers rights.
He is seeking re-election this November.




Price is also known for passing out songbooks and playing his guitar on the floor of the house during the round-the-clock sessions which close every legislative session.

He has a whimsical sense of humor. When the state dedicated the "Extra-Terrestrial Highway" (State Route 375) in 1996, several members of the cast of the soon-to-be-released movie blockbuster "Independence Day" showed up.

Not to be outdone, Price donned a Darth Vader helmet and upstaged the stars.



Rosalind Clarke, 38, worked for the Santa Cruz County, Calif., Dept. of Education for 17 years.
She learned CPR while there and is now studying to become a surgical assistant.

UPDATE SINCE THE SUNDAY PAPER — Assemblyman Bob Price was discharged from Reno's Washoe Medical Center on Monday, April 6, and is convalescing in southern Nevada.
Rosalind Clarke underwent surgery at St. Mary's Regional Medical Center in Reno that same evening. She is recovering. You may send e-mail greetings to either Mr. Price or Mrs. Clarke via Andrew Barbano. You may send greetings to Mrs. Price directly.




Be well. Raise hell.

UPDATE IN MEMORIAM
Bob Price, hall of fame Nevada lawmaker, union man and lifelong critic of casino corporate welfare, died 4 Jan. 2019
Las Vegas assemblymember tried to stop casino campaign contributions and paid the price.
Guitarist and friend of Elvis and Joe Neal was 82

BARBWIRE UPDATE 2-25-2007: Bob Price Park will be dedicated in southern Nevada at 9:00 a.m. on March 3, 2007.
The park is located at the corner of Bonnie Lane and East Lake Blvd., just south of Nellis Air Force Base.
Editor's Note: The Bob and Roz story and some of the above photos were later picked up by the local Santa Cruz newspaper and the 1,000,000+ circulation Woman's World magazine.
---
Copyright © 1998, 2007, 2011, 2019
Andrew Barbano
Andrew Barbano is a member of Communications Workers of America Local 9413. He is a Reno-based syndicated columnist, a 29-year Nevadan, editor of U-News and campaign manager for Democratic candidate for Governor, State Senator Joe Neal.
Barbwire by Barbano has originated in the Daily Sparks (Nev.) Tribune since 1988.