Stanley Phillip Jones
1923-2018
All remembrances welcome for posting in perpetuity.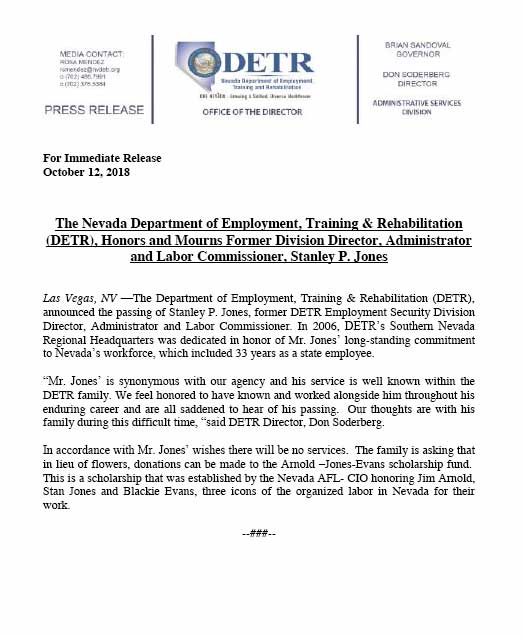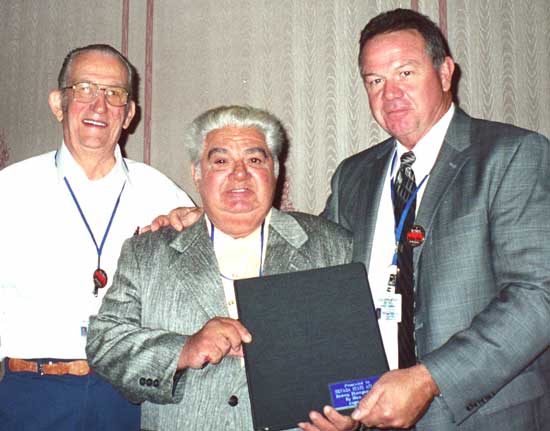 THE LAST HURRAH: Nevada State AFL-CIO convention, Reno Grand Sierra Resort, Aug. 22, 2007 — Former Nevada State Labor Commissioner Stan Jones, left, presented the Nevada State AFL-CIO with a copy of a biography of legendary labor leader Joe Hill of the Industrial Workers of the World (the IWW, better known as the Wobblies). The book included many of the labor songs Hill composed. Claude S. "Blackie" Evans holds the book at center. Evans' successor as Nevada State AFL-CIO executive secretary-treasurer, Danny Thompson, stands at right.

The book had been presented to Jones in 1981 by the late Leola Armstrong, secretary of the Nevada State Senate.

"I think you won that one," Armstrong told Jones after his impassioned speech against a bill by Sen. Cliff McCorkle, R-Reno, which would have eliminated Nevada's prevailing wage law. (The bill failed.) Evans led 250 union workers into the hearing room to oppose the proposal. That kind of activism was absent in the movement before Evans rose to the top job and continues today.
[Andrew Barbano/NevadaLabor.com photo]
Letter to Harold "Suitcase" Knudson (so called because of his ever-present briefcase)
A walk with the giants
Barbwire by Barbano / Expanded from the 4-3-2011 Daily Sparks Tribune
http://www.nevadalabor.com/barbwire/barb11/barb4-3-11.html
Don't diminish value of technical education
SAFETY WARNING: Sparks City Council votes Dec. 14 to allow unlicensed plumbers & electricians
Guest editorial from Stan Jones and Andrew Barbano
Reno Gazette-Journal online 12-10-2015 / Print edition 12-14-2015
http://www.nevadalabor.com/barbwire/barb17/barb16-17extras.html#sparkslicense
Pretty Wendy's 50-year excursion in Nevada's Never-NeverLand
Expanded from the 9-29-2002 Daily Sparks (Nev.) Tribune
Updated 4-3-2011
http://www.nevadalabor.com/barbwire/barb02/barb9-29-02.html

SITE NAVIGATION TIPS: When all else fails, read the instructions (A favorite John Hanks aphorism I've been using for decades)
NevadaLabor.com | U-News | Bulletins + Almanac
Casinos Out of Politics (COP) | Sen. Joe Neal
Guinn Watch | Deciding Factors | BallotBoxing.US
DoctorLawyerWatch.com | Barbwire Oilogopoly Archive
Barbwire Nevada Corporate Welfare Archive
Annual César Chávez Celebration
War Rooms: Banks, Cabbies, Cabela's/cabellyup, Cable TV, Cancer Kids/Mining, Energy, Food, Health Care, Resurge.TV/consumers, Starbucks, Wal-Mart
We Don't Need No Education
Search this site | In Search Of...


Copyright © 1982-2018 Andrew Barbano

Get ahead of corporate-influenced news—>Subscribe to Barbwire Confidential

Site composed and maintained by Deciding Factors, CWA 9413 signatory
Comments and suggestions appreciated. Sign up for news and bulletins