22 October 2018
FOR IMMEDIATE RELEASE
FOR MORE INFORMATION CONTACT
Andrew Barbano / NevadaLabor.com
(775) 882-TALK [882-8255]
<barbano@frontpage.reno.nv.us>
Longtime Nevada official and labor legend Stan Jones dies at 95
RENO, NV (U-NEWS) — Former Nevada labor commissioner and organized labor hall of famer Stan Jones died at his Reno home on Oct. 10 from injuries sustained in a fall at the Reno Airport last July 18. He was 95. At his request, there will be no memorial service. His ashes were spread in the mountains of northern Washoe County where he hunted and fished for most of his life.

Stanley Phillip Jones was born at St. Mary's Hospital in Reno on Sept. 30, 1923. He attended Reno primary schools and was a veteran of World War II. He served in France and Germany in the U.S. Army Corps of Engineers' 372nd Engineer Regiment which built "instant" bridges across rivers, among other things.

He put that experience to good use, joining Reno Sheet Metal Workers Local 26 on May 31, 1946, and graduating from the union's apprenticeship program in 1948. He attended the University of Nevada-Reno and the University of San Francisco.

He was elected as Local 26 business representative in 1949 and to the same position with the Building & Construction Trades Council of Northern Nevada (BCTCNN) in 1950.

In 1953, he met Wendy Helvey who had moved to Reno from Omaha, Nebraska, the previous year and was employed by IBEW Local 401. They were married three years later. Wendy Jones retired in 2002 after 50 years with the union. They were both inducted to the César Chávez NevadaLabor.com Hall of Fame on March 31, 2011, Nevada's César Chávez Day.

Stan Jones served with the Northern Nevada BCTCNN until 1965 when he became a field representative with the National Electrical Contractors Association.

In 1967, Nevada Gov. Paul Laxalt appointed him as state labor commissioner, a post he held until 1979. During his tenure, he became the first Nevada labor commissioner elected president of the International Association of Governmental Labor Officials, representing the United States and its territories. In 1983, Gov. Richard Bryan appointed him executive director of the Nevada Employment Security Dept. He served three terms on the executive board of the Interstate Conference of Employment Security Agencies. Overall, he worked under five governors of both major political parties in his 33 years of public service while maintaining his status as a dues-paying member of his union.

In 2006, the Southern Nevada Regional Headquarters of the Nevada Department of Employment, Training and Rehabilitation (DETR) was dedicated "in honor of Mr. Jones' long-standing commitment to Nevada's workforce," the department noted upon news of his death.

"Mr. Jones is synonymous with our agency and his service is well known within the DETR family," stated DETR Director Don Soderberg.

"We feel honored to have known and worked alongside him throughout his enduring career and are all saddened to hear of his passing," Soderberg continued.

"The family is asking that in lieu of flowers, donations can be made to the Arnold-Jones-Evans Scholarship Fund established by the Nevada State AFL-CIO honoring Jim Arnold (Culinary Local 226), Stan Jones and Blackie Evans (Steelworkers Local 4856), three icons of Nevada organized labor," DETR noted.

Checks may be sent payable to the Nevada State AFL-CIO, 1891 Whitney Mesa Drive, Henderson NV 89014. They should be made out with a notation designating the Arnold-Jones-Evans Scholarship Fund.

"Stan Jones was a warrior for working families his entire life," stated former Nevada State AFL-CIO Executive Secretary-Treasurer Danny Thompson, who succeeded Claude S. "Blackie" Evans in that position.

"Stan Jones spent a lifetime in service of others. He sent me a birthday card every year, including this year," Thompson added.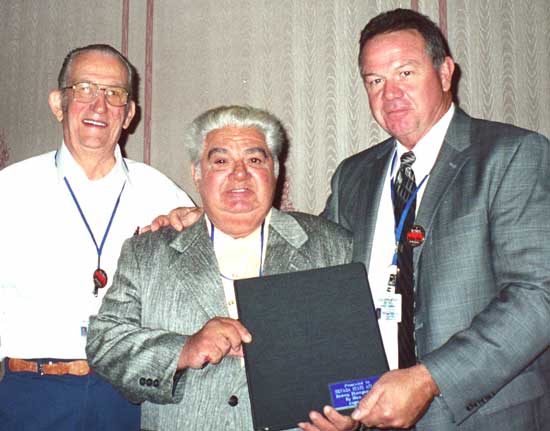 THE LAST HURRAH: Nevada State AFL-CIO convention, Reno Grand Sierra Resort, Aug. 22, 2007 — Former Nevada State Labor Commissioner Stan Jones, left, presented the Nevada State AFL-CIO with a copy of a biography of legendary labor leader Joe Hill of the Industrial Workers of the World (the IWW, better known as the Wobblies). The book included many of the labor songs Hill composed. Claude S. "Blackie" Evans holds the book at center. Evans' successor as Nevada State AFL-CIO executive secretary-treasurer, Danny Thompson, stands at right.

The book had been presented to Jones in 1981 by the late Leola Armstrong, secretary of the Nevada State Senate.

"I think you won that one," Armstrong told Jones after his impassioned speech against a bill by Sen. Cliff McCorkle, R-Reno, which would have eliminated Nevada's prevailing wage law. (The bill failed.) Evans led 250 union workers into the hearing room to oppose the proposal. That kind of activism was absent in the movement before Evans rose to the top job and continues today.
[Andrew Barbano/NevadaLabor.com photo]
Stanley Phillip Jones was not necessarily retired in retirement. His last high profile advocacy for workers came as recently as December, 2015, when he co-authored a Reno Gazette-Journal guest editorial criticizing Sparks city government for removing certification requirements for journeyman plumbers and electricians.

"As the former state commissioner of labor, I have seen the damage that can be done by unqualified, unlicensed construction workers," he advised Sparks City Hall.

This was not a new issue to Stan Jones.

"Training is necessary and essential. Let no one say it costs too much," he wrote in the November 1977 edition of the Northern Nevada Labor News.

"No legitimate organization ever got started on the road to permanent success by any other means than that of hard, intelligent work coupled with desire," he advised.

Stan Jones is survived by his wife, Wendy, sons John (Denice) of Wasilla, Alaska; Stanley Michael (Coreen) of Sparks, Nevada; four grandchildren, two great-grandsons and three nieces.

Remembrances may be sent via U.S. Postal Service to Andrew Barbano, P.O. Box 10034, Reno NV 89510 or e-mailed via <barbano@frontpage.reno.nv.us> They will be posted at the new NevadaLabor.com permanent Stan Jones Archive.

CWA 9413/AFL-CIO
V10/20 StanObitPR/Stan Jones/ObitsLabor2018/U-News 2018/opsn18