BARBWIRE
by
ANDREW BARBANO
Pirate Laureate of the High Desert Outback of the American Dream
---
Site map
SITE NAVIGATION TIPS: When all else fails, read the instructions
Get ahead of corporate-influenced news—>Subscribe to Barbwire Confidential
2014 MAKES A SIX-PACK—>BARBWIRE SCORES
SIXTH NEVADA PRESS ASSOCIATION AWARD


Barbwire Silver Anniversary 1988-2013 —>Now we go for gold
Barbwire by Barbano moved to Nevada's Daily Sparks Tribune on Aug. 12, 1988, and has originated in them parts ever since.
Whom to blame: How a hall-of-famer's hunch birthed the Barbwire in August of 1987
Tempus fugit.

Everybody knows the dice are loaded.
Everybody rolls with their fingers crossed.
Everybody knows the war is over.
Everybody knows the good guys lost.
Everybody knows the fight was fixed.
The poor stay poor, the rich get rich.
That's how it goes. Everybody knows.
Everybody knows the scene is dead
But there's gonna be a meter on your bed
That will disclose
What everybody knows.
— Leonard Cohen

"If voting mattered, they wouldn't let us do it." — Travus T. Hipp, 1982
The Underbellyof the News—>Subscribe to Barbwire Confidential

Cheap thrills: Sex banned in Gomorrah South
Barbwire by Barbano / Expanded from the 10-14-2014 Sparks Tribune / Updated 10-15-2014
Hell has frozen over. Sex is now taboo in Gomorrah South.
The Clark County School District just nuked its new sex education proposal because parents in America's largest cat house were offended.

I'm a true conservative by comparison, having long objected to Gov. Veto El Obtúsè and his bluenoses wasting hundreds of thousands of taxpayer dollars on TV spots telling teens to just say no.

Ah, October, October, when the leaves are as golden as the opportunities to pour salt into the self-inflicted wounds of the moral and righteous.

Take Ross Miller. Please.
Our secretary of state and son of a 10-year governor is in a dead heat for attorney general with the offspring of two other political dynasties, Republican Adam Domenici-Laxalt.

Both of these guys are shot up the tuckus with diamonds yet wallpaper the world daily with e-mails pleading poverty and asking little people for contributions.

I'm amazed that a three-year Nevadan like Domenici-Laxalt could have Miller on the ropes.
It's symptomatic of Miller's bland campaign, a malady likewise afflicting Democratic light-guv nominee Lucy Flores.
You have to do more to convince people to vote for you than ask for e-mail money.

An old political axiom advises "call me an S.O.B., just spell my name right."
Miller can't even do that. I just got a solicitation from "Ross Miler." (Twerking toward the Miley Cyrus vote, perhaps?)

I'm among those who criticized Miller's 2013 voter i.d. proposal.
The secretary of state's voter registration web page (which is difficult to access directly or via the Washoe County Registrar's site) carries a "Nevada Election Integrity Task Force" badge shouting "WARNING: Falsifying your registration is a Category E felony."

Support your local moonhowler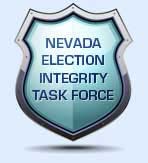 WARNING: Falsifying your registration is a Category E felony. (NRS 293.800)
Nothing like trying to intimidate potential voters.
Perhaps Mr. Miller placed it there as a sop to right-wing moonhowlers who view every election result they don't like as having been stolen by teenage immigrant welfare mothers on drugs. (Apologies to the Austin Lounge Lizards.)

Imagine the reaction of the marginally engaged potential voter who has neither strong motivation nor lots of time to find online registration, then gets slapped with "we're gonna bust you, sucka!"

Mr. Miller, like his father, is a conservative with a D, which is better than a newcomer with two bite marks on his neck.

Speaking of the batty, the Nevada Policy Research Institute just sent out a hit piece trashing Reno Gazette-Journal reporter Mark Robison's Fact-Checker analysis of GOP light-gov candidate Mark Hutchison's misinformation about Obamacare.

Then, NPRI accuses the teachers' union of getting the facts wrong "just five seconds" into a new TV spot promoting its corporate gross profits tax initiative.

The joke's on them.
The Nutso Policy Research Institute screed opened with a quote purportedly from Groucho Marx.
Not only did they get the quote wrong, but the great comedian never said it.

Are Ross Miler's (sic) writers moonlighting for the sex-ed-challenged moonhowlers?
Be well. Raise hell. / Esté bien. Haga infierno. (Pardon my Spanglish.)
WEB EXTRAS...
TOMORROW'S NEWS TODAY: FEEL UP YOUR FIRE METER. The Reno Gazette-Journal did big spreads on three consecutive Sundays (Sept. 14, Sept. 21 and Sept. 28) on NV Energy smart meter fires. Welcome aboard. Barbwire readers were two years ahead on the fire meter issue. (Touch a Smart Meter, Go to Jail — 11 October 2012)
In a blah editorial on Sept. 28, the RGJ praised the Public Utilities Commission for opening an investigation.
What's next? Endorsing motherhood?
I've taken to regularly feeling up my gas and electric meters and those of my neighbors. Heat means your fire meter is about to go torch. Call NVE and pray or 911.
TOAST ALERT. Teachers' union gross profits tax petition supporters and opponents would do well to review the Barbwire of Feb. 28, 2013.
Passage of the tax initiative could easily lead to a successful court challenge that would at the same time blow out not only the revenue hike, but also term limits and the state's worst anti-union laws. Something for everybody.
ANTE INTO THE GAME: Support the new season of Barbwire.TV by putting your money where my mouth is.
PayPal monthly subscription software is now operational at the website.
A thousand thanks to those who already responded and keep sending show suggestions. I've gotten a lot of queries about ballot questions. The Jan. 30 column brought a surge of inquiries about the Nevada State Education Association corporate tax petition on this November's ballot.
Stay tuned.
"Media is the plural of mediocre."
— Jimmy Breslin
Please forward additional ideas or vote on the above.
I encourage you to donate to the cause at Barbwire.TV/
The medium that shapes public opinion needs at least one refuge where it is not filtered through the distorted green eye shades of prissy corporate accountants for whom profit is the only priority; where self-censorship is the journalist's normal work environment and where all sins of omission are tacitly encouraged and forgiven with the wave of a balance sheet.
This is important. We've got a lot of work to do.

Get ahead of corporate-influenced news—>Subscribe to Barbwire Confidential.
Be well. Raise hell. / Esté bien. Haga infierno. (Pardon my Spanglish.)

Andrew Barbano is a 46-year Nevadan, chair of the Nevada César Chávez Committee, producer of Nevada's annual César Chávez Day celebration, first vice-president and political action chair of the Reno-Sparks NAACP, labor/consumer/civil rights advocate, member of Communications Workers of America Local 9413/AFL-CIO and editor of NevadaLabor.com and JoeNeal.org and DoctorLawyerWatch.com/ As always, his opinions are strictly his own. Check local listings for other Nevada cable systems. E-mail barbano@frontpage.reno.nv.us. Barbwire by Barbano has originated in the Sparks Tribune since 1988.
The Underbellyof the News—>Subscribe to Barbwire Confidential

SITE NAVIGATION TIPS: When all else fails, read the instructions
NevadaLabor.com | U-News | Bulletins + Almanac
Casinos Out of Politics (COP) | Sen. Joe Neal
Guinn Watch | Deciding Factors | BallotBoxing.US
DoctorLawyerWatch.com | Barbwire Oilogopoly Archive
Barbwire Nevada Corporate Welfare Archive
Annual César Chávez Celebration
War Rooms: Banks, Cabbies, Cabela's/cabellyup, Cable TV, Cancer Kids/Mining, Energy, Food, Health Care, Resurge.TV/consumers, Starbucks, Wal-Mart
We Don't Need No Education
Search this site | In Search Of...


Copyright © 1982-2014 Andrew Barbano

Andrew Barbano is a 45-year Nevadan, editor of NevadaLabor.com and JoeNeal.org; and former chair of the City of Reno's Citizens Cable Compliance Committee. He is producer of Nevada's annual César Chávez Day celebration and serves as first vice-president, political action chair and webmaster of the Reno-Sparks NAACP. As always, his opinions are strictly his own. E-mail barbano@frontpage.reno.nv.us.

Barbwire by Barbano moved to Nevada's Daily Sparks Tribune on Aug. 12, 1988, and has originated in them parts ever since.
Whom to blame: How a hall-of-famer's hunch birthed the Barbwire in August of 1987
Tempus fugit.

Site composed and maintained by Deciding Factors, CWA 9413 signatory
Comments and suggestions appreciated. Sign up for news and bulletins