Site map
Corporate Propaganda Research Archive


Special notice to Sparks Tribune readers
In its 25th year as a daily, the 102 year-old Sparks Tribune moved to twice-per-week publication as of 1 Sept. 2012. Alas and alack, the publishers have not done a very good job informing our readers and the general public. I've been getting phone calls. The print edition will now be published on Tuesdays and Thursdays. Four longtime columnists have been retained: David Farside, Jake Highton, Harry Spencer and the Barbwire. The newspaper's website will continue to publish stories on a daily basis.

My annual Labor Day column appeared in the Sept. 3 Reno Gazette-Journal.

I also highly recommend journalist Mark Robison's extensive piece Hard Labor: Nevada unions tout role in helping workers, firms, economy in the Sunday 2 Sept. 2012 RGJ (starting on page one of the Reno Rebirth section of the print edition). Therein, union men Jim Burrell, Paul McKenzie and Guy Louis Rocha did the movement proud. [Click here to access the shocking but not surprising graphic included in the print edition but not on the RGJ website.]

The RGJ also used a photo and information from this NevadaLabor.com golden oldie.

Happy Labor Day. Stay tuned. Be careful. Be cool.

Be well. Raise hell.

Andrew Barbano

Everybody knows the dice are loaded.
Everybody rolls with their fingers crossed.
Everybody knows the war is over.
Everybody knows the good guys lost.
Everybody knows the fight was fixed.
The poor stay poor, the rich get rich.
That's how it goes. Everybody knows.
Everybody knows the scene is dead
But there's gonna be a meter on your bed
That will disclose
What everybody knows.
— Leonard Cohen
Aug. 2012-Aug. 2013: the Barbwire's Silver Anniversary Year
Barbwire by Barbano premiered in the Daily Sparks (Nev.) Tribune on Aug. 12, 1988, and has originated in those parts ever since. Tempus fugit.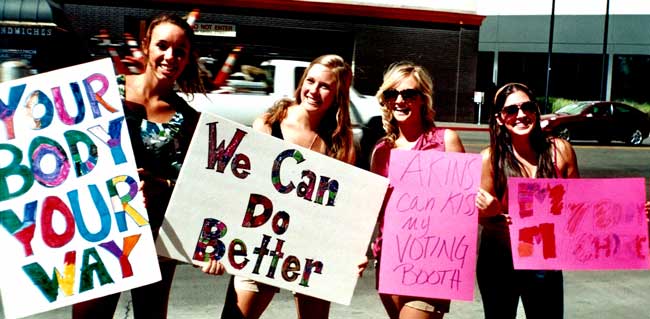 SUFFRAGETTES 2012 (Bruce Thompson Federal Courthouse, Reno NV Aug. 26, 2012) —Left to right, the signs read Your Body, Your Way / We Can Do Better / (Missouri Republican Rep. and U.S. Senate candidate Todd) Akins can kiss my voting booth / My Body My Choice. There are actually six readable signs in the photo if you count "sandwiches" in the upper left background and "Do Not Enter" to the right of Ms. Your Body, Your Way — which adds a nice touch of irony to this energetic demonstration on a sunny Sunday morning. Somewhere, Susan B. Anthony, Elizabeth Cady Stanton, Margaret Sanger, Victoria Claflin Woodhull, Alice Paul, Lucy Burns, Jeannette Rankin, Nancy Gomes, Mary Gojack, Bella Abzug, Jean Ford and legions of iron-jawed angels are smiling.
Women and Unions: Orphan Majorities
Barbwire by Barbano / Expanded from the 9-3-2012 Reno Gazette-Journal
Updated 9-4, 9-8-2012

For all of our modern innovations, we are still very primitive.
Electricity in the 21st Century arrives much as it did in the 19th, from wires strung on sticks.
Women and workers still march on the streets under those utility poles, just as they did when bustles and corsets were in fashion.

America famously protects minority rights against the tyranny of the majority.
In practice, well-moneyed minorities often rule.
In the U.S. Senate, one member can monkey-wrench the entire body.
In Nevada, a minority of lawmakers can stop any tax or fee increase, resulting in legislative gridlock.

Polling consistently shows that a majority of non-union U.S. workers would vote for a union.
Most will never have the opportunity because we suffer from the most repressive labor laws among industrialized countries.
In recent decades, our biggest export has been good-paying jobs.

Women comprised 51.6 percent of the voting age population in 2010, but most officeholders are still basically old white guys.

Women are 51 percent of today's household breadwinners but Maryland Democratic Sen. Barbara Mikulski's bill mandating equal pay for equal work is bogged down in the good old boys' club.

About 50 demonstrators gathered at the downtown Reno federal building on Aug. 26 (see above).
Most were modern-day suffragettes who assembled in the Sunday morning sun to commemorate the 90th anniversary of the Nineteenth Amendment that gave women the right to vote in 1920.

Nevada enfranchised women five years earlier and we've mostly been on a downhill slide since.
In 1977, as a result of a dirty deal done strictly between guys, the Nevada Legislature killed the Equal Rights Amendment.
It remains just a dream.

After 1915, about our only positive innovation came with placement of "none of the above" ("none of these candidates") on statewide ballots, something Republicans removed this year. [UPDATE 9-6-2012: Federal appellate judges put None of the Above back on the November ballot. Alleluia!]

Like the women in front of the Reno courthouse, workers are part of a numerical majority that remains shortchanged.

Adjusted for inflation, the average American worker hasn't had a raise since 1973.

The moneyed minority rules.
Corporations (now legally people) can buy media, lawyers and lobbyists all subsidized by taxpayers as deductible business expenses.
Unions are America's most heavily regulated organizations while Wall Street waltzes all the way to the bank.

We still celebrate the myth of an America built by rugged individualism when in reality this country was forged through teamwork, unified effort.
We all belong to one big union, the United States.
For all the recent demonization of words like feminist, union, liberal and progressive, this country was forged by collective endeavor toward common goals.

The chamber of commerce is thus arguably a union. So are the National Organization for Women, Planned Parenthood, UNR football and the National Rifle Association. All are textbook examples of successful cooperative effort.

Many states have passed or are considering laws to make voting as difficult as possible.

Voters don't have a National Rifle Association which has made it easier to buy a gun than cast a ballot in many places.
Maybe the NRA should diversify.

So think kindly of the 50 demonstrators, mostly wearing pink, who assembled at the Reno courthouse a few days ago.

Those representatives of the majority showed up to remind us that no matter the label, the work toward equal opportunity continues and the dream will never die.

Dream on.

SUPPORT THE NEVADA CITIZEN TV PROJECT to re-establish a non-corporate community channel.
As political ads increasingly shotgun your consciousness, do you not feel the burn — and the burning need?
You may donate at ReSurge.TV or contact me or burn, baby, burn.

A people's TV station will act like an antacid.
Thank you.

Be well. Raise hell.
____________
Andrew Barbano is a 43-year Nevadan, chair of the Nevada César Chávez Committee, producer of Nevada's annual César Chávez Day celebration, first vice-president and political action chair of the Reno-Sparks NAACP, labor/consumer/civil rights advocate, member of Communications Workers of America Local 9413/AFL-CIO and editor of NevadaLabor.com and JoeNeal.org. As always, his opinions are strictly his own. Check local listings for other Nevada cable systems. E-mail barbano@frontpage.reno.nv.us. Barbwire by Barbano has originated in the Daily Sparks Tribune since 1988.

Smoking Guns...

Followed by a moon shadow

TRAVUS T. HIPP, 1937-2012

ADIÓS, COMPADRE — Our friend Travus, 75, passed away peacefully between 2:00 and 3:00 a.m. PDT on 18 May 2012 at his home in Silver City, Nevada. The sun is in eclipse as I write this at 6:30 p.m. on May 20.

CHANGE OF VENUE (5-22-2012) — Adiós in Silver City, Nevada, Saturday, May 26, 2012 —> Updated 5-27-2012 — > The auld church where Travus lived and died proved too small for the expected multitude, so gathering, gnoshing and remembering commenced at the Silver City Community Center, 385 High Street, at 10:00 a.m. PDT. The graveside memorial service began at High Noon. Travus was buried next to his rock star companion Lynne Hughes, a short walk away. My remembrance of Lynne from the 3-21-1993 Daily Sparks Tribune has been linked to Travus' formal obituary at this website. All memories accepted for permanent posting hereat. Stay tuned for pictures and stories of the appropriately rainy day.

Thanks for all your kind words. Keep up the good work and the good fight.

Be well. Raise hell.

Andrew Barbano

Travus T. Hipp & Tales of Nevada's Futures Passed
Expanded from the 6-3-2012 Daily Sparks Tribune


At bottom, he was an artist who used his voice to soar and slice, a tenor for the tenor of our times. Many of his mourning California listeners talk about the vocal spells he wove, how he soundly organized the noise of daily life into music that entertained, engaged, enlightened, educated, enthralled and occasionally enflamed. [From the saga of Travus T. Hipp and contributions by The Barbwire to the May 25 Reno Gazette-Journal and May 26, 2012, Daily Sparks Tribune.]

Economist: This is a true depression
Elliott Parker Guest Editorial / Las Vegas Sun / 11-27-2011

The plight of the paper pushers
The great recession made bashing public workers a national sport
Dennis Myers / Reno News & Review / 11-23-2011

Bury the Bad News with Rose-colored Reporting
How urgent can economic troubles be if leaders say things are getting better?
Dennis Myers / Reno News & Review / 11-23-2011

Fact-free nation: Inside the lie machine
Mother Jones Magazine May-June 2011 / Cover story and in-depth analysis

Barbwire Corporate Welfare Archive
Cabellyup.com

From clear-cut forests to dirty Gulfstream waters, this land belongs to old BP
TOLJASO LONG TIME AGO
BP/ARCO: The greasy root of our evils
Barbwire / Daily Sparks Tribune 9-10-2006
The awful truth — Read it and weep, fellow suckers

Labor Day 2009: Rise of the Vampire Corpobots
Expanded from the 9-6-2009 Daily Sparks Tribune

Angry Americans and Freudian fraud
Using war to market cigarettes
Expanded from the 8-23-2009 Daily Sparks Tribune

BARBWIRE Nevada Corporate Welfare Archive

Propaganda fuels gasoline price fixing
Barbwire 8-14-2005

Donate to the cable ratepayer legal defense fund at our PayPal-enabled ReSurge.TV Consumer War Room


Phillips, Kevin; Numbers Racket: Why the economy is worse than we know
Harper's Magazine; May 2008; page 43
Phillips has authored numerous books on history and politics over the past 40 years. His most recent, Bad Money: Reckless Finance, Failed Politics and the Global Crisis of American Capitalism, was published by Viking on April 15, 2008.

ORDER Taking the Risk Out of Democracy
Corporate Propaganda versus Freedom and Liberty
By Alex Carey
Edited by Andrew Lohrey
Foreword by Noam Chomsky
University of Illinois Press


SEE ALSO: Lapham, Lewis H.; Tentacles of Rage: The Republican Propaganda Mill, A Brief History; Harper's Magazine cover article; September, 2004, page 32.

By one conservative estimate, the corporate right has spent about $3 billion over the past three decades manufacturing public opinion to suit big business goals. Lapham's number covered the early 1970's to the present day. Alex Carey noted that by 1948, anti- New Deal corporate propaganda expenditures had already reached $100 million per year, not adjusted for inflation, for advertising alone. (Carey, ibid; page 79)

Adjusted for inflation, that 1948 $100 million becomes $801,659,751.04 in 2005 dollars.

Conservatives Help Wal-Mart, and Vice Versa
As Wal-Mart struggles to rebut growing criticism, it has discovered a reliable ally: conservative research groups.
New York Times 9-8-2006; Free registration may be required.

BARBWIRE: Labor Day '94: People vs. corporate con job, 9-4-94
Chilling forecasts from Alex Carey

BARBWIRE: The Nevada Republican Party Becomes Communist, 3-30-97
A prescient Plato on the dangers of oligarchy
NevadaLabor.com | U-News | Bulletins + Almanac
Casinos Out of Politics (COP) | Sen. Joe Neal
Guinn Watch | Deciding Factors | BallotBoxing.US
DoctorLawyerWatch.com | Barbwire Oilogopoly Archive
Barbwire Nevada Corporate Welfare Archive
Annual César Chávez Celebration
War Rooms: Banks, Cabbies, Cabela's, Cable TV, Cancer Kids/Mining, Energy, Food, Health Care, Resurge.TV/consumers, Starbucks, Wal-Mart
Search this site | In Search Of...


Copyright © 1982-2012 Andrew Barbano

Andrew Barbano is a 43-year Nevadan, editor of NevadaLabor.com and JoeNeal.org; and former chair of the City of Reno's Citizens Cable Compliance Committee, He is producer of Nevada's annual César Chávez Day celebration and serves as first vice-president, political action chair and webmaster of the Reno-Sparks NAACP. As always, his opinions are strictly his own. E-mail barbano@frontpage.reno.nv.us.

Barbwire by Barbano premiered in the Daily Sparks (Nev.) Tribune on Aug. 12, 1988, and has originated in those parts ever since. Tempus fugit.


Site composed and maintained by Deciding Factors, CWA 9413 signatory
Comments and suggestions appreciated. Sign up for news and bulletins