To the tens of thousands of newcomers to the little valley by the mucky Truckee, the passing of motorsportsman Merle Brennan meant not much, if anything at all. Who was he? Some guy we never heard of? He used to race cars? So what's on HBO tonight?
Not so fast. Merle Brennan's life was the story of our age, our nation, our world. Even those who knew him might say that's a tall statement about a speedster who sprang from the dusty farms of central California.
I don't think so.

Merle was born at an irritating stoplight straddling Highway 99, a tiny town named Turlock. Maybe that's what bred the speed into him. The killer road down the spine of California broke stride at Turlock's single signal. Once past it, a driver enjoyed a smooth, unbroken line to more exotic locales.
Maybe Merle Brennan spent his life protesting that one damned stoplight next to the tracks in old downtown Turlock.

Such devotion to smooth speed did not go unnoticed. He became so good a race driver that Bill Harrah once seriously considered him as the standard bearer of the corporate colors. Harrah had a longtime personal relationship with Il Comendatore himself, Enzo Ferrari. That relationship paid off when Harrah was awarded the Ferrari distributorship for the western United States.

Former Nevada State Assembly majority leader Gene Evans, D-Elko, approached Harrah about Brennan. Evans, then a Harrah's public relations executive, recognized a perfect marketing opportunity: Harrah's Reno Hotel-Casino, Ferrari sports cars, the legendary Bill Harrah, his more legendary auto collection, and Merle Brennan, local phenom.

Harrah agreed that Brennan was very good, but said no. "If I put him in a car, he's so competitive, I think he'd kill himself," Evans remembers Harrah saying. Harrah hired someone else whose name you would not recognize (Ken Miles). Merle said later that he understood.
Perhaps Harrah was right in sensing that Merle Brennan was not an organization man. Maybe that's why Merle understood. Had Merle Otto Brennan become a corporate race driver, it could have diluted his focus. To compete at the highest levels, concentration means everything. Harrah earned a justified reputation for doing things in a first class manner, but his employees were expected to come from the same cookie cutter. If you didn't look the part, you didn't get the part, qualifications often notwithstanding.

Merle certainly possessed the appearance for the role, but perhaps not the proper corporate temperament. Jet pilot lean, he was one of those guys whose looks improved with age. When you ran into Merle at a restaurant, a racetrack or the sales floor of his old Jaguar dealership on Gentry Way, you felt a bit uncomfortable. He never intended it, he was just sort of born with it. In politicians and spiritual leaders, we call it charisma.
In Hollywood, it's called star quality.

Merle triggered that vague degree of discomfort you feel around any powerful person. You just knew he was someone uniquely blessed, one of that fraction of one percent who can do a common thing uncommonly well.
That presence of pure talent begets emotions of admiration, and worship is never relaxing.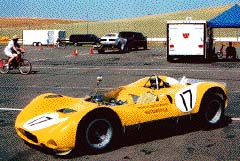 Merle's restored Genie MK-10B at Thunderhill, June 2003

UPDATE 4-18-2004 — Merle Brennan's nephew contacted me a few weeks back. Alan Prentiss of Carson City found and restored his uncle's Genie MK-10B which Merle ran from 1967 through 1970.

He sent me photos of Merle driving it and the now-restored machine. He remembered the piece I wrote after Merle took his last checkered flag in 1995.

"When I found it in Camarillo, Calif., it was beyond a basket case," Prentiss says. "It took me four and a half years to finish the restoration. I ran it for the first time at Sears Point in September of 2002," he added.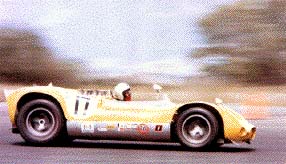 Merle Brennan at speed
Cotati, 1967
As Brennan's sports car racing laurels mounted, Harrah was often chided for not providing the big bucks corporate sponsorship which would elude Merle his entire life. Harrah admitted that maybe he had made an error. Merle Brennan just understood.

Now that he is dead, perhaps we can share that insight. The last race of the 1978 CanAm (Canadian-American Challenge) series was run at the fabled Riverside Raceway in southern California. The motorsports elite showed up for the dance. Promoter Les Richter, the NFL Los Angeles Rams' hall of famer, had placed the CanAm on a double bill with the finale of the International Race of Champions (IROC). The best of Formula One, NASCAR and Indianapolis were thus on hand to tool around the road course in pretty Chevy Camaros for the benefit of Roone Arledge and ABC's Wide World of Sports.

Before it was bulldozed for condos, Riverside '78 offered a magnificent road course with grandstands at strategic points. Jim McKay and Jackie Stewart occasionally stepped out of their air conditioned trailer to deliver a comment for ABC Sports. Anheuser-Busch was busily test marketing an apple-amber "light alcohol" brew called Chelsea (later quickly withdrawn from the market under criticism that it would pave the way for kids to — gasp! — drink beer.)

The CanAm series reached the height of its renaissance that year. After the 1960's glory days of Mark Donohue, Peter Revson, Bruce McLaren and Denis Hulme, it fell into disrepair and finally, defunction. Its second incarnation included future Formula One world champions Alan Jones and Keke Rosberg, multiple LeMans winner Jackie Ickx and American road racing legend George Follmer.

Riverside was packed on that sweaty, dusty southern California October Sunday. Nevada was well represented by a large fan contingent and future State Sen. Randolph Townsend's Shadow Racing Team, led by French Formula One star Jean-Pierre Jarier. I supervised a camera crew filming the event for television syndication and stringing reports to news media.

When the CanAm started, the usual suspects led the early running: Australian Alan Jones hotly pursued by Jarier, Elliott Forbes-Robinson in Paul Newman's Budweiser Lightning and somebody else. A surprise.

"Who the hell is that in the old car?" my director screamed at me as an oddball privateer bearing few markings flew past. "He just moved into the top five!"

Budweiser chugged its Lightning. Alan Jones smoothly romanced his Lola. Jarier chased his Shadow. But all eyes were on Merle Brennan in his antique, hand made "Brennan." The 50-something man with the gray hair and chiseled features was burning some screamers around the snaky course, picking off the backmarkers one by one until he challenged the lead group. The old man was still competitive with the best drivers in the world. (His car broke about halfway through the race.)

Merle Brennan was a throwback to another time, the race driver as wrench who built his own cars and competed on his own terms. Back in the glory days of the 1960's, some NASA engineers asked Road Atlanta for pit credentials. They wanted to observe Mark Donohue's CanAm car (his Porsche 917, driven by Townsend to a 1975 Sports Car Club of America Western-Pacific Division co-championship), "because it did what it was designed to do so perfectly well."

Donohue was a master engineer as well as a driver, rarest of the rare. By 1978, only two Indianapolis 500 Champ Car drivers even set their own carburetion (A.J. Foyt and Eldon Rasmussen).
Merle Brennan ran in that company. At his funeral last Thursday, a checkered flag of black and white carnations draped his coffin. I was told the man inside still wore his familiar silver driving suit and gloves.
Before the service came the expected comment: if only he had been able to get the big bucks backing, what could he have accomplished?

That was the wrong question. Merle Brennan competed on his own terms. He lived and died as a sportsman, not a salesman, and therein lies a lesson for us all.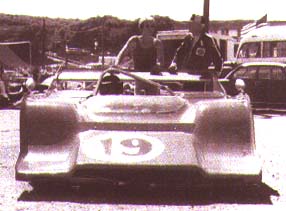 If the above did not race in its entirety at the Riverside CanAm of 1978, parts of it undoubtedly did.


Americans think of their country as a celebration of the individual. That's both true and untrue. Protection of the individual from the tyranny of the many makes the U.S. Constitution the greatest document ever drawn. We glory in the idea of rugged individualism, maximum balls to wall.

But rugged individualism didn't build this country. Teamwork did (assisted by a poorly rationalized mean streak against the natives).

Building a team, a tribe, a community, a nation requires one thing: individual willingness to concede some degree of personal liberty for the good of the whole, the society. The burning question is always "how much?" There, Merle Brennan left us with an answer.

True sport is like true love. You cannot fully and passionately participate without assuming personal risk. To become a true sportsman or woman, you must face down danger on a daily basis. Ballplayers, race drivers, jockeys, gymnasts — brothers and sisters all. Hunters and fishermen? Not in the same universe, unless cutting your finger on a pop top counts.

The biggest cliché in sports is the tired response of the ex-competitor when asked the biggest difference between today and the good old days. The answer is invariably some version of "the money — I can't believe all the money they make now."

Alas, all must serve commerce. Emulating what race drivers started, athletes today are walking billboards (with ironclad sponsorship contracts where their work ethics used to be). Even individual competitors have huge teams of people behind them. Americans have always been the world's best at teamwork because we have historically been able to strike a workable balance between the good of the many and the good of the one.

Perhaps not anymore. Something's gone wrong. Bill Harrah's well-oiled machine lost its spirit when the old man died on a Mayo Clinic operating table in 1978. His auto collection could have given Reno a one-of-a-kind, world class theme resort, light years ahead of the best Las Vegas has to offer even today. His corporate successors auctioned off the classic cars for more than $100 million. Their megabucks foray into New Orleans just drove them into federal bankruptcy court.

U.S. employers now treat their workers as disposable, interchangeable parts on a garage floor, while even mediocre athletes become full blown, multi-million dollar media machines. The late Charlie Chaplin proved positively prescient when he portrayed his Little Tramp Everyman as consumed in the gears of Modern Times.
Where do we draw the line between the individual as part of the team and the danger of that individual's subsumation by the corporation? At what point does mass technology threaten individuality?

I submit that Merle Brennan showed us such a place. He raced for the pure sport of it. He got his hands dirty. He did the work and reaped the rarified rewards reserved for those capable of performing that common task uncommonly well.

If you would learn the lesson of Merle Brennan, learn where that line lies in your life. If the corporate drive for profit threatens the sensation of your soul, do something else, go wrench for yourself, abandon the pursuit.

Speed is the currency of our physical reality. Our big blue marble orbits the sun at 66,636 miles per hour. Human lifespan amounts to less than a twinkle in a perpetual starry, starry night. We have much to learn from artists who master speed, those few who can dissect it, segment it, slow it and sow it, manipulate and maximize it.

Bill Harrah incorrectly assumed that Merle's natural competitiveness would do him in. Actually, he was laid low by a dumb move by a dimbulb driver during qualifying at Laguna Seca. Greenhorns on wheels are the sportsman's greatest risk. Merle Brennan's final race won him three months in a burn unit and a severe knock on the head which may have triggered the Alzheimer's disease that claimed him at age 68 last Christmas Eve. He spent his waning years in that waking coma everyone fears.

Maybe Merle wasn't there at all. When his God-given chassis finally failed, perhaps his superb driver's concentration and mastery of time had already allowed him to transcend the limitations of flesh and synapse. Possibly, he had become able to retreat into the silent joy of slipping into his Nomex at Laguna on a cool, clear day and cutting a few fast laps through the esses, then breaking flat out through the straightaway. Watch out for that damned bridge. Avoid the stoplight in Turlock.

Maybe in that twilight zone, he learned that all you can take with you is the joy, the emotion, the feeling of what you are, what you did, how you lived, whom you knew — and, most important, what you became.
One of the last true American sportsmen lies dead.
Remember, and learn, from how Merle Brennan lived.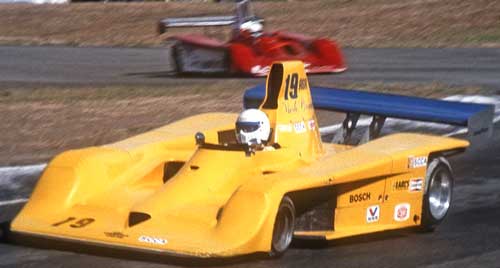 BLAST FROM THE PAST — Just came across your tribute to Merle Brennan and wanted to pass along my kudos — nice tribute. I had the privilege of seeing him race on many occasions in the 1970s and '80s. I've been scanning some my old racing images lately and came across the attached shot of Merle at the 1984 Can-Am race at Sears Point (Sonoma, Calif.). Feel free to add it to your gallery, if you like. Enjoy!
Dan Wildhirt
Longmont, Colorado
Saturday, 27 Sep 2008 00:26:38
Thanks! — AB
Paul Newman: Driven Star
1925-2008
Tom States' photo galleria of the Formula One Long Beach GrandPrix 1978-79 — A highly recommended Barbwire trip down Amnesia Lane.
Get ahead of corporate-influenced news—>Subscribe to Barbwire Confidential