BARBWIRE
by
ANDREW BARBANO


One last beer for Merlin Shea, Irish galloping ghost
From the 3-14-99 Daily Sparks, Nev., Tribune
Updated 6-10-2012

A month ago, I wrote of the death of one of the greatest football players ever to wear the Sparks High uniform. Merlin Shea was a track and gridiron standout who played on the Railroaders' 1940 and 1941 state championship elevens.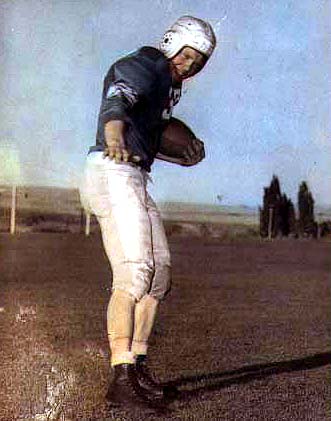 He also participated in perhaps the most bizarre football game in University of Nevada history. On October 16, 1943, UN traveled to Utah and beat the Utes or Indians (they were called both, as well as Redskins).



"'Scat' Backs Clip Slower Ute Squad" read the headline in the next day's Salt Lake Tribune. Writer Jimmy Hodgson reported that "the Nevada Wolves sprinted and passed their way to a 27-19 victory over the University of Utah Saturday in a free-scoring football show staged before a meager crowd of 4,846 spectators at the 'U' stadium. Coach Jim Aiken's Wolves, a combination of University of Nevada and Reno Air Base gridders, flashed down the greensward for two touchdown runs of 80 and 78 yards and cut loose with a brilliant passing attack to stack up two more as they handed the Utah Indians their third straight setback," Hodgson wrote.



The combined squad resulted from having so many young men in military service in the middle of World War II.



"Utah's strategy Saturday was to punt and pray for a Nevada fumble," the Salt Lake Tribune account continued. "Nevada did fumble some of the punts, too, but the safety men had plenty of time to pick them up and the strategy backfired when two of those punts were run back through the entire Utah team for touchdowns. Even with only three minutes to play and trailing by one touchdown, Utah was still kicking on second down," Hodgson wrote.



"That's poor football, even in a sandlot league and, even though Utah was dividing the signal-calling up with a bunch of lads who'd never called 'em before, it was still extremely poor quarterbacking," Hodgson concluded.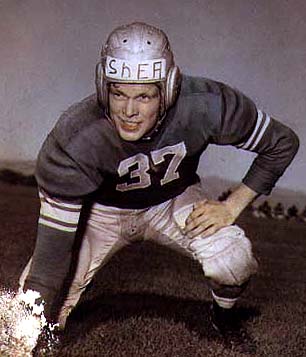 Utah took Merlin Shea's opening kickoff and punted on FIRST DOWN from its own 35. Shea returned it 80 yards for a touchdown, all in the first 20 seconds of play. He "fumbled momentarily on his own 20-yard line and raced almost unmolested down the west sideline to score," according to either the Reno Evening Gazette or Nevada State Journal on 10-17-43.



Shea also saved a touchdown by collaring an interception which was run back to the 12. Utah failed to convert. Bev Waller of Fallon returned a punt for either 80 yards (if you believe the Reno papers) or 78 if you believe the Salt Lake Trib, and caught another pass for a touchdown.



The Utah strategy may not have been all that bad. The Wolf Pack fumbled three times (one by Shea, which did not lead to a Utah score) and was intercepted three times. Utah turned the ball over only once, on an interception. Nevada's freshman quarterback Jimmy Aiken completed seven of 14 passes for 180 yards.



Joe Fitzpatrick, in a Salt Lake Trib sidelights column, wrote "Coach Jim Aiken certainly hit the nail on the head when he said that his backfield would consist of 'pony backs.' Jim Aiken, Jr., clever little tailback and the coach's son, and Bev Waller are two halfbacks who could win anybody's horse race, according to a few of Utah's bewildered linemen.



"Big, lumbering Jack Oklanda, veteran redskin tackle who intercepted one of Aiken's many passes, was ready to admit that Merlin Shea was a dead ringer for War Admiral." (For those who may not remember, War Admiral was a famous thoroughbred who won American horse racing's Triple Crown in 1937.)



"The husky tackle gathered in the pigskin on his own 28-yard line and went thundering down the field with Tom Panos at his side," Fitzpatrick wrote.



"Panos blocked Aiken on the 50-yard line, but Shea, who started from the eight-yard line, overtook the tiring lineman and hauled him down 12 yards from the goal line. Big Oak might have hit pay dirt on the play, but he erroneously decided that his 'snake hips' would be more effective than his weight." (Deion Sanders-style hot-dogging was apparently not unknown back then. The chronicles made no mention of the Dirty Bird, huge index fingers or mascots in hairy suits.)



By the early 1950s, the university had dropped football. On October 27, 1951, Merlin Shea played in the second "Eleven Old Men" vs. Nevada game, the only football contest that year. (The first "Eleven Old Men" contest had been held in 1940.)



The Reno paper the next day carried a huge photo of future UNR athletic director Dick Trachok carrying the ball with Shea running up to block for him. One of the UN defenders in the picture was a kid from Vegas named Myron Leavitt, recently sworn in as a Nevada Supreme Court justice. The legendary Jake Lawlor coached the Eleven Old Men to a 0-0 tie.



Merlin Shea and Bev Waller went on to become Reno police officers, Waller rising to acting chief before retiring in 1975. Merlin Shea's family still owns Shea's Tavern and Del Mar Station on South Virginia Street just south of the Ponderosa Hotel.



If you're out celebrating St. Patrick's Day this Wednesday, hoist a green beer for a fine man named Merlin who left Reno and Sparks much better for having passed this way.



Drive safe and sober.



Be well. Raise hell.


Copyright © 1999, 2005, 2012 Andrew Barbano
Andrew Barbano is a member of CWA Local 9413. He is a 30-year Nevadan and editor of U-News. In 1998 he served as gubernatorial campaign manager for State Senator Joe Neal, D-North LasVegas.. Barbwire by Barbano has originated in the Daily Sparks, Nev., Tribune since 1988..