The life which is unexamined is not worth living
— Socrates


The death of someone close to you demands examination of how that life affected yours. By analyzing that concluded journey, we upgrade its value and take Socrates one step beyond the grave. Reflection by the living retroactively changes the life of the dead. You thus possess the power to stand time on its head.



We now know that Einstein was right. Time is relative and can even be altered at high speed. We also know that radio signals travel to infinity.



The best opportunity to use our time travel capability lies in examining lives which have touched our own.



By doing so, we impact the past, the present and the future. All fall within the internal control of each of us.



Once we do that, we can shed our fears. Like the superstition that death comes in threes.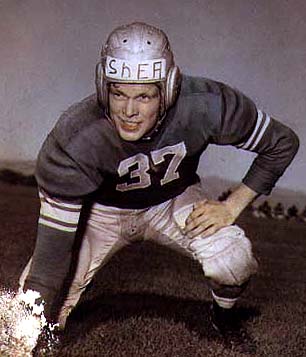 NUMBER ONE. On January 28, I lost an old friend and Sparks High School lost one of its greatest athletes. Merlin Shea was a speedy trackster and standout all-around football player. He was a three-time all-state honoree on Coach Tip Whitehead's back-to-back state championship teams in 1940 and 1941.



His teammates and opponents in both high school and college read like a map of Nevada city streets, a directory of businesses, a gallery of public officials: Quilici, Sorenson, Foote, Garrell, Hug, Eccles, Yuill, Sheehan, Kearns, Keller, Piazzo, Beasley, McClure, Leavitt, Melton, Gardella, Van Meter, Barbagelata, Laxalt, Borda, Molinari, Hicks, Kellison, Solari, Burgarello, Trachok, Lawlor, Aiken, Sampson, Hastings, Ensslin, Getto, Westergaard, Olguin, Bell, Oppio, Cecchi, Matteoni, Frediani, Waller, Kottinger, Mirabelli, Dodge, McClure, Rude, Byars, Hastings, DeRicco, Drakulich. All names which built Nevada.



I remember the friendly, athletic Irishman with the thick, graying hair I met in 1975. Merlin and his wife, Martha, had invested in a little saloon called Del Mar Station, Reno's first fern bar. Merlin kept his building management job. Martha remained as head nurse of Washoe Med's ER. (She originally met him when he sought medical attention while working as a Reno police officer.)



The Sheas bought out their partners in 1976 and quickly discovered a stack of unpaid bills. They knuckled down and turned the place into a winner. A quarter century later, Del Mar still rules local rock 'n' roll.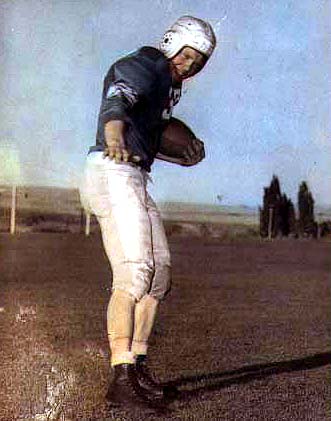 Martha Shea entrusted me with Merlin's athletic scrapbook, compiled by his mother. It's quite fragile but so alive. One photo in an old Sparks Tribune haunts me. The yellowed page crumbles like old money. Across it, a young and strong Merlin Shea charges into the line against an eternal foe. But the face on the newsprint has almost faded away.



With retrospection by the living, Merlin Shea can run forever. Time won't merely stand still, it will everlastingly expand — with just a kind thought every now and then.



In a future installment: Tales of the fabled Eleven Old Men; an early day Deion Sanders in Utah; the goofiest ballgame UNR ever played and childish Nevada north-south rivalry. Some things really never change.



TWO AND THREE. An old Yiddish proverb advises that the Lord made great burdens, but he also made shoulders.



Last Tuesday morning, I lost my Grand Aunt, Lena San Filippo, born in Italy Feb. 28, 1900. Her heart had recently deteriorated and she lived in great pain. She died enroute to a Chicago area hospital.



When I last talked with her, she already spoke in the past tense, scoldingly lamenting that "we never got to see each other again."



She also said "it's not good to live too long." Alas, there was no joy left in that sweet voice. She was a magnificent individual about whom I will reflect, write and tell stories for the rest of my life.



Her son, Frank San Filippo, operated a Reno business for a time. Unfortunately, I had no idea who my cousin was. My wife noticed his name in the phone book and suggested I call him. I didn't think he could possibly be related to me, so I didn't. When he died in the mid-1980s, my Aunt Lena traveled to Nevada to settle his affairs. She did not know I had lived here since 1971. Please don't fail to make such a call should you ever get the chance.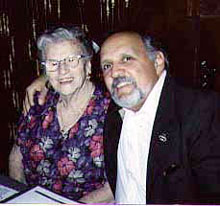 We eventually found each other and in 1992, she came to visit me. It was the last time I would see her.



The Illinois family received another blow within 24 hours of her death. My aunt's son-in-law did not wake up last Wednesday morning. Lena San Filippo and George Mostardini, 74, were put to rest in a joint service on Feb. 13.



In such situations, I remind people that in this life, you're never given more than you can handle. God made shoulders.



My grandmother once advised us how to care for the dead. Nana said that when you taste something especially good, think about those who have gone before and make a wish that they can share the flavor.



With you to sustain them, they can live forever.



Be well. Raise hell.