December 7, 1997



Update: Two non-union women fired by Douglas County firm during UPS strike

Federal charges dropped against Bently Nevada Corp.
Previous story:

MINDEN, Nevada (U-News)—Two women at Bently Nevada, a Douglas County industrial company, were fired on August 8 for refusing to sign for UPS deliveries. On August 15 they filed charges of illegal termination and unfair labor practices with the National Labor Relations Board in Oakland, Calif.

Jessica Gomes (above) and Carlene O'Neil were fired by Bently Nevada for supporting the UPS strike.


Jessica Gomes, 40, of Gardnerville, Nev., and Carlene O'Neil, 56, of Carson City, Nev., had worked five years as stores clerks at Minden-based Bently Nevada Corp. when they were fired for refusing to sign for a UPS delivery during the August strike.



Carlene O'Neil remains unemployed. Jessica Gomes works as a keno runner at a Minden casino for $5.00 per hour. Both had their unemployment claims denied because Nevada law will not allow compensation for anyone fired in a labor dispute. Teamsters Local 533 attorneys Larry Yenko and Michael Langton successfully appealed the denials. Nevada union members continue to donate to the Carlene O'Neil-Jessica Gomes Family Fund c/o Operating Engineers Federal Credit Union, 1290 Corporate Blvd., Reno NV 89502.



The news has not been so good at the National Labor Relations Board. The federal body decided to drop action against Bently Nevada. Their rationale: the activity involved must be both concerted (more than one person involved) and protected by the National Labor Relations Act.



The Oakland NLRB office ruled that the law does not protect the women who asked co-workers to sign for UPS parcels during the strike. It does not qualify as a sympathy strike, according to NLRB supervising attorney Don Rhoads.



"The problem in this case is they were not doing any UPS work," he told the Carson City Nevada Appeal. "If the procedure would have been to unload the UPS truck, then that's protected."



Teamsters attorneys Langton and Yenko have filed an appeal of that decision. A detailed legal report will appear here soon.
UPDATE 1998 : Illegally Fired Bently Workers Win at Highest Level
UPDATE 2002: Jessica Gomes killed in auto accident

December 5, 1997
Carpenters Union begins Park Lane picketing
Protest of low wages at new Reno Syufy/Century theater
Federal discrimination charges filed after leader's arrest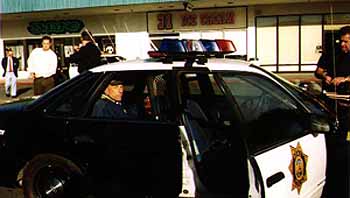 Herb Friedenthal, Carpenters Local 971 was arrested for handing out leaflets at Reno's Park Lane Mall (click photo for caption).
RENO (U-News) - Carpenters Union members began picketing Park Lane Mall at noon December 5. On November 26, Carpenters Local 971 senior business representative Herb Friedenthal was arrested by Reno police after shopping center management complained about the union passing out flyers criticizing low wages at the Syufy/Century theater under construction at the Reno shopping center.



On Dec. 2, union attorneys filed charges of illegal unfair labor practices against Park Lane with the National Labor Relations Board. The union complaint states that Park Lane "caused the arrest of union agent Herb Friedenthal for engaging in union solicitation activity while permitting other kinds of solicitation at the mall."



"Park Lane allows access to other community non-profit groups and therefore cannot legally restrict worker organizations," Friedenthal stated. Union members are targeting Tedesco Construction, which is building Syufy's new 16-screen movie complex at the Reno shopping center. Tedesco has played a major role in construction of the downtown Sparks Syufy/Century project which has also been a focus of worker protest since last May.



"Tedesco pays carpenters $10 to $14 an hour. Union carpenters make $20.50 plus benefits," Friedenthal said. "The payment of substandard wages not only diminishes the working person's ability to purchase with earned, rather than borrowed, dollars, but it also undercuts the wage standards for the entire area," he added.



"Most people don't realize it, but every worker's pay is pegged to the benchmarks earned by the skilled trades," Friedenthal asserted. "Higher pay causes a ripple effect throughout a community, just like a rising tide raises all boats. In the same manner, lower wages sink everyone else's pay," he noted.*



"Century reaps large profits at the expense of Reno'sunderpaid workforce. We seek support from the general public and the more than 40,000 union members and their families in northern Nevada. We ask them not to patronize Century Theaters until the company promises that all construction will be done using contractors who pay their employees fair wages and fringe benefits," Friedenthal said.



He noted that the workers are not asking customers to refrain from patronizing Park Lane Mall. "We just want to inform moviegoers of Syufy/Century's continuing practice of paying low wages in Reno, just as they have been doing at their downtown Sparks theater construction project," Friedenthal said.



* For a full discussion of what's known as the union wage effect, see "What Do Unions Do?" by Harvard University professors Medoff and Freeman, available through any bookstore or library.
UPDATE: Friedenthal vindicated, Park Lane guilty

September 8, 1997



Sparks to lose $1 million from theater construction delay
Labor leaders call for timely performance or payment to taxpayers; Money could go toward parks and police.
SPARKS, Nevada (U-News)—Sparks stands to lose $1 million in cash if it lets Syufy/Century Theatres further delay the opening of the new downtown 14-plex. "The agreement between Sparks and Syufy-Century theaters is quite specific. If the theater complex does not open by February 25, Syufy Enterprises owes the taxpayers $1 million," stated Richard "Skip" Daly of Laborers Union Local 169.



"The money sits in escrow. The city should move to recapture it as partial reimbursement to taxpayers for generous subsidies already granted to the developer," Daly added. The redevelopment contract between the city and Syufy states "if the developer does not timely fulfill all of its obligations under this agreement...or does not open the theater for business as provided...then the deposit shall be forfeited to the city."



In a July 25 letter to the Building and Construction Trades Council of Northern Nevada, Sparks deputy city manager Bill Isaeff wrote "the purpose of the good faith deposit was to insure timely performance by Syufy of its obligations to acquire the site and construct and open the theater. If it meets its obligations, the money is refunded," Isaeff wrote.



"If it fails, the money is forfeited to the City of Sparks and the (city's redevelopment) agency," the longtime governmental attorney concluded.



"Syufy originally said their goal was to open by Thanksgiving. That has now been pushed back to Cinco de Mayo, or possibly later," Daly stated. "Last week, Reno Mayor Jeff Griffin said 'I think we will get it (Reno's theater) open before anybody else's.' The Syufy chain started looking for scapegoats in August and chose organized labor as a convenient target," Daly said.



"Even Sparks city manager Terry Reynolds disagreed with that subterfuge, blaming the developer's own design problems," Daly said.



"The real question is who's running Sparks? Will the city hold the developer to its word, or just roll over again? The contract is clear. If the city grants a delay, it announces that Syufy can do whatever it pleases with the huge taxpayer subsidy and cheap land already obtained," Daly said.



"None of the contractual triggers allowing an extension has occurred," Daly noted. "We've seen no strike, riot or earthquake. Syufy's mismanagement and change of architects resulted in this delay. While we think using better skilled and better paid local workers would certainly have expedited matters, Syufy's own bungling of the project resulted in the current move to ask the city for an extension," the lifelong Sparks resident stated.



"The contract says 'notice by the party claiming such an extension shall be sent to the other party within 30 calendar days of the commencement of the cause.' We know of no such request having been received, but Mr. Reynolds has already defended its approval. At the council meeting of August 25, he said the submission would be made 'as soon as we have time to go forward and draft the request,'" Daly added.



"On that day, Mr. Reynolds tried to spin the $1 million as 'a performance bond, not a penalty bond.' He needs to go back and read his contract," Daly said.



"This major movie chain received a huge subsidy from the taxpayers to build the theaters. Every day of delay represents additional waste of taxpayer expenditures with no benefit to the city. The $1 million could be used for parks and police or, if necessary, to take over and finish the theater project," Daly said.



"If city government fails to enforce its rights to protect the taxpayers' investment, then it renders the contractual guarantees meaningless, a cruel hoax perpetrated upon the public purse. Performance penalties are built into many public agreements, with road construction the most prominent example. Only Syufy benefits from delays, allowing them to avoid overtime and other costs of doing what they committed to do. Meanwhile, the taxpayers take more hits.



"Every rollback means lower property and sales tax receipts. Worse, the lack of prompt completion means that downtown Sparks businesses, which have been hanging by their fingernails for years, will continue biting them a little longer. The contract is clear. The council should stand up for its taxpayers' investment and, for once, not roll over for more corporate welfare.



"Sparks residents should call city hall at (775) 353-2311 to oppose making the public pay more for this developer's inefficiency," Daly concluded.
UPDATE: SEVEN-FIGURE LOSS — DALY'S PREDICTION COMES TRUE.