Reno César Chávez Celebration III
Wednesday, March 31, 2004
DÍA DE CÉSAR CHÁVEZ Miércoles 31 de Marzo del 2004
Se honra legado de líder campesino César Chávez en Reno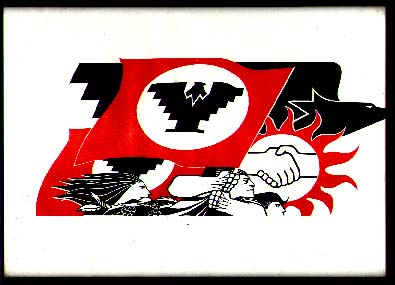 UFW FLAG ART presented by César Chávez to Reno Musicians Union Local 368 Secretary-Treasurer Beth Shay at Reno César Chávez Day I on July 15, 1986. Each color is symbolic — black for the dark situation of the farmworkers of the time; red for toil and sacrifice and the white circle for hope. Chávez himself designed it.

Join the Washoe County School District, KREN TV-27, KUVR TV-68 and other founding sponsors as we launch Northern Nevada's annual celebration of César Chávez Day in Reno.

Wednesday, March 31, at 6:00 p.m. in Room Mandalay A, the downstairs showroom at Circus Circus Hotel-Casino in downtown Reno. The event will honor César Chávez on the 77th annniversary of his birth by highlighting his legacy's lasting power.
The program will include