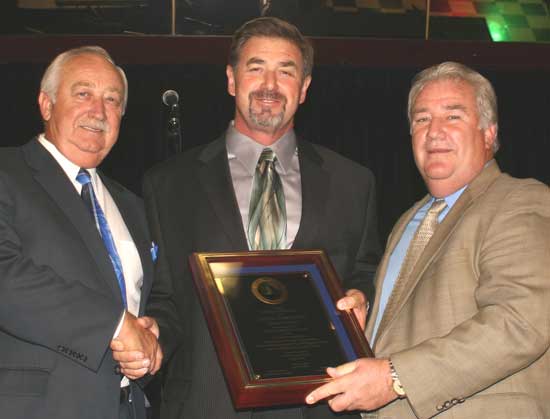 1. UA International Representative Phillip A. Lord, left, and General President William P. Hite, right, present UA Local 350 Business Manager Robert Lopes with a plaque commemorating the union's centennial on Oct. 13, 2006, in Reno, Nevada. (Photo: Debra Reid/IATSE Local 363/AFL-CIO)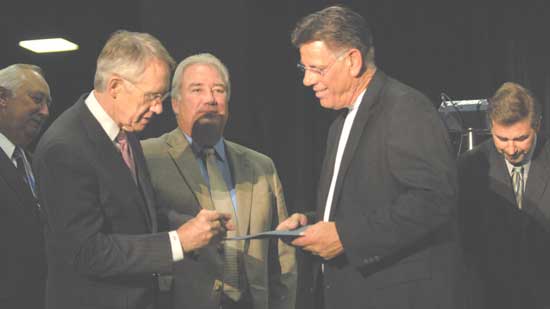 2. U.S. Senate Majority Leader Harry Reid, D-Nev., presents UA Local 350 Joint Apprenticeship Training Committee Coordinator John Williams with his 30-year pin at the union's Centennial Celebration on Oct. 13, 2006, in Reno, Nevada. Standing with them, left to right, are UA International Representative Phillip A. Lord, left, General President William P. Hite and UA Local 350 Business Manager Robert Lopes. (Photo: Debra Reid/IATSE Local 363/AFL-CIO)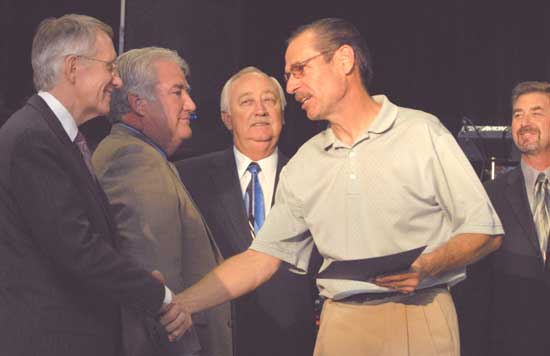 3. U.S. Senate Majority Leader Harry Reid, D-Nev., left, presents a 35-year pin to Rick Vonarx at the UA Local 350 Centennial Celebration on Oct. 13, 2006, in Reno, Nevada. Standing with them, left to right, are UA General President William P. Hite, International Representative Phillip A. Lord and UA Local 350 Business Manager Robert Lopes. Brother Vonarx has served as a member of the union's joint apprenticeship training and finance committees.(Photo: Debra Reid/IATSE Local 363/AFL-CIO)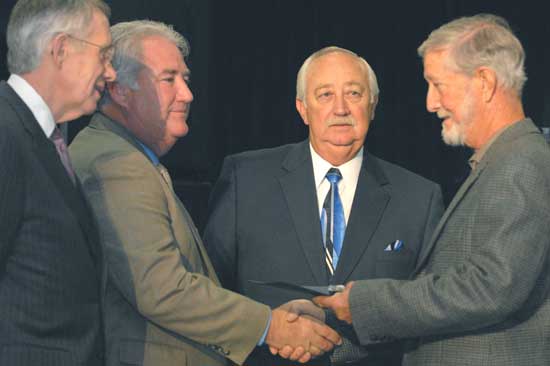 4. United Association General President William P. Hite presents a 45-year Service Award to UA Local 350 member Jack Chesney, right, at the union's Centennial Celebration on Oct. 13, 2006, in Reno, Nevada. U.S. Senate Majority Leader Harry Reid, D-Nev., left, and International Representative Phillip A. Lord joined in honoring Chesney, a former business agent.
(Photo: Debra Reid/IATSE Local 363/'AFL-CIO)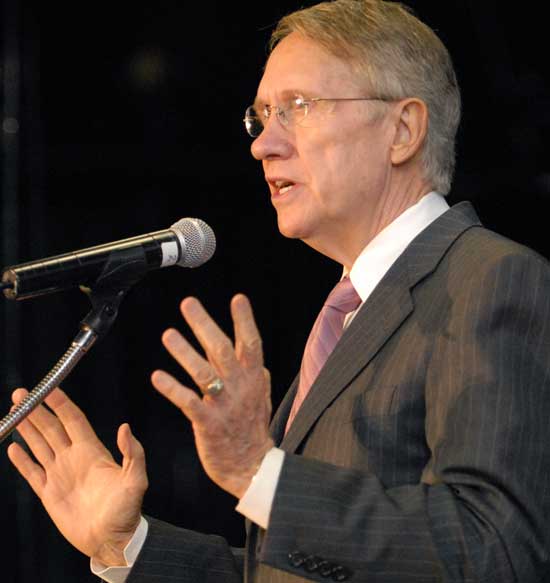 5. U.S. Senate Majority Leader Harry Reid, D-Nev., congratulates the more than 700 attendees at the UA Local 350 Centennial Celebration on Oct.13, 2006, in Reno, Nev. Sen. Reid thanked the members and their families for continuing their long tradition of hard work in building the communities of Nevada which has been, for more than a decade, the fastest-growing state in the nation. (Photo: Debra Reid/IATSE Local 363/AFL-CIO)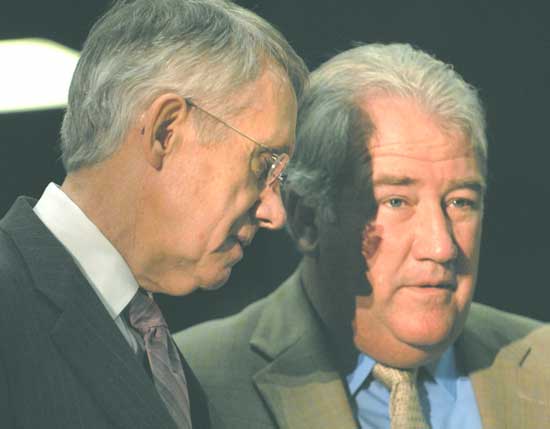 6. U.S. Senate Majority Leader Harry Reid, D-Nev., talks with UA General President William P. Hite at the UA Local 350 Centennial Celebration on October 13, 2006, in Reno, Nev. The event was attended by more than 700 union members, retirees and guests.
(Photo: Debra Reid/IATSE Local 363/AFL-CIO)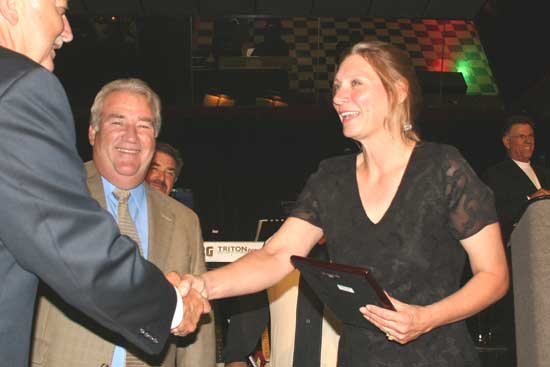 7. UA International Representative Phillip A. Lord, left, presents Tori McCafferty with a plaque honoring her as the union's longest-serving female journeyman at the UA Local 350 Centennial Celebration in Reno, Nev., on Oct. 13, 2006. Standing with them are UA General President William P. Hite, Local 350 Business Manager Robert Lopes. Local 350 Joint Apprenticeship Training Committee Coordinator John Williams stands in front of the microphone at far right.
(Photo: Debra Reid/IATSE Local 363/AFL-CIO)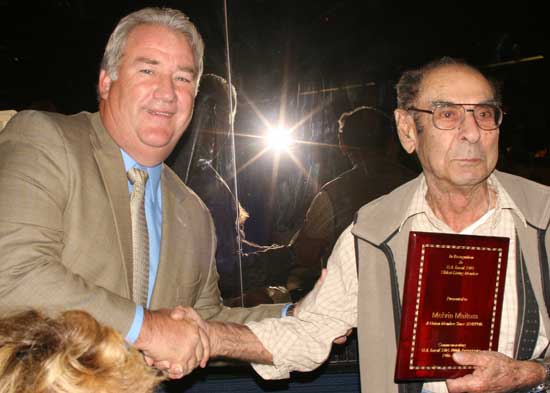 8. UA General President William P. Hite presents UA Local 350 member Melvin Maitoza with his 60-year Service Award at the union's Centennial Celebration on Oct. 13, 2006, in Reno, Nev. Brother Maitoza is the senior member of the local, having turned 90 earlier in the year. He worked until age 85 in his specialty as a refrigeration gas specialist. (Photo: Debra Reid/IATSE Local 363/AFL-CIO)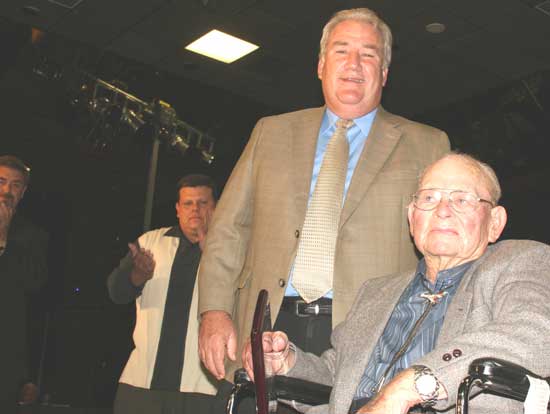 9. UA General President William P. Hite congratulates UA Local 350 member Neal Ballard, right, for his seven decades of service to the union at its Centennial Celebration on Oct. 13, 2006, in Reno, Nev. Brother Ballard is the second-most senior member of the union in terms of age, having turned 90 shortly after the event, but has no peer as far as membership: He was initiated on August 17, 1937 and is still renowned as the man who set the standard for pipe welding statewide. In the background are UA Local 350 Business Manager Robert Lopes, left, and Business Agent Ross Boomhower.(Photo: Debra Reid/IATSE Local 363/AFL-CIO)
Photos by Debra Reid/IATSE Local 363/AFL-CIO
UA Local 350 celebrates 100th anniversary
President Hite, Sen. Reid headline centennial event in Reno
RENO, NEVADA (Oct. 13, 2006) — More than 700 UA Local 350 members, their families and honored guests celebrated the union's centennial at a dinner-dance in Reno.

The event was held on Oct. 13, 2006, exactly 100 years to the day of the union's founding.

UA General President William P. Hite, International Representative Philip A. Lord and U.S. Senate Majority Leader Harry M. Reid, D-Nev., addressed the gathering.

Sen. Reid emphasized his strong belief and commitment to the union movement, stressing the contributions that Local 350 has made in building Nevada and its increasingly important role in the nation's fastest-growing state.

President Hite complimented the union for expanding its membership and its services to members while dealing with the demands of explosive expansion.

Brother Lord, who served as UA 350's international representative for 10 years, noted how he enjoyed working with the union's members and was especially proud of assisting in the acquisition of grants to expand the local's training center. He added that Local 350 now has one of the finest educational facilities on the west coast.

Reno Mayor Bob Cashell and Sparks Mayor Geno Martini welcomed the attendees.

Local 350 Business Manager Robert Lopes described how the union has expanded its contractor base along with its membership and training capacity.

"Our union's record of achievement reflects the pride we have in our community," Lopes said.

Forty members received pins and certificates for service ranging from 25 to 60 years. Ersal Hallmark, Wayne Jackson and James E. Williams were awarded their 50-year pins and became automatic life members. Dale B. Cottrell, Melvin J. Maitoza and Frank Malmstedt received 60-year pins.

Brother Maitoza and Brother Neal Ballard are the union's most senior members, both having turned 90 in 2006. They attended with their families and received plaques of commendation for their long and distinguished service. Bro. Ballard was initiated on August 17, 1937.

Plaques of appreciation were presented to former union business manager George Foster and former business agents Jack Chesney and George Smith. Bro. Chesney also received his 45-year pin and Tori McCafferty was honored with a 20-year plaque as the longest serving female journeyman.

Those attending the celebration took home souvenirs including commemorative cloisonné lapel pins and wine glasses etched with the same centennial logo appearing on the pin. A centennial history book was published for the event and distributed to guests.

Local 350 today is comprised of more than 700 members and 120 apprentices. The union's jurisdiction covers 14 counties over a huge area of central and northern Nevada as well as parts of four eastern California counties in the Lake Tahoe Basin.
MEMBERS WHO RECEIVED YEARS-OF-SERVICE PINS AND CERTIFICATES
(Members completing 50 years of service automatically become life members.)


JESUS ARRIAGA, 35 YEARS
HERBERT BISHOP, 45 YEARS
ARISTEO BLANCO, JR., 45 YEARS
JOHN H. BRYMER, 30 YEARS
CHARLES T. CATE, 35 YEARS
JACK T. CHESNEY, 45 YEARS
DALE B. COTTRELL, 60 YEARS
DAVID L. DAVIS, 45 YEARS
DONALD W. ELLSWORTH, JR., 40 YEARS
CAMILO GONZALEZ, 25 YEARS
RICK L. GOODIN, 30 YEARS
JACK GRANGER, 40 YEARS
DARREL E. HALLMARK, 45 YEARS
ERSAL HALLMARK, 50 YEARS (LIFE MEMBER)
WILLIAM T. HARDY III, 35 YEARS
KENNETH F. HARVEY, 30 YEARS
FORREST L. HOMAN, 35 YEARS
CHARLES P. ISAACS, 30 YEARS
WAYNE JACKSON, 50 YEARS (LIFE MEMBER)
VERNE W. KEYES, 35 YEARS
J.C. LANKFORD, 55 YEARS
MELVIN J. MAITOZA, 60 YEARS
FRANK H. MALMSTEDT, 60 YEARS
BILLY J. MASSEY, 55 YEARS
EDWARD J. MCCARGAR, 35 YEARS
LEROY D. MILLER, 40 YEARS
GARTH R. MITCHELTREE, 25 YEARS
HAROLD E. MYERS, 35 YEARS
HARLAND E. OFTEN, 45 YEARS
DENNIS PIERCE, 40 YEARS
JEFF POLISH, 30 YEARS
DELBERT W. RAWSON, 35 YEARS
ANTHONY RIVARA, 30 YEARS
JAMES L. SCHULER, 25 YEARS
WILLIAM F. SMITH, 35 YEARS
GAIL K. STAMPER, 40 YEARS
RICHARD B. VONARX, 35 YEARS
KIM W. WHITE, 25 YEARS
JAMES E. WILLIAMS, 50 YEARS (LIFE MEMBER)
JOHN S. WILLIAMS, 30 YEARS