News Affecting Your Workplace
UPDATE 2-21-2005 — SPARKS —Longtime Nevada labor leader Tom Stoneburner died today of a massive heart attack at his home in Palomino Valley north of Sparks. His colleagues at Circus-Circus Hotel-Casino in Reno are devastated, as are his many friends and associates in the Nevada labor movement. We have lost a great champion. The news links below detail Stoneburner's activities in just the first half of 2001. Stoney worked his heart out for Nevada workers and the proof lies below. (Back to Stoneburner Memorial Page.)
DARLENE JESPERSEN, BARTENDER FIRED BY HARRAH'S-RENO FOR REFUSALTO WEAR MAKEUP, FILES MAJOR FEDERAL CIVIL RIGHTS SUIT

RENO, NV (July 6, 2001) — Reno attorney Jeffrey Dickerson filed a six-count claim and jury trial demand in U.S. District Court. For details, analysis and links to similar cases, see The Daily Sparks (Nev.) Tribune. For regional and national fallout, the Jespersen case home page and archive, click here. Legal beagles and labor bulldogs may also read the complete text of the federal civil rights filing.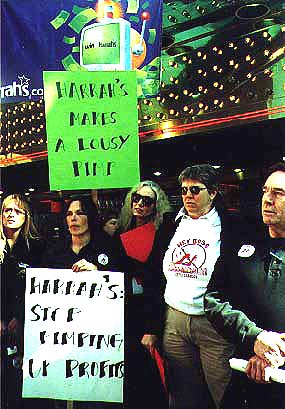 HITTING THE BRICKS & HARRAH'S, TOO (Reno, 2-16-2001) — Left to right, cocktail servers Nancy Standley, Leslie Williams and Kricket Martinez, bartender Darlene Jespersen and security guard Tom Stoneburner demonstrate against debilitating high heels and other worker-brutalizing policies, such as those which cost Jespersen her job. She attended the June 15 cocktail server protest in front of the Venetian Hotel on the Las Vegas Strip and filed major civil rights litigation against Harrah's on July 6.
Columnist John L. Smith: Work card requirements nonsensical
LVRJ Editorial -- LV work card ordinance won't withstand lawsuit
Las Vegas Strip officials repeal work card rules
Columnist Steve Sebelius: City of Las Vegas should do the same
State's largest newspaper endorses work card bill
HEEL ME -- Las Vegas casino high heel policies targeted
HEAR ME -- Hearing on high heels & forced overtime
PUFF DADDY -- Bill mandates nonsmoking casinos
Las Vegas — Kiss my foot, boss! Cocktail servers rally at Venetian
Bosses act like footwear — These heels ain't made for walkin'
SIT ON THIS — Mirage cocktail waitresses win round in federal court against Steve Wynn, who called them "fat asses"
Supremes rule that one sexual remark is not harassment

Las Vegas-- Dolores Huerta Center helps low-wage workers
STUDY: NAFTA costs thousands of Nevada jobs
Las Vegas Sun Editorial -- Don't kill subsequent injury fund
NEWS ROUNDUP: Equal Pay Day -- women shortchanged as usual
AFL-CIO's Linda Chavez-Thompson backs NV gender equity study
UPDATE -- Gender pay equity study bill makes the cut
Nevada employment discrimination remedies called a joke
Nevada workers remain cheap, disposable, interchangeable parts
New schools under construction in danger of boarding up
REAL HEELS -- Harrah's implements "personal best" appearance standards, including spike heels, amid protests in Atlantic City
The Press of Atlantic City editorially trashes Harrah's cookie-cutter employee appearance program
Fired Hilton worker wins multi-million dollar judgment
NEWS ROUNDUP -- THE CRUEL ECONOMICS OF ERGONOMICS
ERGO, YOU CAN JUST GO DIE FOR ALL WE CARE --
Disposable workers worth more dead than alive
Casinos fight new OSHA standards for dealers
An ergonomically obtuse LVRJ editorial
GOP U.S. Senators fight to kill ergonomics standard
ERGO VOTE — Nevada delegation splits along party lines
Senators split -- Reid supports, Ensign opposes worker protection
TWU charters new Local 721 for Las Vegas casino dealers
Nevada State AFL-CIO promises support
Back to home page, click above.
Site constructed by Deciding Factors, CWA 9413/AFL-CIO signatory
Comments and suggestions welcome